AtmosRX has become famous for making dry herb vaporizer pen vapes and other vape pen models, but the company doesn't just manufacture pens. In addition to their pen selection, Atmos RX offers portable vaporizer designs, and the Atmos Vicod is one of their newest innovations. Read on to learn more about the positive and negative features of the vape outlined in this Atmos Vicod review, or Click Here to watch a video.
The Basics of Atmos Vicod Vaporizer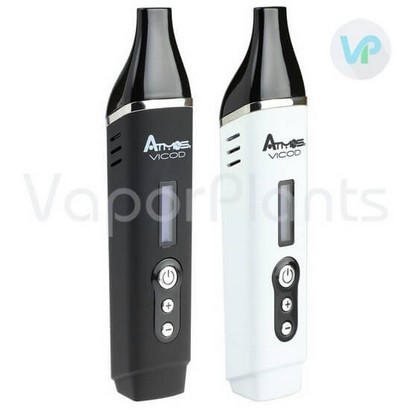 - Price - the Atmos Vicod sells for around $99. While this is more expensive than some other dry herb vaporizer portables, the Vicod is actually an excellent value. That's because this model is a convection vaporizer, meaning it has an air flow system that heats the herbs inside evenly without combusting them. Typically, convection vaporizers cost more than other portables, and the Atmos Vicod is a bargain compared to its competitors, making it one of the best vaporizer models.
- Vapor Quality - because this Atmos vaporizer uses convection technology, it provides exceptional vapor quality. The vapor produced has a robust taste and a pleasing smoothness. You'll be able to enjoy the full potency of your herbs with vapor clouds that are about average in terms of thickness.
- Guarantee - like Atmos RX vaporizers, the Atmos Vicod has a 5-year warranty, which is longer than the guarantees on most portable herbal vaporizer models in its price range.
- Prep Time - the mouthpiece of the Atmos Vicod Vaporizer can be hard to remove, which can slow you down when it comes time to fill, but actually loading the chamber is rather easy. The herbal vaporizer reaches working temperature in about 30 seconds, which is fast for a convection vaporizer.
- Portability - with a shape sort of like a fat dry herb vaporizer pen, the Atmos Vicod Vaporizer is a true portable that you can take with you on the go. The dry herb vaporizer is 5.12 inches long by 1.06 inches in diameter. Because it is wider than a vape pen, it's not as discreet when used in public.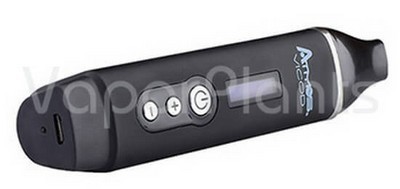 - Ease of Use - you won't have any trouble using the Atmos Vicod Vaporizer to the fullest on the first try. Operation is very straightforward, and there is little to no resistance when you draw.
- Heating and Temperature Regulators - with this dry herb vaporizer, you can enter in a specific temperature setting from 350˚F to 430˚F, giving you the flexibility to customize the vape. Setting is easy, as the portable vaporizer has a digital display and plus and minus buttons. One small drawback is that the mouthpiece can get uncomfortably hot during long sessions
- Power Supply - one area where the Atmos Vicod Vaporizer really stands out is battery life. The Atmos vaporizer can be used for a full day before it needs to recharge, which is much longer than what's common with most herbal vaporizer portables.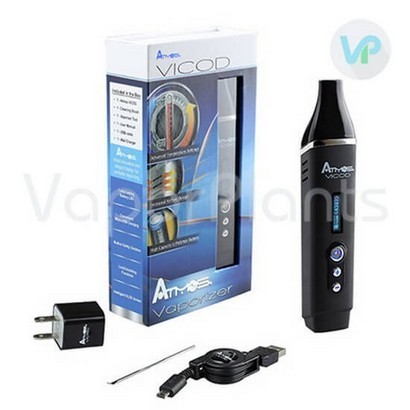 Pros of the Basics of the Atmos Vicod Vaporizer
Affordable compared to other convection vaporizer models
Highly efficient convection vaporizer
Excellent vapor taste, potency, and smoothness
Easy to transport
Longer battery life than most portables
Longer warranty than most portables
LCD screen for temperature setting and monitoring
Variable temperature technology
Cons of the Basics of the Atmos Vicod Vaporizer
Mouthpiece gets hot during long sessions
Can be difficult to open
Not as discreet as a vape pen
If you're looking for a portable vaporizer that you can use regularly at home or on the go, the Atmos Vicod Vaporizer offers true value for the money. You're certain to be pleased with its vapor quality, and its few drawbacks are more than made up for by its many impressive benefits. You can check out the Atmos vaporizer here at VaporPlants.com or contact us for more information about the vape.
Atmos VICOD Vaporizer for Dry Herb Unboxing and Review
Buy Vaporizers and Vape Pens from VaporPlants.com