When the DaVinci Ascent announced on January 13th in 2013, it caused a big stir, as its features were some of the most advanced ever seen. While not a traditional portable vaporizer, the DaVinci Ascent is a popular unit for those who want to vape on the go. Read on to learn more about this innovative vape. DaVinci Ascent arrived on the market in late 2013, making it one of the newest options for those who want to vape while on the go at that time. The unit is made by Organicix, LLC, and has some features that are very unique. Let's take a closer look at the details of the Da Vinci Ascent.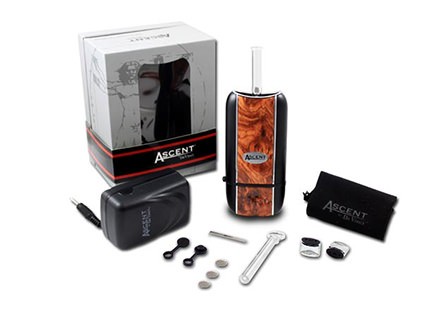 Pros:
Multi-function design gives you a dry herb vaporizer and dab pen in one
All glass vapor pathway and ceramic heating chamber
Precise temperature settings allows complete control
Battery can power the DaVinci through 3 to 4 hours of continuous vaping
Pass-through charging allows you to vape while the Ascent is plugged into the wall
Preheats in 60 seconds or less, even on the highest setting
Offered in five color styles, faux wood finish, crocodile skin, & a skeleton pattern
Sleek, compact design that is very portable
Good vapor production and flavor due to all-glass pathway
Responsive temperature controls with digital display
Cons:
Large in size: at 4.47 inches by 2.24 inches by 1.03 inches in size
More expensive than most portable products
Housing can become hot with long vaping sessions
Battery is slow to recharge and requires at least 5 hours to reach full capacity, which limits portability
Very finely ground herbs can slip through the mouthpiece
Unit can be difficult to clean after using concentrates and oils, which become very stick
Da Vinci Ascent may become dangerously hot with prolonged use
Battery requires 5 hours to be fully charged
Device may not be suitable for people with arthritis or any condition that reduces finger strength or dexterity
In-Depth of the DaVinci Ascent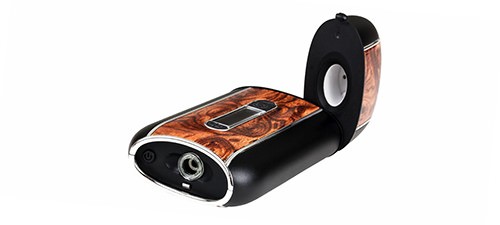 - Price - DaVinci Ascent is priced at $300 retail, and can be found for around $270, making it one of the highest priced portable models and many of the desktop models available on the market today.
- Reputation - In terms of vapor production and taste, the Da Vinci Ascent consistently earns high marks from reviewers. Which makes it one of the best vaporizers which has an all-glass pathway that keeps impurities out of herbs, or tobacco, resulting in very high vapor quality. Currently one of the only units on the market today that can be used not only for dry herbs but also for oils and concentrates.
- Guarantee - DaVinci offers a 2-year limited warranty on the Ascent, which is about as long as most other portables and longer than the guarantees provided with some models.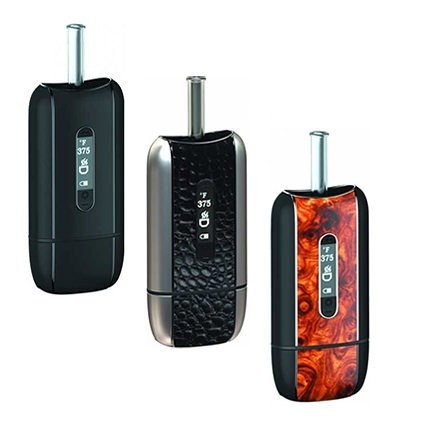 - Prep Time - Once the Ascent is turned on, it can be ready for use in as little as 30 seconds, so it is perfect for on-demand vaping.
- Portability, Size and Privacy - At just 4.47 inches in height by 2.24 inches in width by 1.03 inches in depth, the DaVinci Ascent is truly pocket sized and very easy to take with you on the go. The vaporizer has a sleek look and comes in three stylish finishes. Many people will mistake it for a mobile phone in a case, making it a compact vaping device.
- Ease of Use - For the average user, the Ascent is rather easy to use. The mouthpiece is simple to draw from, and there is a digital display that allows you to easily monitor the temperature. People who have arthritis or problems with finger dexterity may struggle to raise and lower the mouth piece or to fill the vaporizer.
- Heating and Temperature Regulators - The Da Vinci Ascent is a conduction vaporizer. While reports of combustion are rare, some people have reported this problem with dry herbs. The Ascent does have a built-in temperature regulator that is highly responsive, allowing you to adjust the heat levels by increments as small as 1 degree. There are some reports that the device becomes hot to the touch, particularly at the bottom.
- Power Supply - The Da Vinci Ascent has a rechargeable battery that can power the device for about 2.5 hours, which is comparable to many portables; however, the 5-hour charge time is longer than the norm with models in this price range.

Materials: All glass vapor pathway, ceramic heating chamber, plastic outer
Function: Works as a wax and dry herb vaporizer
Power: Lithium-ion battery
Included Accessories: 2 glass oil jars, carrying pouch, wall battery charger
Required Maintenance: Screens require periodic replacement; comes with three replacement screens
If you're looking for very pure, clean vapor, and don't want to worry about combustion, the DaVinci Ascent is a good investment for those who vape regularly. This vaporizer will appeal to many vape enthusiasts; however, it's important to remember that this is not a true vape pen, as it does not have the shape of an ecig.
Tips for Using DaVinci Ascent
Always grind your dry herbs prior to use for best results. A medium grind is ideal for the Ascent
Glass components of the DaVinci Ascent must be cleaned regularly to keep them free of debris
Best way to do this is to remove Glass mouthpiece and soak them in isopropyl alcohol
Emptying the heating chamber as soon as you can will cut down on the need for frequent cleaning