The Firefly was the first portable convection vaporizer to hit the market, and it has consistently earned top reviews for its performance. But the engineers at Firefly weren't content to just rest on their laurels! They've been hard at work for years on a new version of the vaporizer, and now it's finally here! The new Firefly 2 vaporizer is both a dry herb & wax vaporizer, and it's truly exceptional. Read on to learn more about this herbal and oil vape.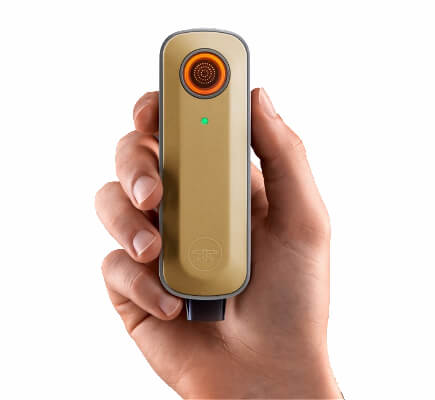 Pros:
Excellent vapor quality with herbs or concentrates
Flexible for long or short sessions
Incredibly efficient
2 removable batteries included
Mobile app for easy setting and monitoring
Smaller and lighter than the original
Cons:
One of the more expensive portables
Smaller capacity than some other vapes
Learning curve when beginning to use it
More than average draw resistance
Finish can scratch
| | | |
| --- | --- | --- |
| | Firefly 1 (Discontinued) | Firefly 2 |
| Price | $270 | $330 |
| Materials Type | Dry herb | Dry herb and wax |
| Heating Style | Convection | Convection |
| Oven Material | Alloy | Alloy |
| Vapor Path | Metal | Glass |
| Removable Battery | Yes | Yes |
| Battery Life (Usage time) | Around 50 hits | Around 50 hits |
| Charger | USB | USB 3.0 |
| Charge time | 45 minutes | 50 minutes |
| Bluetooth / APP | No | Yes |
| Heat-up Time | Immediately | 3 Seconds |
| Easy to Load? | Yes | Yes; magnetic lid |
| Draw Resistance | Low | Low |
| Vapor Production | Excellent | Excellent |
| Vapor Smoothness | Moderate | Excellent |
| Flavor / Taste | Excellent | Outstanding |
| Odor Level | Low | Low |
| Precise Temp Adjust / Temp Range | Up to 400 degrees Fahrenheit | 340, 360, 380, 400 & 420 degrees Fahrenheit |
| Vape While Charging | Yes | Yes |
| Warranty | 5 Years | 5 Years |
In-Depth of the Firefly 2 Vaporizer
- Price - The biggest drawback of the Firefly 2 is its price. It retails for around $330, which makes it one of the most expensive options for those looking for a portable vaporizer for wax and herbs. That said, the efficiency and the performance of the vaporizer makes it well worth its price tag.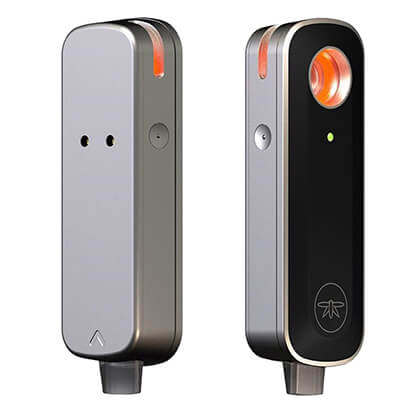 - Vapor Quality - The Firefly 2 is a convection vaporizer that uses low heat and air flow to warm material, making it far more efficient than nearly all other models on the market. The vapor path features only FDA approved materials, giving you pure vapor. The level of smoothness, the quality of the taste, and the potency of the vapor produced by this model make it truly worthy of the title, best dry herb vaporizer among portables, and it performs equally well as a dab vaporizer.
- Guarantee - Firefly brand offers a 2-year warranty on the Firefly 2, which is sort of short for a vaporizer of this price; however, the vape does seem to be well made, so it's likely that the device will last well beyond 2 years of use. The finish on the vape could get scratched if you're not careful with how you handle and store it.
- Prep Time - The Firefly 2 Vaporizer is very easy to load, and doesn't require an ultra-fine grind to work properly. One small drawback is that the chamber only holds about .1 grams of material, so you can't enjoy very long sessions with a single load. However, the high potency of the vapor means you likely won't need to take as many hits with this vape. The heating chamber heats up quickly.
- Portability - The original Firefly was often criticized because of its size, which made it awkward to carry in your pocket. The Firefly 2/3 of the size of the original and 55% lighter, making it much more portable. There is also virtually no odor with this vape, so it's very compact.
- Ease of Use - With the Firefly 2, you can take 1 or 2 draws at a time or enjoy an entire session, giving you the flexibility to vape how you want on the go. A mobile app makes it very easy to operate the vaporizer. It may take a little time for you to learn the proper technique to get a good draw from the herbal vaporizer, and the model does have a lot of draw resistance, which can make it challenging for people with breathing problems.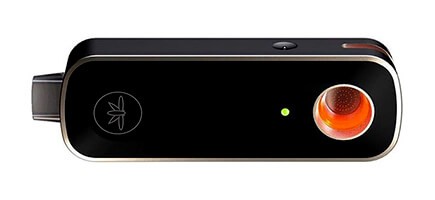 - Heating and Temperature Regulators - The Firefly 2 gives you the flexibility to choose from six temperature settings, which you can select with the mobile app.
- Power Supply - Unlike most other vaporizers, the Firefly 2 comes with two removable batteries, so you can always have a spare charged and ready to go. The battery life on the Firefly is improved with the new version of the wax + herb vaporizer, now it will last through around 25 to 50 draws, depending on the temperature setting.
Original Firefly vs Firefly 2
The classic Firefly has been considered one of the best vaporizers for those looking for an exceptional vaping experience, which just aren't possible with any basic vape. Made with both form and function in mind, the original Firefly portable vaporizer revolutionized the industry, with its convection air flow design, that improved efficiency and prevented the combustion problems associated with other similar models.
Still, nothing is perfect, and those who purchased the original Firefly vaporizer did have a few complaints about the design. Always receptive to feedback, the manufacturer listened to customer feedback, and unveiled a new and improved version - the Firefly 2 for wax and herbs. Here is the list of some of the new and improved features of the 2nd generation: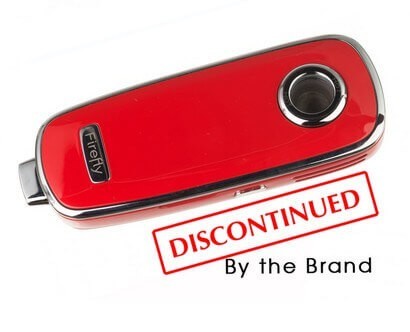 More Compact - many people complained that the original model was too large and heavy to be convenient for use on the go. Although Firefly 2 is nowhere near as small as a vapor pen, it is much easier to fit in your pocket.
Better Battery - the new battery used in the Firefly 2 vaporizer for wax and herbs reduces charging time and increases battery life.
No Buttons - newbies struggled with how to use the original Firefly vaporizer when they first purchased it because it required a unique draw technique. With the new model, the button has been eliminated to simplify things. Instead, the vaporizer's mouthpiece detects a user's touch and automatically responds.
Bluetooth Functionality - Firefly 2 vaporizer offers a free app, With it you can fine tune the responsiveness of the touch sensor and choose the temperature settings for the vape.
True Multi-function Technology - with the Firefly 2, you can enjoy both dry herbs and waxy concentrates with equal ease. No matter what you're vaping, the device provides exceptional vapor quality.
Faster Heat Up - convection vaporizers typically take longer to heat up than conduction models, but the engineers at Firefly headquarters in California have found a way to reduce the warm up time, so that the vape can be ready to go within just a few seconds.
Hypoallergenic - new Firefly 2 has a nickel free heating coil so it's safe for people who are allergic to metals.
New Charger - another design flaw of the original Firefly vaporizer was that it was hard to attach the USB charger to the small hole. The new model has a charging station, so you simply set down the vaporizer when you're ready to charge it.
If you're looking for a model that will allow you to get the most out of both herbal and oily concentrate materials, the Firefly 2 is an excellent investment. You simply won't find a unit that provides better quality vapor, or that is more efficient than this herb and wax vaporizer. Want to learn more about the Firefly 2? Check out the product page here at VaporPlants.com or contact us with any questions.