The herbalAire H2.2 Vaporizer is a desktop vaporizer that offers three different draw methods, and the ability to vaporize all types of herbs; dry herbs, concentrated oils, and wax. You can draw directly from the vaporizer's mouthpiece top, through a whip, or out of vaporizer bags. The vaporizer has a very different design than others on the market today, which leads to some distinctive benefits and some noticeable drawbacks.
Basics of herbalAire H2.2 Vaporizer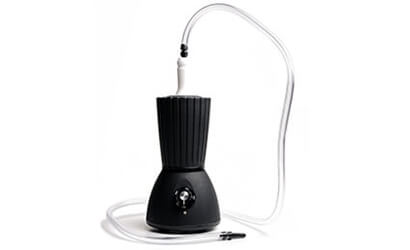 - Price - The suggested selling price of the herbalAire H2.2 Vaporizer is $199, making it a mid-priced option amongst desktop vaporizers. For the quality of the vapor that it produces in whip mode, the dry herb vaporizer does offer value.
- Vapor Quality - With the herbalAire H2.2 Vaporizer, you can expect pure vapor that has a pleasing taste, and the amount of vapor you can produce with the unit is satisfactory; however, you must place more herbs into the crucible than what herbalAire recommends if you want to be able to enjoy thick vapor.
- Whip Mode - Of the two traditional types of draw methods, the whip mode of the herbalAire H2.2 Vaporizer tends to get more praise. The whip included with the vaporizer is very easy to draw from with very little learning curve. The vapor quality is satisfactory to good with this method.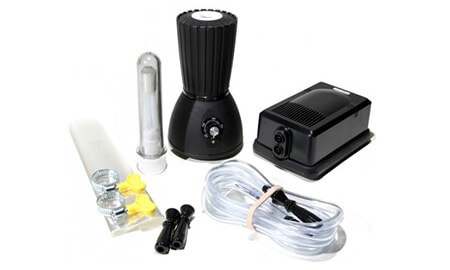 - Bag Mode - There are a number of unsatisfactory reviews about the herbalAire H2.2 Vaporizer's performance in bag mode. One major problem with the herbal Desktop Vaporizer is that it doesn't have an internal fan. To fill a bag, you must attach a separate air pump. An extra part means there's more to break, more to store, and more to carry, if you like to travel with your vape. Also, the vaporizer balloons that are compatible with the H2.2 vaporizer do not have clamps of any kind, so you have to hold them to prevent leakage. The most troubling problem with using the vaporizer in bag mode, though, is that the holes in the screen are too large. This means that particles of herbs can fly into the bag and end up in your mouth when you draw.
- Guarantee - The herbalAire H2.2 Vaporizer has a 3-year warranty, which is about average for a desktop vaporizer. There are a few models that have longer warranties.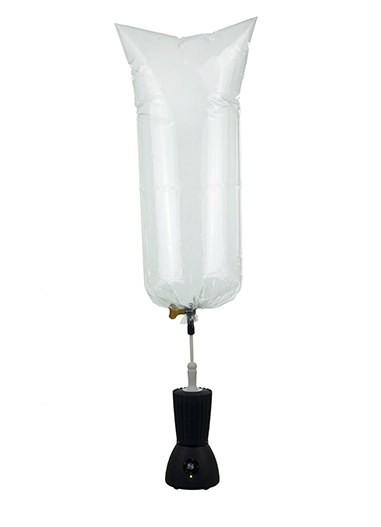 - Prep Time - Setting up the herbalAire H2.2 Vaporizer is very easy. You don't even need to grind your herbs beforehand. The vaporizer gets hot within a few minutes, so it's about as convenient as most other models, and faster than others. LED lights on the bottom make it very clear when the unit is ready.
- Heating and Temperature Regulators - The herbalAire H2.2 Vaporizer features an analog temperature dial, so it's not quite as precise as digital models. Still, the dial does have numbers on it, a feature not found in some competitors. This makes it easier to reset the vaporizer on the same temperature for every use. There are some reports of the herbal vaporizer models running hot, which could result in combustion if you're not careful.
Pros of the herbalAire H2.2 Vaporizer
Dual function design gives you flexibility to draw from vaporizer balloons or a whip
Saves time with no need to grind herbs
Gets hot in roughly 5 minutes or less
Satisfactory vapor quality
Very easy to use in whip mode
LED lights allow for easy monitoring
Cons of the herbalAire H2.2 Vaporizer
Risk for waste if you don't measure your herbs in advance
Mouthpiece top can wiggle around if you don't let it heat up in place
Must use a larger amount of dry herbs to get satisfactory vapor quality
Bags don't have valves, so they can leak
No internal fan; vaporizer bags are filled with separate pump
Fine particles can get into the balloons, because of the large holes in the screen
Unit can run hot and pose a risk for herb combustion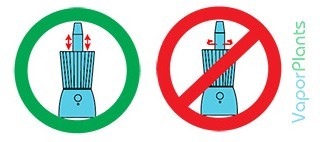 Tips for using the herbalAire H2.2 Vaporizer
Runs a little hot. Start with the temperature lower and increase as needed.
Make sure that you leave the mouthpiece in place for a minute or two with the unit hot.
It must have enough time to expand to prevent slippage during use.
You can learn more about legal Weed Vaporizer models by checking out our Vaporizer Category page here at VaporPlants.com!
Video: herbalAire H2.2 in Action
Buy Vaporizers and Vape Pens from VaporPlants.com