Vapir is a vaporizer company that has been around for some time and has produced a number of portable models. While they're not as well-known as some other brands, Vapir does have a solid reputation, so the release of their new dual dry herb and wax vaporizer has been anticipated for some time. Unfortunately, the dual function wax and herbal vaporizer has a lot of shortcomings that make it far less attractive than competitors like the PAX.
- Size - the Vapir Prima is a portable vaporizer, so you don't expect it to be as small as a vaporizer pen. Still, the model is much heavier than most other portable vaporizers. You can carry it in a bag or a deep coat pocket, but it's nowhere near as compact as a unit like the PAX 2 that isn't much bigger than a vapor pen.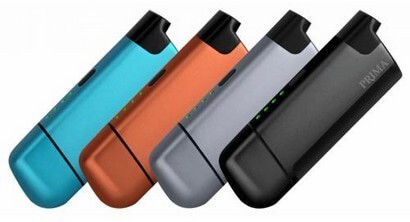 - Small Oven - even though the Prima is hefty, it has a very small heating chamber. When you're using it as a wax vaporizer, this isn't too much of an issue, but when you want to use it as an herbal vaporizer, this is very problematic.
- Weak Magnet - a magnet is included in the Prima to keep the heating chamber closed, but if you move too much, the magnet will fail, and the vape can come open. As a result, you can't really load herbs before you leave the house, which is rather inconvenient for those who want to be able to vape on the go.
- Price - the problems with the Prima would be acceptable if this small vaporizer only cost $100, but the model is priced at $259, only $20 less than the PAX, which is a far superior model.
While there are some definite problems with the Prima vaporizer, the model does have some good features, too, including: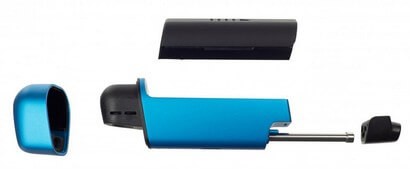 - Fast Heat Up - the wax and dry herb vaporizer can reach its maximum working temperature in 1 minute or less. That's rather fast for a portable vaporizer.
- Heat Protection - the vaporizer has a built-in heat sensor that powers the model off if it gets too hot. This ensures safety and helps prevent combustion.
- Efficiency - although the oven is small, the Prima does a good job of vaporizing what it can hold. The vapor quality is good with both wax and dry herbs, which only makes the problems it has more disappointing. A few tweaks in the design, and this unit could be a standout true portable vaporizer.
As you can see from the Prima vaporizer review, this Vapir model doesn't live up to the bar set by competitors, or even by some of the other vaporizer models made by the brand. Those who want a dual function wax and herbal vaporizer may want to look at other vape pen and portable vaporizer options.