When you see the Boundless CF, you may do a double take! This vaporizer looks very similar to the Storz and Bickel portable vaporizer units that are used for dry herbs; however, it costs a fraction of the price. But how does it compare in terms of performance? Read on to find out.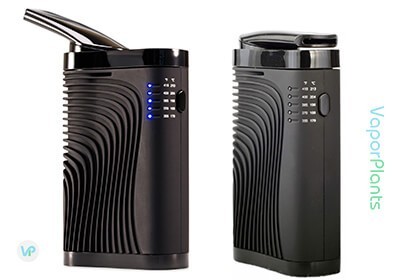 Pros:
Even, efficient vapor
Easy to pack
Pocket sized for easy carrying
Ergonomic for a comfortable fit
Taste and smoothness are good with low temperatures
Economic price for a portable model
Cons:
Draw resistance can make inhaling difficult
Vapor can be too harsh on higher temperatures
Boundless Vaporizers Breakdown
| | | | |
| --- | --- | --- | --- |
| | Boundless CF (Being reviewed) | Boundless CFX (Has a digital screen) | Boundless CFV (Newer model) |
| Price | $120 | $170 | $210 |
| Materials Type | Dry herbs and concentrates | Dry herbs | Dry herbs |
| Heating Style | Convection/Conduction | Convection/Conduction | Convection |
| Oven Material | Ceramic | Ceramic | Wood, quartz, stainless steel |
| Vapor Path | Plastic | Plastic | Plastic |
| Removable Battery | No | No | No |
| Battery Life (Usage time) | 50 minutes | 60 minutes | 60 minutes |
| Charger | USB | USB | Micro-USB |
| Charge time | 3 hours | 2-3 hours | 2-3 hours |
| Bluetooth / APP | No | No | No |
| Heat-up Time | 20 seconds | 18 seconds | 30 seconds |
| Easy to Load? | Yes | Yes | Moderately |
| Draw Resistance | Low | Moderate | Low |
| Vapor Production | Excellent | Excellent | Low |
| Vapor Smoothness | Excellent | Excellent | Moderate |
| Flavor / Taste | Excellent | Excellent | Excellent |
| Odor Level | Moderate | Moderate | Low |
| Precise Temp Adjust / Temp Range | 355 - 415 degrees Fahrenheit | 100 - 430 degrees Fahrenheit | 140 - 446 degrees Fahrenheit |
| Vape While Charging | No | No | No |
| Warranty | 3 Years | 3 Years | 3 Years |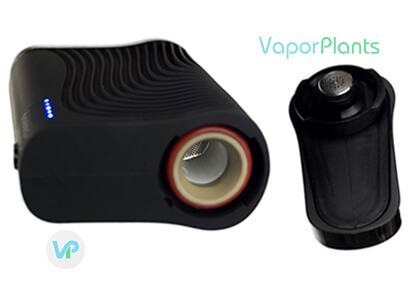 - Price - As previously mentioned, the Boundless CF is a very inexpensive portable vaporizer. It retails for around $130, making it an entry-level model in terms of its price.
- Vapor Quality - Although it is priced like a cheap vaporizer, the unit is able to provide a better experience than other models of similar price. The vape features a ceramic heating chamber and uses conduction plus secondary convection to produce vapor. You don't have to worry about the nuances of vaping vs smoking with this vaporizer; it does not combust herbs even on its highest setting. That said, to get good flavor and a nice smooth vapor output, it's recommended that you use the lower settings. Any hotter and the vapor quality is diminished. Overall, the strongest selling point of the Boundless CF is the vapor cloud size, as the unit produces plentiful amounts of vapor.
- Guarantee - The Boundless CF comes with a 2-year warranty plus a 30-day money-back guarantee. That warranty is about average when you look at dry herb vaporizers as a whole and above average for one that is so inexpensive.
- Prep Time - You don't have to pack the Boundless CF too tightly, so it's very easy to load. The unit gets hot faster than standalone convection vaporizers and vibrates when it's ready.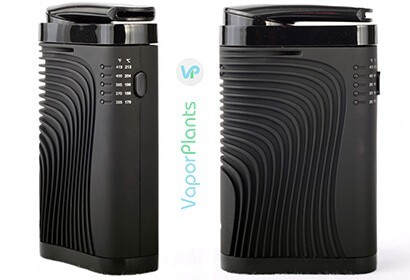 - Portability - Ultra compact, the Boundless CF will fit in your pocket for easy carrying. Its ergonomic design makes it very comfortable to hold.
- Ease of Use - The Boundless CF is simple to operate; however, the herbal vaporizer does have some draw resistance. People who have breathing problems may struggle to use it properly. The unit has a 5-minute auto shutoff that will power off after 5 minutes. You will likely have to turn it back on to complete a full session but the vape reaches working temperature fast so this isn't much of an issue.
- Heating and Temperature Regulators - With the Boundless CF you can choose from five heat settings, but as previously mentioned, only the lowest two are really recommended to get a nice balance of vapor production with smoothness and pleasing flavor.
- Power Supply - The Boundless CF has a powerful battery that can usually provide about 1 hour of vaping time. That's about average for a unit of this size.
In conclusion, the Boundless CF is great for those who are looking for an inexpensive portable vape that produces a large amount of vapor with above average quality. While it doesn't match the performance of a Storz & Bickel, as you've read in this review, other vaporizer reviews, and your own experience, the model offers real value for the money due to its low price point.