The Silver Surfer is a desktop whip vaporizer made by 7th Floor. One of the few vaporizers to be made in the USA, the Silver Surfer is intended for use as a dry herb vaporizer, a tobacco vaporizer alternative to e-cigarettes or a marijuana vaporizer (only where permitted by law).
Closer look at the features of this Silver Surfer vaporizer: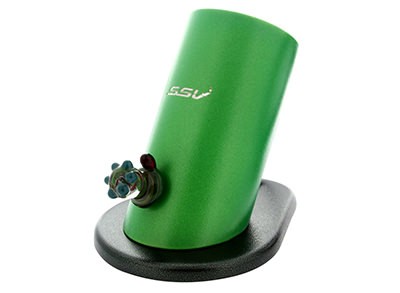 Price - Silver Surfer Vaporizer retail starting price of retails for $320, and could be found discounted at around $280. Making this unit a mid-priced model comparable to the Arizer Extreme. Many owners of smoke shops and users feel that the sleek design of the vaporizer and its overall quality make it a real value at this price. This is one of the few tabletop vaporizers that comes in a variety of colors--nine in all. The finish is ionically applied, so is not affected by heat from the ceramic element inside.


Reputation - In vaporizer reviews, the Silver Surfer consistently gets high marks for taste. The use of glass components and the ceramic heating element keeps vapor free of impurities, and there is an air intake hole included in the design to allow fresh external air into the vaporizer with every hit to keep the vapor fresh.


Guarantee - All of the electrical components in the Silver Surfer come with a 3-year warranty from the manufacturer; however, the glass components are only warrantied for 30 days. Although this aspect of the warranty is shorter than what is offered on many other vaporizers, there are few reports of premature breakage with this model.


Prep Time - The 7th Floor Vaporizer can be ready for use in just 2 minutes. Your blend must be ground finely prior to use. The first time that you use the vaporizer, you should let it heat up to the maximum temperature setting and let it rest for 30 minutes while empty to burn off any residues that collected in the chamber during manufacturing.


Portability, Size and Privacy - Designed for at-home use, the Silver Surfer is not portable and measures 7 inches by 5.25 inches by 6.25 inches in size. When not in use, the vaporizer is easy to store out of sight; however, its colorful design makes it perfect for displaying on a table or counter all the time.


Ease of Use - Once you have mastered the Silver Surfer, the vaporizer is easy to use; however, it may take some time until you can get a great vape with this model. Some people find it difficult to get the vapor to a comfortable temperature when drawing with the whip. When you draw too slowly, the vapor may become too hot, but drawing quickly can lead to thinner vapor. As a result, it takes some experimentation to get the ideal balance between heat and speed.



Heating and Temperature Regulators - The Silver Surfer has a single analog knob for adjusting the temperature setting, making it less precise than models with digital controls. Some vaping enthusiasts solve this problem by making a mark on the vaporizer at their preferred dial position. The model uses convection based heating, and its ceramic heating element is positioned at a downward angle, which greatly reduces the risk of combustion. Check out here convection vs conduction differences. The design also allows for even heating, which ensures that dry herbs and/or tobacco are vaporized completely.


Power Supply - Silver Surfer requires standard AC power for operation. The vaporizer has an extra long 10-foot power cord that gives it an advantage over other models.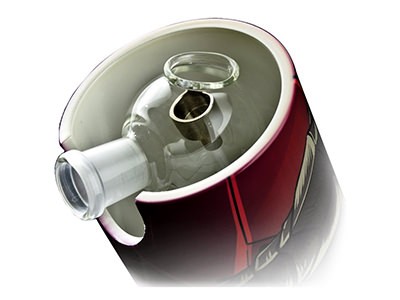 Pros of the Silver Surfer Vaporizer
Silver Surfer comes in a wide variety of color options
Has a durable shell and paint color finish
Ceramic heating element is perfectly positioned to prevent combustion
Provides even heating
Ensure a pleasing taste
Vaporizer has an extra long cord
Number of accessories are available for the model
A hemp carrying bag is included with the vaporizer for free
Cons of the Silver Surfer Vaporizer
It takes time to master the correct draw speed with this vaporizer
Analog dial makes the vaporizer less precise than digital models
Glass components have a very short warranty
To buy your Silver Surfer Vaporizer today, click here.
Silver Surfer Vaporizer by 7th Floor Video Review
Buy Vaporizers and Vape Pens from VaporPlants.com