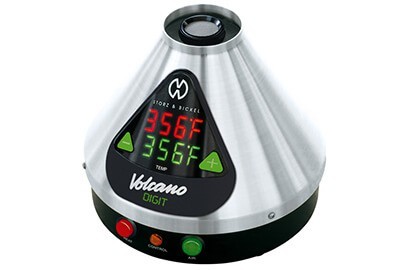 Volcano Digit Vaporizer is the second generation design of the Volcano Vaporizer by Storz and Bickel, which was the very first successful convection vaporizer to hit the market. This updated design includes some advanced features not found in the Volcano Classic by. The Volcano Digit desktop vaporizer can be used to vape tobacco, as an aromatherapy vaporizer and as a dry herb vaporizer in areas that allow for legal aromatherapy use.
Here is a look at some of Volcano Digit features:
- Price - Original retail price is $770, and it current can be found at discount selling price for around $680. The Volcano Digit is usually among the most expensive vaporizers at smoke shops if not the most expensive model. High price makes it less than ideal for beginners, who aren't sure if vaping is something they will want to actively pursue on an ongoing basis. The digital sells for $130 more than the Volcano Classic, which could be a good option for those who like the basic features of the digital but don't need the new technologies.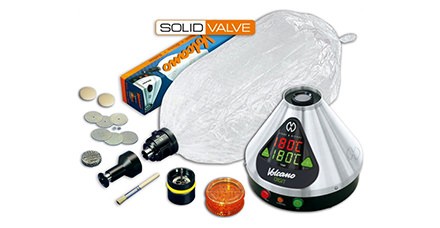 - Reputation - At vape shops, in print publications and in online reviews, the Volcano Digit consistently earns best vaporizer marks, and it is considered by many to be the most luxurious vaporizer model on the market today. The Storz and Bickel model has an excellent reputation, and many state that its balloon system produces the best tasting vapor.
- Guarantee - Volcano Digital comes with a 2-year guarantee, which is 1 year shorter than the Volcano Classic. The additional digital display does result in more parts that could break over time, but so far, the Volcano digital seems to be every bit as reliable as its predecessor.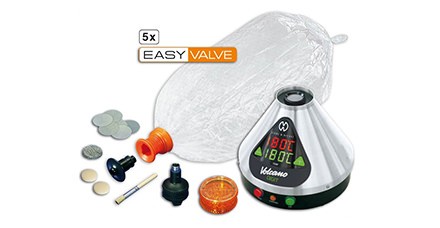 - Prep Time - You can have the Volcano digital ready for use quickly, but you will need to grind your dry herbs with a herb grinder prior to placing them inside to get the best results from vaping.
- Portability, Size and Privacy - Volcano digital is a desktop model and not designed to be used on the go. The dry herb vaporizer measures 8 inches in diameter by 8 inches in height, so it will fit easily on a counter top or table. The stainless steel design gives the dry herb vaporizer a sleek appearance, but you can definitely tell that it is a vaping product. Since it is compact, you can store it out of sight when not in use to protect your privacy.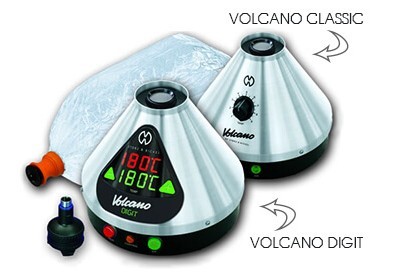 - Ease of Use - With the Volcano Digit, vapor is collected inside of a balloon, which can be easily detached for vaping. You won't need to learn a specific inhalation technique to draw from the balloon, and you can vape at your leisure, as the vapor will remain safely contained inside.
- Heating and Temperature Regulators - Volcano Digital uses convection to heat dry herbal blends and tobacco. The design includes temperature controls that can be set between 104 degrees and 446 degrees Fahrenheit. The digital display makes it easy to see what temperature the heating chamber is at and allows you to monitor preheating. The temperature regulators are very sophisticated, and as a result, combustion of herbs is very uncommon. As an added safety feature, the digital includes a new automatic shutoff not found in the Volcano Vaporizer by Storz and Bickel.
- Power Supply - Volcano Digit must be plugged into a standard electrical socket for operation.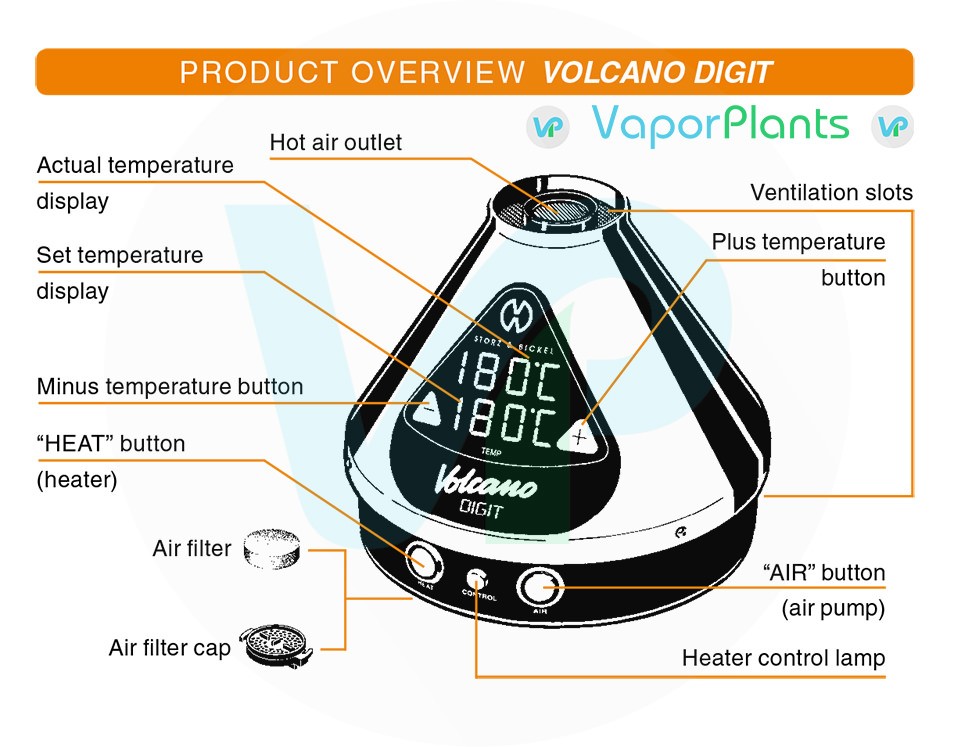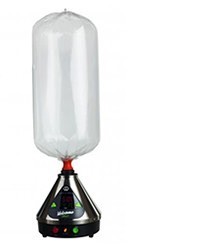 Pros of Volcano Digital Vaporizer
Taste and vapor quality of the Volcano Digit are truly second to none.
There is little to no risk of combustion when using the digital due to the reliable temperature regulation.
Balloon system makes vaping easy and convenient, and the device is very easy to clean.
Cons of Volcano Digital Vaporizer
Biggest drawback of the Volcano digital is the price
Some people do not find the addition of the digital display enough to justify the added cost
2-year warranty is shorter than guarantee on other desktop vaporizers
Including Volcano Classic; however, dry herb vaporizer reportedly will last well beyond guarantee
Digital vs Classic Summary
In closing, the key differences between the Volcano Digital tabletop and the Volcano Classic by Storz and Bickel vaporizer are that the digital has an automatic shutoff feature and a digital display. The newer model has a shorter guarantee than the Classic (2-year versus 3-year), and it sells for about $130 more. See the full Volcano Vaporizer Review, the original classic vaporizer by Storz and Bickel.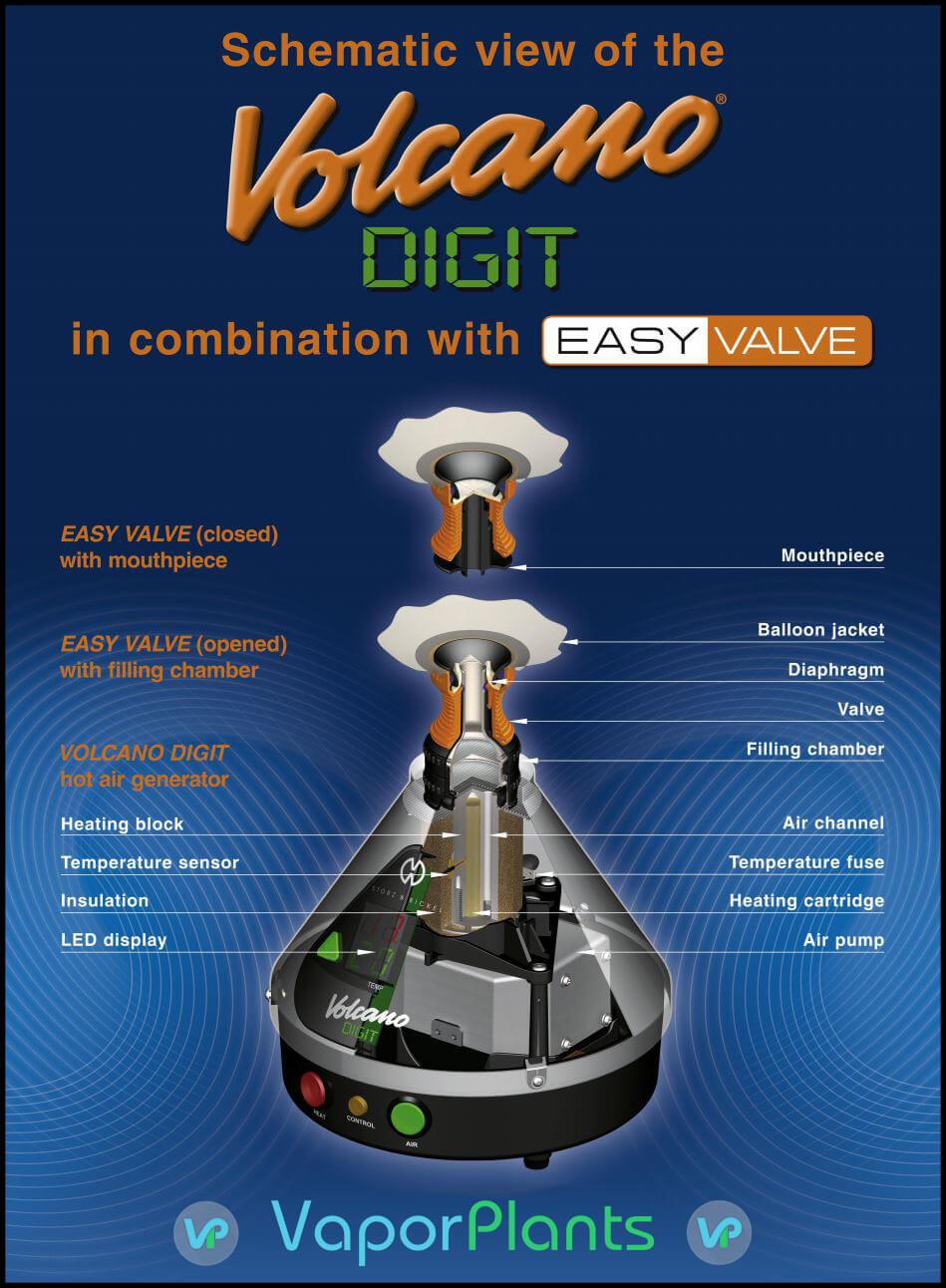 Click here to see Volcano Digit User Instructions Guide
Volcano Vaporizer by Storz and Bickel for Dry Herb "How to" Video
Buy Vaporizers and Vape Pens from VaporPlants.com