The Zephyr Ion Vaporizer is one of the newer dry herb vaporizers on the market today. A bag style forced air desktop vaporizer, the Zephyr Ion has some advanced features that set it apart from others on the market and provide some unique benefits.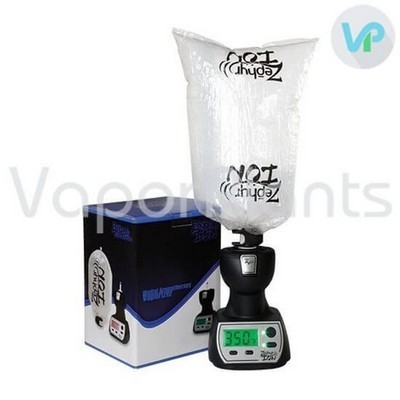 Pros
Only a few basic buttons to ensure easy operation
Heats up quickly compared to other desktop vaporizers
Digital temperature setting lets you enter a very specific temperature
Very high quality vaporizer bags with valves to keep vapor inside
Powerful fan fills the bag very quickly
Vapor quality is smooth with a good taste
Cons
Fan is very noisy compared to other balloon vaporizers
Cannot vape a small amount at a time because it is exclusively a bag style vaporizer
Warranty is shorter than other desktop vaporizers
Tips for Best Results:
For wax: evenly spread your waxxy oils along the pad provided
For dry herbs:

Grind herbs well to ensure optimal vaporization
Brush the herbal chamber out after every use, to avoid build-up
Clean the screens every few sessions to maintain performance
In-Depth of the Zephyr Ion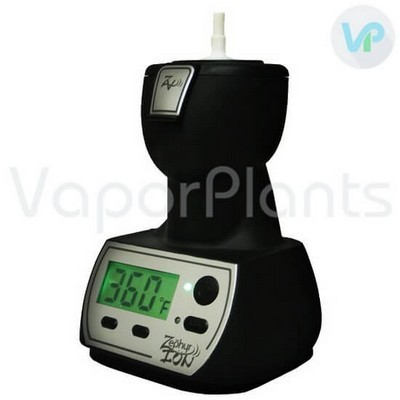 - Price - The Zephyr Ion has a suggested retail price of $480, which makes it one of the more expensive best vaporizers on the market; however, you can usually purchase one for less than $300 from VaporPlants.com, making it more competitively priced.
- Quality – Compared to other desktop vaporizers, the Zephyr Ion provides very good quality vapor that is plentiful, pure, and smooth. The vaporizer bags included with the vape are heavy-duty, and better than what is provided with some competitors. The only real drawback to the unit is that it is a lot noisier than other forced air vaporizers.
- Guarantee - The Zephyr Ion dry herb vaporizer is only warrantied for 2 years, which is shorter than many other desktop vaporizers in its price range.
- Prep Time - With the Zephyr Ion, you don't have to wait long for it to reach working temperature. The heating element can be ready in under 5 minutes on even the maximum temperature setting. Bags also fill quickly and will be ready to draw from in under 1 minute.
- Ease of Use - The Zephyr Ion vaporizer really shines for its ease of use. There are only a few buttons to keep operation simple. The bags are equipped with a squeeze valve that holds the vapor in, so you can relax and draw at your leisure.
- Heating and Temperature Regulators - Due to its digital display, the Zephyr Ion provides flexibility. You can adjust the temperature to the exact level you wish down to a single degree.
All told, the Zephyr Ion rates at 90/100. While the vaporizer does require a major investment, it is equally well suited for beginners and more experienced users. You can learn more about the desktop vaporizer and purchase one here at VaporPlants.com.
Video: Zephyr Ion in action