Shop by Vaporizer Types:
If you vaporize aromatic blends and dry herbs, you can't simply stuff the vaporizer heating chamber full of material and expect to get the best results. Using a herb grinder can help you get the most vapor possible and improve the efficiency of your desktop vaporizer, portable vaporizer, or vape pen. A weed grinder gives more surface area to dry herbs, so that vaporization can occur evenly and fully. At VaporPlants.com, we make it easy to find the best grinder for your needs with our wide selection of herbal grinder options. Whether you're looking for an acrylic, wooden, or metal grinder to complete your collection of vape accessories, you'll find the perfect grinder in our collection of high quality 2, 3, and 4 piece grinder accessories. Check out Video Below to see differences between different Herb Grinders
---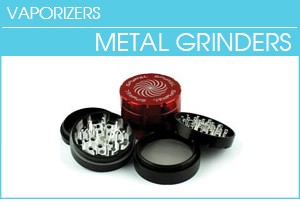 Metal Grinder
Using a dry herb grinder to ready your medicinal cannabis for the heating chamber of your vaporizer weed will help ensure that the medical weed vaporizes fully and releases as much of its active chemicals as possible. Many people find that metal weed grinders are the best option as they offer a level of durability and strength not common with other grinder options. When you shop at VaporPlants, you can choose from a lightweight, economical aluminum metal grinder, or a more heavy-duty, top-of-the-line titanium grinder to prepare your legal marijuana, tobacco, or aromatic blend for your vaping sessions.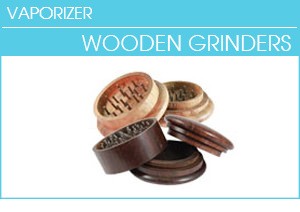 Wooden Grinder
To get efficient vaporization with medical weed or an aromatic blend, you need to take the time to grind the dry herbs to the ideal consistency for your vaporizer. An herb grinder lets you do just that and is a must-have for anyone who vapes dry herbs, tobacco, or medicinal cannabis. Many people prefer to use a wood grinder due to the durability and natural origins of the materials used in the construction. At VaporPlants.com, we offer 2 piece and 4 piece grinder options for legal marijuana and botanical herbs, and all of the models we feature are made out of the finest quality hardwoods.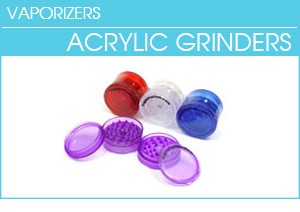 Acrylic Grinder
One of the first things that anyone who is experienced with vaping medicinal cannabis or aromatic blends will tell you is that you need to grind your herbs if you want to be able to enjoy their full potency and flavor. A herb grinder for weed can help you ensure that you don't waste any of your dry herbs, tobacco, or medical weed by improving the efficiency of your vape. The good news is that buying a grinder doesn't have to be expensive. An acrylic or plastic grinder is an economical solution that will help you perfectly prepare your legal marijuana, botanical blends, or tobacco for your vape.

2 vs 4 Piece Metal Herb Grinder
Investing in a metal grinder can help you prepare dry herb blends and medical marijuana for vaping, so that you're able to get thick vapor clouds without wasting any of your materials. A 2 piece metal grinder offers an unparalleled durability compared to grinders made of other materials, so that you can use it again and again to prepare your medicinal weed or aromatic blends for vaping. Because they consist of only two pieces, this type of metal grinder, constructed out of aluminum and titanium, is the most affordable option for preparing legal cannabis and botanical blends. With a 4 piece grinder, you get the benefit of durable construction, which is important for anyone who will need to grind medicinal cannabis or aromatic blends on a frequent basis. With a 4 piece herb grinder, you also get an added chamber for capturing the potent pollen pieces from medical weed as you grind, so that it can be used for vaping. As a result, you won't waste any of your legal marijuana and will get the most out of every vaping session.

AeroSpaced Grinder
AeroSpaced is a leading name in the manufacturing of metal grinder products, and is preferred by many vaping enthusiasts for grinding medicinal marijuana and aromatic blends. When you choose an AeroSpaced grinder, you can be certain that you're getting a herb metal grinder of the best possible quality. As a result, you can expect your best grinder to stand the test of time, so you can use it over and over to grind legal cannabis and other dry herbs. The durability of an AeroSpaced grinder makes it especially beneficial for those who vape medical weed on a daily basis or even more frequently.

Herbivore Grinder
When it comes to preparing medical weed for your best vaporizer, the quality of your grinder weed matters. When you choose a high quality metal grinder, you'll be able to get an even, fine grind and the benefits of the most durable and long lasting type of herb grinders available on the market today. If your metal grinder is an Herbivore Grinder, you'll also benefit from the latest innovations in 2 and 4 piece grinder design to make preparing medicinal marijuana for vaping easier than ever before. The state-of-the-art design of Herbivore grinders will have you ready to vape in record time.

Magic Flight Grinder
After revolutionizing the world of vaping dry herbs and medical cannabis with their Magic Flight Launch Box portable vaporizer, the engineers and craftsmen at Magic Flight set their sights on improving on the classic herb metal grinder design. By taking the same hand-crafted approach to making their Magic Flight herb grinder collection, Magic Flight is able to offer medicinal marijuana and aromatic blend grinders that are durable enough to carry lifetime warranty. Plus, you'll get to enjoy the stylish appeal of their modern designs whether you choose the economical Magic Flight Nano Grinder or the top-of-the-line Magic Flight Finishing Grinder. Looking for Magic Flight Launch Box vaporizer, click here

Grinder Watch
Many people like to keep their use of medicinal cannabis or dry herbal preparations private, and that means finding ways to make sure that their legal marijuana and grinder accessories are kept out of site. If you're among those who wish to vape discreetly, a grinder watch is the perfect solution for your needs. Although they look just like stylish modern timepieces, grinder watches actually have an herb grinder inside. Just remove the face, add your medical weed or botanical blend, and you can discreetly grind your materials for vaping. Since the weed grinder is on a watch strap, you can take it wherever you go.
The right storage solutions can mean all the difference between having a flavorful vaping session and one that falls short of delivering the benefits you desire because of a lack of a freshness. Herb storage and wax or oil storage products also make it possible for you to safely carry your materials on the go without spills and always ready to use with your vaporizer. VaporPlants carries a wide range of wax and dry herb storage options, herbal storage like aromatherapy tray products and stash boxes. For home use, you can choose a wooden rolling station with integrated storage. To carry materials on the go, choose from our airtight container options, stash bottles, stash jars, stash wallet designs, and more. Whether you're looking for glass storage or another type of storage solution, we're sure to have the ideal product.

If you like to vape waxy concentrates, you might quickly find yourself in a sticky situation! Waxes can stick to ordinary dry herb storage containers due to their consistency. That's why it's best to opt for specially made wax containers like the NoGoo Nonstick container. Non-stick storage options are designed specifically for use as waxy oils storage. Made from silicone and other materials, a nonstick container makes it easy to remove concentrated oils for quick and easy filling. Plus, a silicone wax container helps to keep oils from legal marijuana and herbs fresh and cuts down on their smell.

Keeping your vaping materials fresh will help you get more out of every draw, ensuring that the taste and potency are just what you're hoping for. Proper dry herb storage and waxy oils storage is essential for any serious vape enthusiast, and that means getting the right container to store your medical cannabis or herbal blends in between uses. Like a VapeCase for your blends, a TightVac Container or other storage container for medical weed, aromatic blends, or medical concentrated oil helps to ensure you get the best experience when you vape. Options like Smelly Proof Bags also help you to control the odors associated with herb and wax storage.
Choosing the Best Herb Grinder
Buy Herb and Weed Grinder from VaporPlants.com