Want the best vaporizer money can buy? VaporPlants' top ranking collection is the place to shop. The collection of best vaporizer options above is curated by our team and designed to make it easy for you to find all of the models that have top review scores. To make it to this collection, it must rank as one of the best vape pen or vaporizer models based on the reviews left by our customers and our team. As a result, you can be confident that every outstanding vaporizer kit featured above performs well for real-life vape enthusiasts like yourself. So, if you are looking for the absolute best possible vaping experience, you need to find the best vaporizer for your needs, and our top vaporizer collection is designed to help you easily find the perfect vape for your specific needs. How can you be sure that you're getting the best vaporizer? Whether its a portable, a tabletop, or vaporizer pen we are here to help. See all of our helpful tips below to help you make the best decision when selection your new vape!
Best Vaporizers under $100

Dr. Dabber Aurora - is well loved by High Times and has won its Canna Cup the last two years in a row. The Aurora features easy-to-use magnetic parts that make loading and charging simple. It also comes with a sleek matte-black finish and gives users the option of ceramic heaters or dual ceramic rods in order to optimize the flavor of their wax concentrates. Delivering big clouds through its stealthy design, making this one of the best vaporizers for wax, and was given the award of Best Durability, Best Taste, Best Packaging, and Best Stealth by High Times.

PuffCo Plus V2 - is also well-loved by High Times and this vaporizer has won many awards, including the most prestigious Best Vape Pen. Coming in at a price of $99, this pen features a revolutionary "dart" stuck on the underside of the mouthpiece that makes dabbing simple and easy to do at any time. Its coil-less ceramic oven along with the dart ensures your material is heated thoroughly from the inside out, making for incredible cloud production. The flavor is impeccable, earning the The PuffCo+ the following awards: Best Innovation, Best Style/Design, Best Health, Best Vapor Production, Best Taste.
Best Vaporizers under $150
G Pen Elite - functions well and heats up to its max of 428 degrees Fahrenheit in only 30 seconds. From there, it regulates itself to maintain the right temperature and produces large, flavorful vapor clouds without any of the plastic flavor vapes like this typically emit.
Boundless CF - costing only $129, the Boundless CF is the younger brother of the Boundless CFX. It uses the same quick heat up times but lacks the display and only has five pre-set temperatures. Simple to use with various grind styles and load sizes. Simple to pocket, lightweight and fits well in the palm. The battery is not replaceable but it can be easily charged using an included USB charger.
Flowermate Series - collection of the best high quality vaporizers for herbs that costs around $100. These have decent vapor quality, battery life and are incredibly reliable. The Flowermate V5s is the base model and great for a tight budget. There is also the Flowermate V5s Mini but the battery life is much less desirable and is a bit pricier at that. The V5s has two 2600mAh batteries while the Mini only has one 2600mAh battery. The Flowermate V5s Pro and Pro Mini offer a full temperature range of 104 to 446 degrees Fahrenheit and have LED displays. The Pro models have decent battery life like the others but offer more control.
Best Vaporizers under $200
Arizer Solo 2 - is a top quality, inexpensive portable vaporizer. While it isn't very compact when using its glass stem mouthpiece, the glass provides exceptional flavor. The Arizer Solo has above average vapor quality and has different accessories that can be used with your glass piece at home. It offers five different temperature settings between 356 and 410 degrees Fahrenheit and a battery that is rechargeable in order to power those temperatures.
Boundless CFX - At the same price as the Arizer Air, the Boundless CFX is just as powerful but more portable. This awesome conduction vaporizer features a temperature range of 100 to 430 degrees Fahrenheit and you can choose these temperatures using the temperature change buttons and the LED screen. It takes only 20-25 seconds to heat up as high as 400 degrees Fahrenheit using the two included 2500mAh rechargeable batteries.
Dr. Dabber Boost - is the equivalent of a portable oil dab rig. It is sturdy and made of metal and glass, perfect for providing smooth, clean, flavorful draws. It has two O-rings that keep the glass attachment firmly over the ceramic top and comes with a foam-padded case to protect its delicate components.
Best Vaporizers $250+
Last 12 months were an exciting year for the vaporizer industry. It introduced a lot of new units to the vape market, allowing vapers more options than ever before in terms of customizing their vaping sessions. Because of recent changes, more manufacturers are jumping on board to bring some of the best of the best to the industry, and we have briefly reviewed 6 of them below for your convenience. Some are completely new models and others are well established popular units by very well known brands. Now that you have an understanding of the world of vaping, let's take a look at some of the best vaporizers on the market today: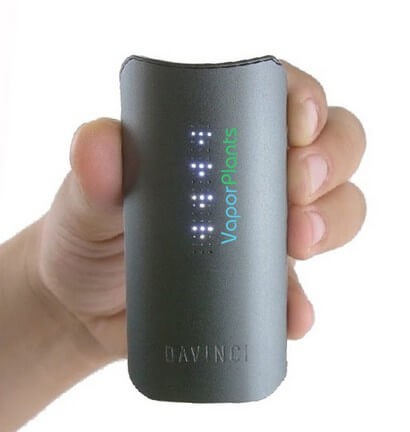 DaVinci IQ - with a stylish design, the DaVinci IQ is a high-end best vaporizer with an exterior that speaks for itself. In the past, the other DaVinci vaporizers have used glass vapor paths and mouthpieces but this new model uses durable zirconium. This material does not conduct heat well at all, making it perfect for producing cool vapor that is powerful and potent. The IQ is a highly portable dry herb vaporizer. Though it is on the pricier end of things, it is well worth it, as it produces exceptional vapor quality. The density of the vapor is remarkable and the flavor is pure and crisp. The lower the draws, the smoother it gets. The IQ vape comes with a replaceable battery, a ceramic zirconia mouthpiece and vapor path that delivers even better flavor. Simple to hold in the pocket and in the hand, much more compact than even the slender Pax 3, making it perhaps the best compact portable vaporizer out there. The Davinci IQ has three buttons on the side of the device but they are hard to see, making it very sleek. It uses intuitive technology to control the temperature spectrum in "Precision Mode" anywhere between 250 and 430 degrees Fahrenheit. It also includes "Smart Path" which allows optimized heating with four settings between 350 and 430 degrees Fahrenheit, heating up slowly in 20-degree increments to optimize the vapor quality as you vape. The mobile app allows you to customize the smart paths as well as dim the LEDs.
Pros of the Davinci IQ:
10 year warranty
50-80 minutes of use on a full charge
Ceramic zirconia mouthpiece | vapor path
Incredible vapor quality, production, and smoothness
Mobile App
Precision temperature control
Replaceable battery
Smart Path technology
Cons of the Davinci IQ:
Four hour charge time
High draw resistance
High Price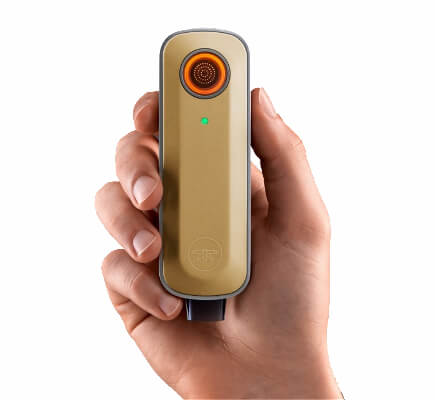 Firefly 2+ - perfect as both a dry herb and wax vaporizer, the Firefly 2 is sleekly designed and produces cool, smooth, and flavorful vapor. It feels great in the hand, fits well in the pocket and functions as beautifully as it looks - well worth the price point. The Firefly 2 runs on pure convection power, meaning that it will never catch your material on fire like a conduction vaporizer might. Able to vape both concentrates and dry herbs, this device comes with five unique temperature settings for dry herbs and one optimized setting for concentrates. It has replaceable, chargeable batteries and gets hot enough to vape in only 10 seconds which is very impressive. The Firefly 2 produces exceptional vapor density, smoothness, and flavor, no matter if you are using it with dry herbs or concentrates.
Pros of the Firefly 2:
4-6 sessions per battery, up to 12 sessions
Concealable
Excellent vapor quality
Five dry herb temperature settings
Fully convection based
Lightweight
Replaceable batteries x 2
Cons of the Firefly 2:
Only one setting for wax temperature
Slight learning curve
High Price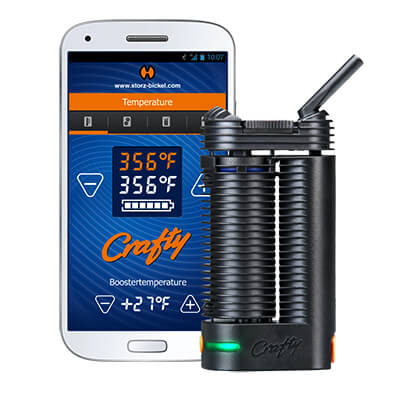 The Crafty - from renowned manufacturers Storz & Bickel, a powerful vaporizer perfect for both concentrates and dry herbs. Ranking among the likes of the Pax and Firefly lines, it gives incredible flavor through its optimized temperature control and sizable clouds. The Crafty is made by one of the most reputable manufacturers of vaporizers, Storz and Bickel. Simple to use and has a single button, while the rest of the vape is controlled using the included free mobile app. This vape has two temperature settings, one being the default temperature and the other being the "boost" temperature. The default and the boost can be altered to any setting between 104 to 410 degrees Fahrenheit, and it can be changed quickly using the app. The Crafty uses mostly convection heating, which is hot air-based, and just a bit of direct contact conduction meaning chances of combustion are low. Carrying the Crafty in the pocket or the palm is simple, but the battery life is a little low. Luckily, you can vape while charging.
Pros of the Crafty:
2 - 3 vape sessions per charge
Consistent vapor
Convection-conduction heating for a low combustion risk
Easy to load
Mobile App
Portable
Simple to use
Temperature range is 103 to 410 degrees Fahrenheit
USB Charger
Cons of the Crafty:
Battery is not replaceable
Battery life could be longer
Moderately compact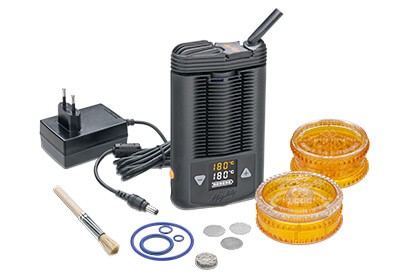 The Mighty - is similar to the Crafty and is also made by Storz and Bickel. While it is not quite as portable, it is packed with some awesome features. It definitely has the best battery life of vapes currently on the market, but it can only be charged via a wall connection. A full charge only takes 90 minutes, and you can vape all day. It also has an LED screen that is simple to read and use to control the temperature, you can view the degree increments while you cycle through them using the temperature buttons on the side. You can choose any setting between 105 to 410 degrees Fahrenheit.
Pros of the Mighty:
90-minute charge time
All day vaping
LED Screen
Simple to use
Temperature control between 105 and 410 degrees Fahrenheit
Cons of the Mighty:
AC charging only
Not so portable and compaxt; bulky
Vaping hasn't always been so customizable. With the numerous improvements that come with today's best vaporizers, picking the right one for your needs simply starts with finding the features you desire the most. Browse the above options and check out the reviews and product descriptions here on VaporPlants to get familiar with the details of each one before purchasing - and happy vaping! Also below you can find more interesting information that will sure be useful to making your selection.

Because there are so many new vaporizers entering the market year after year, it can be a bit tricky for a vaper like yourself to navigate all of the options. We know that getting the best vaporizer for your needs is a huge priority, as they can range between those that come with a number of different features to ones that are simple and straightforward. In the past, vapes were typically simple units with conduction style atomizers and batteries that ran between 650 and 1000 mAh. Today, vaporizers have come a long way with models that have bigger batteries and true convection heating systems. So where do you begin? Find many of the answers you are looking for by scrolling down.
How this Top Collection is Created:
Every time we update this collection of the best vaporizers, we take a number of factors into consideration. First, we examine reviews of the best vaporizers, choosing only products that meet our high standards during testing, ensuring that they deserve a place among the top products on the market. Then, we look at the best rated vapes in terms of feedback we've received, from our own customers and based on top rated vaporizer reviews posted on some other trusted websites. Lastly, we considered the price, to guarantee that you're only getting the best for the money when you choose a model from our top vaporizer collection.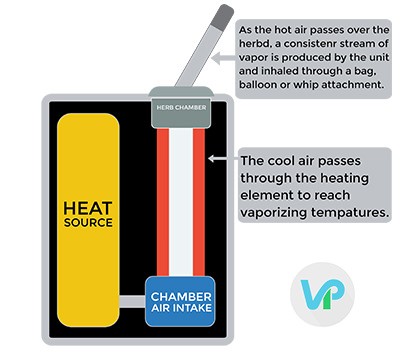 What Goes into the Best Vaporizer?
What are the best vaporizers' features that set them apart from other products on the market? Some of the key features that these top rated models have in common include:
Top Quality Vapor Production - to qualify as one of the best portables or desktops, models must produce vapor that is potent and great tasting. Typically the best vaporizers will produce satisfying, large clouds of vapor and will completely vaporize material without burning or combusting it.


Durability - only models that are well-constructed can be considered as one of the best vaporizers. Straightforward and simple to use for beginners and more experienced users, and are also typically easy to keep clean and maintain with replacement parts.


Value Priced - while prices vary, we only include the best vaporizers for the money in this selection. Long battery life for longer use on the go, fashionable as they are functional. In other words, only products that are worth the cost are included in this collection.
So what is the best vaporizer? When you're shopping for "it", "best" is truly a subjective term.
Any of the vaporizers described below can deliver a satisfying vaporizing experience, but which of the best desktop vaporizers, best vaporizer pens, or best portable vaporizers is right for you will depend on your needs. That's why our team here at VaporPlants.com is here to help you weigh your options, and decide which is the best model for you. You can also check out our full best vaporizer review to learn more about these models.

There is a number of different vaporizer types on the market today designated for use with different materials. The first thing to consider is which type is ideal for your needs. The three main types of vapes are oil vaporizers, wax vaporizers, and dry herb vaporizers. Dry herb vapes are for vaping dried, ground flower material and require a good battery that is excellent for use in portable models. Wax pens, arguably the most popular devices available, are used for vaping waxy concentrated materials and thick oil concentrates. Oil vapes, are used for thinner oils and different e-juices. You can choose from:
1. Best Desktop - powered by electricity and designed for use at home, getting power from an electrical outlet with a cord, like what you'd find on an appliance. These vaporizers typically offer the best experience from potency, taste, and efficiency standpoint. Ideal for people who need to use mostly dry herbs at home and for those who want the best flavor. Because a desktops must be plugged into a wall outlet, you can't use it on the go. Some models are lightweight and able to be taken with you on a trip, but you'll still need to plug it in to get the benefits. These are most expensive options among vaporizers, but that's because of how well they work, typically starting at around $200, with the best models retailing for upwards of $600. If you want the absolute best vaping experience, the best tabletop vaporizers win every time. These vapes have the best temperature controls, so they produce very tasty vapor, maximizing the amount of active compounds in vapor, so they provide the most pronounced benefits.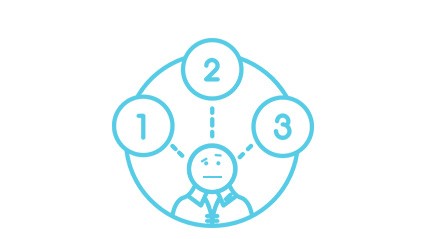 2. Best Portable - use batteries to heat up vaping materials, so they can be used on the go. Offering an efficient, convenient way to vaporize herbs at home and on the go. Portable wax vaporizers are similar to herbal models except they are used with waxy oil concentrates rather than dry herbs. If you like to vape and want to be able to enjoy vaping on the go, you will benefit from such vaporizer. They're also ideal for those who need an affordable device, however, it's important to note that most units that fall under this category are vape pens, not portables. Currently, most handheld vaporizers double as dry herb and wax models, and are priced very reasonably, between $75 and $150. The taste might not quite be the same as what you'd expect from a desktop, so handhelds may not be ideal for those who want the most pure flavor.
3. Best Pens - are very small portable vaporizers that can fit into your pocket due to their shape and size. These models resemble electronic cigarettes, so they offer a level of privacy you won't get with other conventional vaporizers. Vape pens are usually best for those who vape mainly on the go. Oil pens work in the same way as vaporizer with an atomizer or battery but they use tanks with coils and wicks. They vaporize liquid materials by pressing the firing button that activates the current from the battery. Dry herb pens are different from oil pens in that they use chambers instead of tanks. One fills the chamber with dried, ground flower material that is heated to its vaporization temperature. Wax pens are perfect for thin oils and waxes, and are similar to e-juice pens. They use coils that heat up just like e-cigs but often do not include wicks or tanks. The concentrate is instead applied directly to the coil before the vape session. 3-in-1 pens can do all of the above but they use a changeable cartridge system, meaning there is one for oils, one for waxy concentrates, and one for herbs.
Think about Your Needs
Most of the portable hand-held, small vape pens, and desktop vaporizers in this collection are used for vaporizing dry herbs; however, some are made for wax or give you the ability to vape wax such as dab pens for oils and dry herbs. You'll need to decide what type of materials you want to be able to vape with your new vaporizer in order to choose the best model for your money. Even the best vaporizers produce smell, but it is much less pronounced than traditional combustion, even in a closed environment. Unlike regular smoke, the smell when vaping will not adhere to clothing or upholstery and mostly will not be detectable. If you don't know what vaping material is right for you, maybe a all-in-one top vaporizer would be best for you, but if you can, try to choose one made for your single preferred material. If you are looking for a dry herb vaporizer, finding one that is high quality might be not as difficult as finding a model which will work with different materials well.
Heating Methods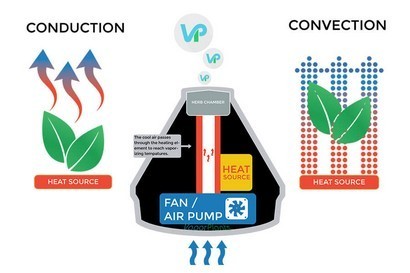 This collection includes both conduction and convection vaporizers. A conduction vaporizer is best for those who want quick heat-up, because it directly heats material to begin the flow of vapor fast. A convection vaporizer is usually the best vaporizer for the price for people who are more concerned with efficiency. This is because convection vapes warm up material by heating up the air inside, which in turn provides more even heating. Understanding the differences between the two, to select the best vaporizer for yourself is very important. Some vaporizers allow you to control the temperature while others do not. Unlike many portable vaporizers, most vape pens will not have precise temperature controls, only some do offer a few pre-set voltages or temperature ranges. While some vapes will have a set temperature or voltage, there are several that allow you to pick your own settings for an optimized vape session. It is best if you look at these options as a nice feature as opposed to a necessity, because there are many exceptional vaporizers on the market that lack both of these. Some of the best vaporizers out there will allow you to choose from a number of different temperature options, usually somewhere between 320 and 420 degrees Fahrenheit.
Consider Style
The best portable vape pen or desktop vaporizer should look appealing to you. While style usually isn't the most important feature to consider when comparing best rated pens, portables or desktops, you do want to think about the look of the vaporizers that you're considering. Whether you are in the market for concentrates, herbs, or oil vapes, having a strong battery is important. Typically, the larger the battery, the better, but if you need something ultra compact and portable, a small, lower capacity battery might be best. Battery life is measured by its capacity, milliamp hours, abbreviated as mAh. Simply put, look for batteries with larger numbers such as 1100mAh and above. Larger batteries are often bulkier, so decide if you want something long lasting or something easy to conceal.
Factor in Price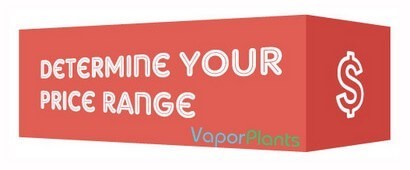 You'll want to choose a vape that is priced at a point that you can afford. Keep in mind, though, that some vaporizers that are more expensive may be easier to maintain or longer lasting, which can save you money in the long run. Just like anything else you purchase, you are going to get what you pay for when it comes to the best vaporizer for yourself. There are a number of low priced vapes that are decent, but there are also very disappointing ones at the bottom of the price range, too, so it is important that you do your research. When it comes to oil vaporizer, most of the top quality are going to run between $50 and $80, while some may be a bit more expensive then that. If you stay around this price range you can avoid paying too much, but sometimes it may be worth to pay a bit more for a better array of features and quality. With best wax and dry herb vaporizers, the prices are usually higher than their oil only counterparts. The typical range is around $100. If you'd like personalized advice deciding whether a desktop, portable or wax vape pen is right for you, we're here to help! Contact our customer service team for assistance.
Consider Common Issues with Vaporizers
Last, but not least, like most electronic devices, even best vaporizers are going to have minor issues that arise here and there. Generally these issues will be easy to solve and they occur more frequently with oil and wax pens than with herbal vaporizers. Every type of vaporizer is going to need a consistent power supply along with a sturdy connection to the heating chamber or coil. Issues with power are generally easy to solve, and oftentimes it only takes a charge to fix them. Your battery may be switched off or locked if it is not running at all, so just press the firing button five times in rapid succession to turn it on. If the battery is charged but not responding, it is likely that you are experiencing issues with the connector itself. You could also experience connection problems due to oil accumulating on the contact pin, but this can be remedied by cleaning it with a paper towel or Q-tip. If you experience issues with your wax vaporizer and the battery or atomizer don't seem to be the problem, the issue could be the coil itself not making contact with the connection pin. You can fix this with a small manual adjustment using a paper clip or toothpick, but use caution as you can damage the delicate coil if you are not gentle with it. If all fails, your old vaporizer may just need to be replaced, but try these tips before purchasing a new one.