The Crafty Vaporizer by Storz and Bickel is one of two portable models produced by the German company, which has been considered an industry leader ever since they released the Volcano. Like the Volcano vape, the Crafty model is considered a top-of-the-line personal vaporizer. Let's dive into the design of the Crafty.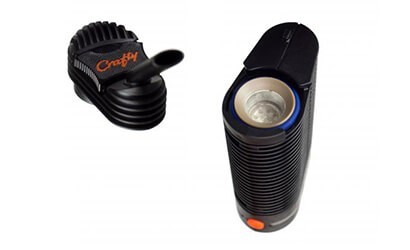 Pros
Unparalleled performance with premium vapor quality
Similar to that of many larger desktop vaporizers in quality
Free smartphone app gives access to features not available with other portables
Adjustable heat settings to ensure optimal results
Vented durable plastic body doesn't get hot when you vape
Vibration indicators lets ypu to know when it's ready, & when it powers off
Very easy to fill with the included tool
Liquid pad included for vaping concentrates
Cons
More expensive than most portables
Short battery life span; however, you can vape while you recharge
Relatively short automatic shutoff mechanism
It senses when you draw & is meant to reset, but small draws may not trigger that
Mouthpiece is exterior and can get dirty; a carrying case is recommended
Crafty Vaporizer Breakdown
| | |
| --- | --- |
| | Crafty by Storz & Bickel |
| Price | $340 |
| Materials Type | Dry Herb |
| Heating Style | Conduction and convection hybrid |
| Oven Material | Aluminum |
| Vapor Path | Plastic |
| Removable Battery | N/A (Outlet power) |
| Battery Life (Usage time) | 45 minutes |
| Charger | Micro-USB |
| Charge time | Two hours |
| Bluetooth / APP | Yes |
| Heat-up Time | 90 Seconds for low temp; 2 minutes for highest temp |
| Easy to Load? | Yes |
| Draw Resistance | Medium resistance; 10-20 second draws |
| Vapor Production | Excellent |
| Vapor Smoothness | Excellent |
| Flavor / Taste | Outstanding |
| Odor Level | Medium |
| Precise Temp Adjust / Temp Range | Two settings: 356 degrees Fahrenheit (Normal) and 383 degrees Fahrenheit (Boost); can adjust precisely using mobile app |
| Vape While Charging | Yes, after first letting it charge for 20 minutes |
| Warranty | 2 Years |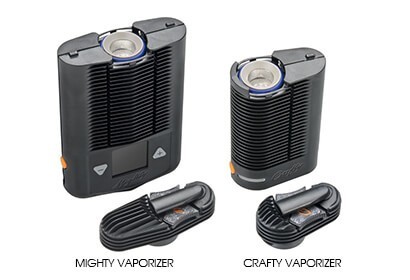 Storz & Bickel offers a second portable model called the Mighty. This model looks very much like the Crafty with its black plastic vented housing and sleek design; however, there are some key differences between the two.
The Crafty:
Is smaller than the Mighty, and a better choice for those who want a device that fits into their pocket.
Has a shorter battery life than the Mighty. It's actually half as long.
Has a wait-time on its pass-through technology, while the Mighty does not.
When you're recharging the Crafty, you have to wait until the battery is at 20 percent to vape with it plugged in. With the Mighty, you can use it right away.
Has an app for adjusting features. The Mighty uses an LCD screen instead.
Is slightly less expensive than the Mighty, saving you about $60.
In-Depth of the Crafty by Storz & Bickel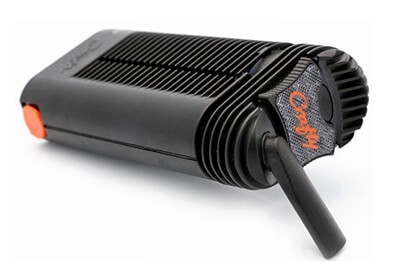 - Price - Retailing for $429, the Crafty is one of the most expensive portable vapes on the market today. It would likely not be the best choice for someone who was brand new to vaping, and unsure whether or not they will continue with the lifestyle; however, the portable vaporizer for dry herbs is an excellent investment for more experienced vape enthusiasts due to its quality and features as described below.
- Reputation - In Crafty vaporizer reviews and based on our own testing, the Crafty vape gets top marks for its performance. The portable device produces very pure, great-tasting vapor and is very efficient. The performance actually rivals the results that are possible with many standard desktop models, making this one of the best vaporizers for those who want to be able to vape on the go without compromising the quality of the experience.
- Guarantee - Storz & Bickel guarantees the Crafty for 2 full years, which is longer than many other portable vapes, and much longer than most vaporizer pens. Crafty reviews indicate that the model can well outlast the guarantee.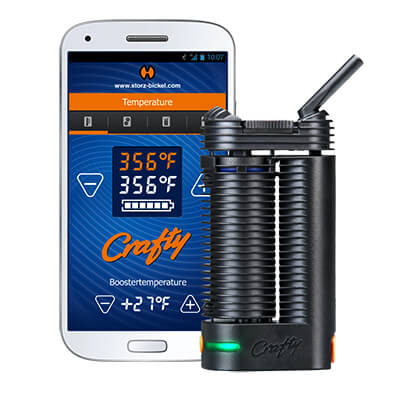 - Prep Time - The Crafty is ready for use in 90 seconds at the lowest temperature and 2 minutes at its higher temperature setting. This is comparable or better than most portable vaporizers with adjustable heating mechanisms; however, it will take the Crafty longer to heat up than the 5 to 10 seconds that you have to wait for most dry herb vape pens. The Crafty model is very easy to set up. Dry herbs don't need to be ground very fine prior to use, which speeds up prep time. It also comes with a filling tool that reduces the risk of spills and wastage when you're loading the heating chamber.
- Portability, Size and Privacy - Measuring 4.3 inches in height by 2.2 inches in length by 1.3 inches in width, the Crafty fits easily into your hand. Compared to other portable vapes, it falls right in the middle in terms of its size. This unit is rather easy to store, and until you raise up the mouthpiece, it is difficult to tell exactly what this device is, which makes it a compact vape option.
- Ease of Use - The Crafty has a straightforward design with minimal buttons, LED indicators, and vibration indicators that simplify use. Drawing may take a small amount of practice to perfect, as a longer draw is needed to get a satisfying amount of vapor. This device has an automatic shutoff feature that is relatively short at just 1 minute; however, the vaporizer can sense when you're drawing most of the time and will reset the timer. If it does shut off, it will vibrate to warn you, and it gets hot again within a few seconds of being powered back on.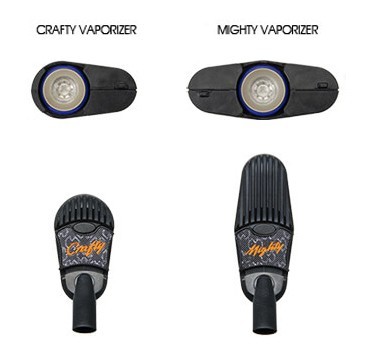 - Heating and Temperature Regulators - With its vented design, the Crafty does not grow uncomfortably hot to the touch the way many other portables can. The dry herb vape has two temperature settings--Normal (356 degrees Fahrenheit) and Boost (383 degrees Fahrenheit)--and most people will find these adequate. Unlike other portables, the preset temperatures are adjustable using a free smartphone app available from the Storz and Bickel. The app also allows you to monitor the temperature inside of the Crafty in real time, another handy feature. The temperature regulators in the portable vape are very advanced and work well to keep the device within range. Provided you set it at the right temperature, you are very unlikely to experience combustion.
- Power Supply - Powered by an internal battery, the Crafty can run for about 45 minutes on a single charge. This is a shorter lifespan than what's possible with some other portable vapes. It is possible, though, to vape while the device is recharging once the battery has been replenished past the 20-minute mark. You'll need about 2 hours for a complete charge, which is pretty average.
In conclusion, the Storz & Bickel Crafty vaporizer made by the same company as the Volcano, and you can surely think of it as the Volcano of portable vapes. This high-end model provides exceptional vapor quality, and has an innovative smartphone app that allows you to easily customize its performance. The drawbacks of this particular model are very few and relatively minor. You can learn more about the Crafty by checking out the product page here at VaporPlants.com, see link above, or by contacting us for answers to specific questions.
Tips for the best results
To get the most out of this dry herb vaporizer, follow these tips:
Completely vaporize whatever is in the heating chamber with every use for the best-tasting, purest vapor.
If you want a shorter session, only fill the heating chamber partway and then place the liquid pad on top.
Clean the vape mouthpiece frequently because it is outside of the unit and can be exposed to germs.