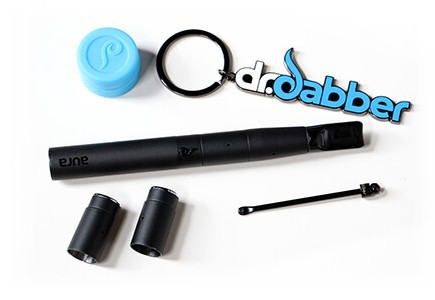 Because waxy concentrates are incredibly potent, more and more people are choosing to use a vape pen, or portable vaporizer for wax for use. Dr Dabber has long been known as one of the best manufacturers of vaporizers for wax, and now the brand is back with an exciting new waxy oil vaporizer pen--the Dr Dabber Aura, which is now called the Dr Dabber Aurora. Read on to learn more about the benefits of this truly exceptional vaporizer for concentrates.
Pros:
Magnetic components that don't have threads for joining
Ceramic mouthpiece and quartz lined chambers
3 atomizers for flexibility
Superior air flow; doesn't become clogged
Excellent taste, potency, and smoothness
Cons:
Short warranty
Smaller cloud size than other vapes
May be overwhelming for beginners because of all the parts
Breakdown of the Aurora Vape
| | |
| --- | --- |
| | Dr. Dabber Aurora (Aura) |
| Price | $100 |
| Materials Type | Wax |
| Heating Style | Conduction |
| Oven Material | Three options that include variations of quartz and ceramic |
| Vapor Path | Ceramic |
| Removable Battery | Yes |
| Battery Life (Usage time) | 250-300 hits |
| Charger | USB with including charging station |
| Charge time | 2 hours |
| Bluetooth / APP | Yes |
| Heat-up Time | 2-3 Seconds |
| Easy to Load? | Yes |
| Draw Resistance | Low |
| Vapor Production | Low |
| Vapor Smoothness | Excellent |
| Flavor / Taste | Excellent |
| Odor Level | Low |
| Precise Temp Adjust / Temp Range | 3 preset heat settings |
| Vape While Charging | No |
| Warranty | 1 year |
In-Depth of the Dr Dabber Aurora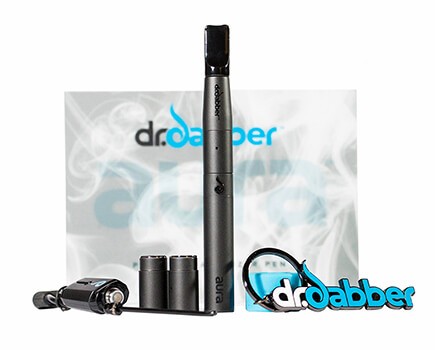 - Price - The Dr Dabber Aura Wax Vaporizer Pen sells for around $100. While there are less expensive options for those looking for one of the best vape for wax, you get what you pay for with this vaporizer. This unit is truly impressive for the money, considering the fact that there are more expensive vaporizers on the market that don't perform as well.
- Vapor Quality - With the Dr Dabber Aura, you get the benefits of a ceramic mouthpiece, and three different crystal quartz lined atomizers. This combination of materials ensures that vapor is pure, potent, and flavorful for an unbeatable experience. Each atomizer is designed for a different type of waxy concentrate to give you the best vape pen no matter what you're using. One thing to note is that this dab vaporizer does use low heat technology, so cloud sizes do tend to be on the small side. The dual ceramic rod atomizer tends to give the biggest clouds, while the ceramic disc vaporizer produces only very small amounts of vapor.
- Guarantee - The Dr Dabber Aura only has a 90-day warranty, which is relatively short compared to some portable vaporizers and even a few vapor pens.
- Prep Time - Another unique feature of the Dr Dabber Aura is that this vaporizer pen does not have threads for joining the pieces together. Instead, the dab pen vaporizer is held together by magnets. This makes it incredibly easy to load with material and to assemble.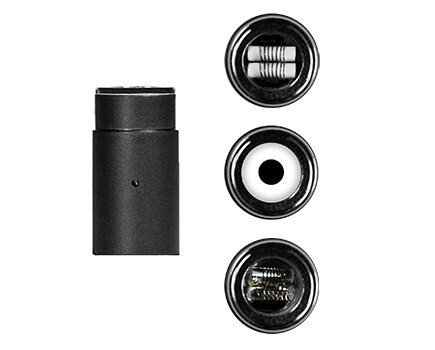 - Portability - Very compact, the Dr Dabber Aura is much easier to carry than a portable vaporizer. The design of the vapor pen resembles an ordinary electronic cigarette.
- Ease of Use - The Dr Dabber Aura is one of the few wax vaporizer pens on the market that doesn't become clogged when you use it. There is very little resistance when you draw in through the mouthpiece. While there is only one button on the vape pen, this is a more complex vaporizer because it comes with so many components. Beginners might be overwhelmed by all of the options.
- Heating and Temperature Regulators - The Dr Dabber Aura has three hvaporeat settings, another feature that sets it apart from other wax vape pens and vaporizers, which typically have only one heat setting.
- Power Supply - The Dr Dabber Aura Wax includes a variable voltage battery that gives it the ability to provide different heat levels. The vape battery life and charge time on the wax pen are about average compared to other wax vaporizers.
In short, anyone who has experience using a dab vaporizer is sure to find the Dr Dabber Aura Wax Pen an exceptional experience. It's truly one of the best dab pen units for wax on the market today, although it may be a little complex for beginners. For more information about this wax pen, you can check out the product page: Dr Dabber Aura at VaporPlants.com or contact us for assistance.