Ever since the release of their Volcano model, Storz and Bickel has been one of the most popular and renowned brands. After the success of the Volcano, and their follow up handheld model the Plenty, the German engineers at Storz and Bickel developed two portable vaporizers. The larger of the two, the Storz & Bickel Mighty vaporizer, has a number of benefits to offer the right vape enthusiast. Read on to learn more about this cordless convection device and why it's a great choice.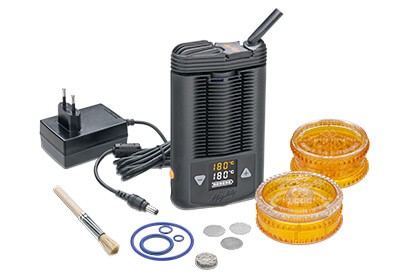 Pros
Optimal performance that truly rivals that of a high quality desktop vape
Efficient, complete vaporization with little to no combustion risk
Extra long battery life
Wide range of temperature settings with sensitive temperature controls
Durable construction
Easy to fill chamber
Vibrating indicator for extra convenience
Cons
Expensive compared to others
Larger than other portable models
Automatic shutoff period is short
Sensor to reset it may not work if you don't take a very long draw
You must change the temperature of the device to Fahrenheit every time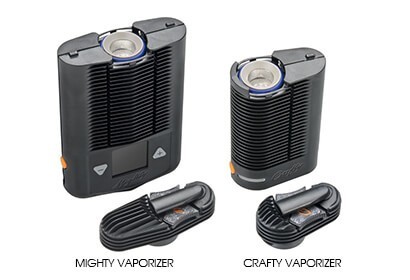 Crafty vs Mighty
Compared to the Crafty that was released at the same time:
The Mighty is a lot larger, making the Crafty the better choice for those looking for a compact vape
The Mighty has double the battery life, running for about 90 minutes before you have to recharge
Offers immediate pass-through vaping capability, in contrast to the Crafty model that doesn't function during charging until the battery is 20 percent recharged
Has a LCD display for setting the temperature, while the Crafty mobile app makes it more advanced.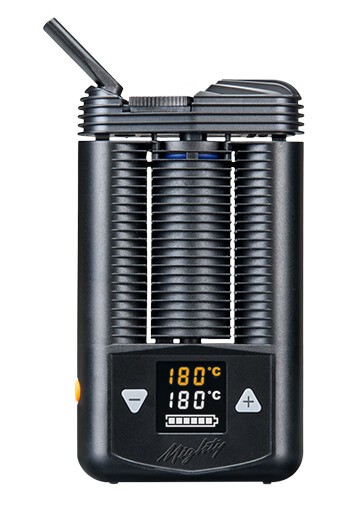 - Price - The Mighty MSRP is $489, making it one of the most, if not the most, expensive portable models on the market today. Needless to say, a first timer might want to invest in a less expensive portable vaporizer due to the cost. Those who are more established with vaping, and want a high performance model will likely find the Mighty to be a good value when all of its features are considered.
- Reputation – Like the Volcano vape, the Mighty has a truly stellar reputation. This hand held unit rivals the performance of nearly all desktop vaporizer units. After a vape session, dry herbs left in the heating chamber are nearly always evenly combusted, and you won't find a device that provides cleaner, better tasting, or more potent vapor.
- Guarantee - Storz and Bickel warranties the Mighty for 2 years. The warranty length is above average compared similar models, and it is much longer than most vape pens. Due to its durable plastic housing and sturdy construction, you can expect the herbal vaporizer to last well beyond the length of the guarantee. It's a combination of the durability and the performance of the Mighty that make it worthy of its price point.
- Prep Time - Even at a high temperature setting, the Mighty will be ready for use in roughly 90 seconds to 2 minutes. The heat up time compares to other similar cordless models, but don't expect the nearly instantaneous preheating that you get from a vaporizer pen. A nice feature of the Mighty is that it vibrates when it reaches working temperature, so you don't have to watch the LED lights. Unlike some others, the Mighty by Storz and Bickel is easy to fill with the included tool, so little to no herb is spilled or wasted during filling.
- Portability, Size and Privacy - The Mighty is 5.5 inches by 3.2 inches by 1.2 inches in size, making it much bigger than nearly all other similar models. You can't fit the Mighty in your pocket, and it is much larger than a standard handheld vaporizer. As a result, it is not really conducive to vaping on the go. Rather, the model is geared toward vape enthusiasts who want to be able to enjoy dry herbs at home without being tethered to the wall by a cord, or for those who want to be able to vaporize with efficiency and power similar to that of a desktop vaporizer when they're away from home. The Mighty is ruggedly constructed, so you won't have to worry about breakage if you do choose to travel with it.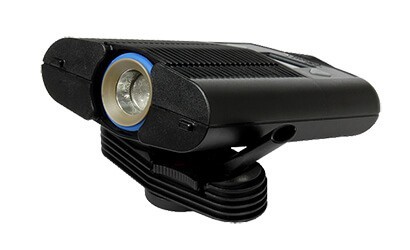 - Ease of Use - The Mighty is rather simple to use. The combination of the vibrations and the LED lights make it easy to monitor the device. There is a small learning curve for mastering the draw technique. If you typically take short, shallow draws, you'll need to change to a longer, slower draw to get a satisfactory amount of vapor from the Mighty. One potential drawback is that the automatic shutoff timer is much shorter than most other models. The device will shut off within 1 minute if you don't push a button or take a draw. Unfortunately, the draw sensor, which works by monitoring temperature fluctuations, doesn't always work optimally, so it's possible that it will turn off even if you take a draw. If this happens, the vape will vibrate to let you know, and you can turn it back on for quick reheating.
- Heating and Temperature Regulators - With its LCD screen and controls, you can adjust the Mighty to settings from 104 to 410 degrees Fahrenheit, a very wide range for a portable vape. Oddly, you will need to switch the vaporizer over to Fahrenheit every time that you turn it on. The temperature regulators are very sensitive, and keep the Mighty within range throughout sessions, so combustion is virtually impossible.
- Power Supply - Powered by two internal batteries, the Mighty can be used for approximately 90 minutes of continuous vaping, which is rather long. The device also offers pass-through charging, allowing you to vape as soon as you plug it in.
In conclusion, the Mighty Vaporizer is a portable device that performs every bit as well, if not better, than most desktop vaporizers. A long battery life and a very efficient, luxurious design sets this vape apart from the pack, and it has very few downsides, aside from the fact that it's a bit larger than other portables.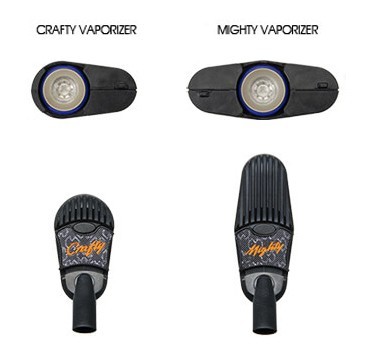 The Mighty is brother to the Crafty, another well-loved addition to the line of top-notch, world-class vaporizers from Storz & Bickel, a company this is most well-known for their Volcano desktop vaporizer. The Mighty handheld vaporizer is as powerful as its relatives, bringing all of the power and gusto that you have come to expect from this company. The Mighty is a portable dry herb vaporizer that can be used with oils with the inclusion of its liquid pad for those who enjoy using concentrates from time to time.
Whatever you choose to vape with the Mighty, you can do so without fear of combustion. The Mighty is a completely hot air-heated convection vaporizer that will never combust your materials or cause smoke. The stainless steel chamber can hold up to .25 grams of herb which is heated through convection technology thanks to its ultra powerful, removable temperature-control batteries. The batteries reach temperatures between the lower end of 105 to the higher end of 410 degrees Fahrenheit, offering vapers total control.
Measuring only 5.5 inches in height, the Mighty needs only 45 minutes to charge through its 240 volt AC adapter and will then last for 90 minutes, making this vaporizer a great handheld option for those who like to use a high quality vaporizer on the go. Though it isn't exactly discreet, it is handheld and can be taken anywhere that you feel comfortable vaping.