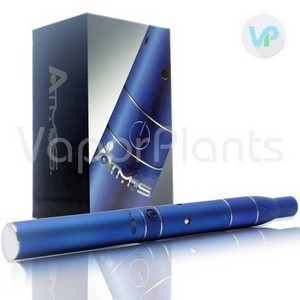 Atmos is known for producing vaporizer pens and has released two well-known dry herb vaporizer models over the years: the Atmos RAW, which is now known as the Atmos RX, and the Atmos R2. This Atmos R2 and Atmos RAW review covers the good, bad, and ugly of these two Atmos vape products.
Atmos RAW Review
The Atmos RX or Atmos RAW vaporizer is strictly a dry herb vaporizer pen, and unfortunately, the Atmos vape pen is problematic. Its design places the herbs in close contact with the vaporizer's powerful heating element, and combustion is very commonplace as a result. Even with the screen included with new models of the Atmos pen, this vaporizer pen really can't be used for very long sessions due to the high risk of combustion. As a result, the Atmos RAW vaporizer is really best suited for use as a one or two hit pen. If you're looking for a stylish vape pen for short sessions, you can check out the Atmos Vaporizer models here at VaporPlants.
Atmos R2 Review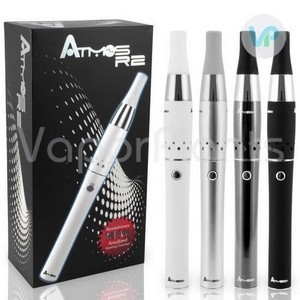 The Atmos R2 is designed as a dual wax and dry herb vaporizer pen, but as a dry herb vaporizer, it really has the same problems as the RX Atmos vaporizer; however, the Atmos vape pen does work very well as a wax pen, so this Atmos R2 review will focus specifically on using the Atmos vape for waxy concentrates.
The Basics of the Atmos R2 Wax Pen
- Price. The Atmos R2 vaporizer pen sells for $109 here at VaporPlants.com. The price makes it one of the more expensive wax pen vaporizers on the market, but as you'll see, its features do give the Atmos vape real value.
- Vapor Quality. You're unlikely to be disappointed with your vaping experience when you're using the Atmos R2. Unlike many other wax vaporizer pens which decline in the quality of their vapor production over the course of a vape session, this Atmos pen treats you to very good flavor, high potency, and smooth vapor throughout an entire session. The vape pen also gives nice clouds of vapor.
- Guarantee. AtmosRX warranties the battery on the Atmos R2 wax pen for 1 year. This is about average for wax vaporizer pens.
- Prep Time. The Atmos R2 vape is ready for use in just about 5 seconds. The vaporizer pen has a very deeply set anodized heating coil chamber that is simpler to load than other wax atomizers.
- Size and Portability. Compared to other vaporizer pens, the Atmos vape pen is a little longer at 6.122 inches. You can still carry it rather easily, but if you're very concerned with size, you can find smaller wax pens on the market. The wax pen is also equipped with a very bright blue indicator light. This makes the vape a little more conspicuous than some others, but if you're not concerned with discretion or will only be vaping at home, this is unlikely to bother you.
- Ease of Use. There is only one button on the Atmos R2 wax pen, ensuring ease of operation. There is no real noticeable draw resistance, making the Atmos pen ideal for beginners and more experienced users.
- Heating. When used as a wax pen, the R2 vape pen works efficiently and at a safe operating temperature to prevent combustion.
- Power Supply. The Atmos vape has a powerful lithium ion battery with a spring loaded connector that makes the pen very easy to assemble. The battery life and recharge time of the wax pen are comparable or better than other wax pens. You receive both a wall adapter and a USB charger when you purchase the vape.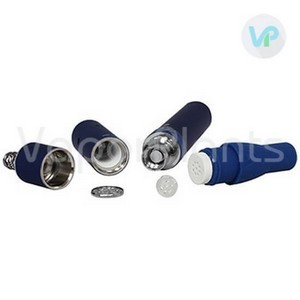 Pros of the Atmos R2 Wax Pen
Excellent vapor taste and quality throughout the session
Easy to load and to operate
Fast heat-up with virtually no wait time
Cons of the Atmos R2 Wax Pen
One of the more expensive vaporizer pens on the market
Larger than some other wax pens
Blue indicator light may be too bright for some people
To learn more about the Atmos R2 wax pen, you can check out the product page here at VaporPlants.com. If you have any questions regarding the wax pen or vaporizer pens in general, please don't hesitate to contact us.
Atmos RAW Vaporizer Pen by Atmos RX Review
Atmos R2 Vape Pen by Atmos RX Review
Buy Vaporizers and Vape Pens from VaporPlants.com