The days when you had to plug a vaporizer in so that you could enjoy the benefits of herbal blends, waxes, and other substances are gone forever! With vape pen and portable vaporizer products, it's now possible to enjoy the benefits of vaping wherever you go.
Today, there are dozens of vaporizer pen models available to meet your on-the-go vaping needs, which can sometimes make it difficult to decide which is really the best vape pen to buy. Not to worry, though! This guide will introduce you to the best vape pens available today. The guide was created based on vape pen reviews testing done by our experts, and will tell you everything that you need to know to buy the best dry herb vape pen, best vape pen for wax, or best vaporizer pen for oil.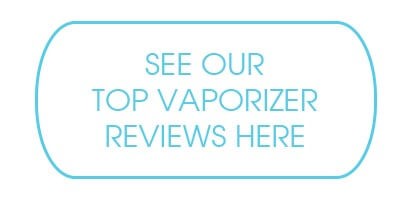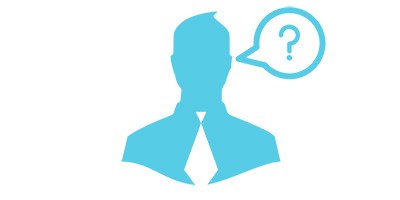 A vaporizer pen or vapor pen is a portable device that heats up a substance until it gives off vapor. While each pen vaporizer on the market is slightly different, nearly all consist of three parts:
- Vape Pen Battery - the battery is what provides the power for the pen. It is rechargeable with a vape pen charger, which may plug into a USB port, the wall, or a vehicle's cigarette lighter.
- Vape Pen Heating Chamber - is the place where you load the materials that you want to vape. It contains the heating element that warms up your material.
- Vaporizer Mouthpiece - is the tip that you bring to your mouth to draw in vapor.

Oil Vaporizer Pen
Oil pen vaporizers are the most commonly used type on the market today. Also called electronic cigarettes, these vape pens are used to vaporize liquids called e-juice or e-liquid. These oils are typically flavored and most contain some level of nicotine. Oil vaporizer pens are used mainly as a substitute for smoking tobacco cigarettes, as they make it possible to inhale nicotine without having to expose the lungs to the tar and other harmful substances in cigarettes.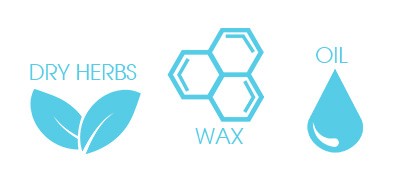 Dry Herb Vaporizer Pen
Dry herb vaporizer pens are used to vaporize finely ground leaves, flowers, stems, or other parts of plants. Also called an herb vaporizer pen or herbal vaporizer pen, a dry herb vape pen is most often used as a marijuana vape pen for medicinal cannabis or recreational use in places where it's legal.
Increasingly, doctors are recommending that their patients use vaporizer pen dry herb models for cannabis as a way of getting the benefits of medical marijuana without having to smoke. A 2007 study that ran in the Clinical Pharmacology & Therapeutics Journal found that vaporizing weed significantly reduces toxin exposure and also increases the potency of herbs. Dry vaporizer pen vapes can also be used to vaporize other types of herbs for aromatherapy purposes.
Wax Vaporizer Pen or Dab Pen
Wax vaporizer pens are used to vaporize oily concentrates, substances that are thicker than e-liquids. The majority of the wax pens on the market are weed vape pen models, which are used for vaporizing hash oil for medical use or for legal recreational purposes. Some people prefer to use a wax vape pen or dab pens because waxy concentrates are usually more potent than dry herbs.
So far, dry herb vaporizer pens have left a lot to desire. Most vape pens for dry herbs end up getting herbal blends too hot, causing them to combust or burn rather than vaporize. Portable vaporizers, slightly larger devices that run on batteries, typically do a better job at providing vaping benefits. Here are the best portable vaporizers for dry herbs that are available for sale in 2016: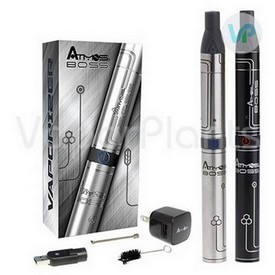 Atmos Boss Vape Pen
This Atmos vape pen is a rarity in that it is able to efficiently vaporize dry herbs. This vape is a redesign of another Atmos vaporizer called the Atmos Raw. Within 40 seconds, the compact vape pen reaches an optimal working temperature of 385 degrees Fahrenheit, and remains at that temperature throughout a session. The vapor produced is smooth and flavorful. While this vape pen is comparable to another Atmos product called the V2 Series 3, we prefer the Atmos Boss because it has a larger chamber that holds up to .4 grams of material, and a powerful 1600mAh battery that can last through many sessions. The only real drawback with this vape pen is that it shuts off after 1 minute of idle time.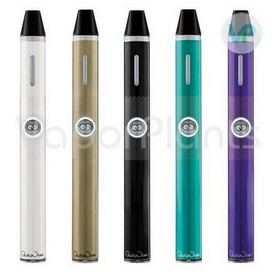 QuickDraw 300 Vaporizer Pen
The QuickDraw 300 Vaporizer Pen is a unique dry herb vaporizer pen, because it can also be used as a wax pen and as an oil pen. The vaporizer comes with three magnetic cartridges that you swap out when you want to use different types of material. The pen uses advanced technology to detect which cartridge is in place, so it heats up to the best possible temperature for whatever you're vaping. As a result, you get smooth, tasty vapor in all three modes. This vaporizer pen is especially good for people who are just getting acquainted with vaping and want to try different types of materials. It's also ideal for those who like to switch back and forth between materials and don't want the hassles and expense of buying multiple vaporizer pens.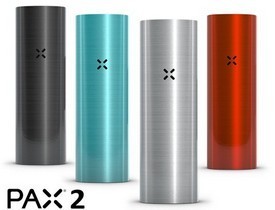 PAX 2 Portable Vaporizer
The Pax 2 is technically a portable vaporizer and not a dry herb pen because of its shape, but it's so small that it's every bit as easy to carry as dry herb vaporizer pens. With this vape, you can choose from four different heat settings, a nice feature that gives you the flexibility to increase the size of clouds by turning up the temperature. The appearance of the vape is more similar to an MP3 player than a vape pen, so it can be discreetly used anywhere. Pax Labs has developed a lip sensing technology that activates the Pax 2 while you draw. In between hits, the vaporizer conserves battery power, so you can go for longer between charging. It's even backed by an industry-leading 10 year warranty.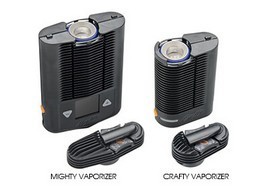 Crafty by Storz and Bickel
The Crafty is made by Storz and Bickel, a brand that is kind of like the BMW or Mercedes of the vaporizer world. The German company manufactures a famous desktop vape called the Volcano Vaporizer, which is considered by most people to be the best in the world. The Crafty Vaporizer is the smallest portable vaporizer made by Storz & Bickel. It fits comfortably in your hand and has a heat exchanger inside that keeps it cool to the touch during use. What's most unique about this vape is that it comes with access to a free mobile phone app. With the app, you can set the vaporizer's two temperatures to the exact level you desire. This is handy because it lets you pinpoint a precise heat setting, without requiring you to sit and tap an up or down arrow repeatedly to set the temperature. Vapor quality from this portable truly rivals that of many desktop vapes, but you do pay more for that incredible experience.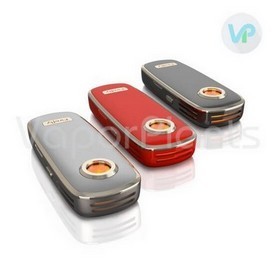 Firefly Vaporizer
The Firefly vaporizer is a two-in-one portable vape that you can use in place of a wax vaporizer pen or a dry herb vaporizer pen. Uniquely designed to look similar to a cell phone, the vaporizer is easy to carry in your pocket and has remarkably fast heat-up time, reaching a maximum temperature of 400 degrees Fahrenheit in less than 10 seconds. Like the Crafty, the Firefly vaporizer is a high-end, luxury model, so it does cost more than some others. It uses a unique air flow system that maintains vapor purity, so you always get delicious tasting, potent draws from the device. One nice benefit is that you can fully charge the vape in 45 minutes, and there are car chargers and wall adapters available that allow you to replenish the batteries at home or on the go. The only real flaw with the design is that it can take some time to master the right draw technique to get large clouds of vapor. You can check out the product page to get Firefly vaporizer tips on how to use the vape.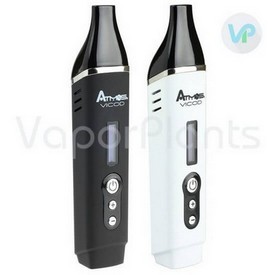 Atmos VICOD Vaporizer
Strictly a dry herb vaporizer, the Atmos VICOD is shaped like a vaporizer pen, but it's larger in size, so it's technically a portable. This vape offers adjustable heat setting technology, with a digital display that lets you choose an exact heat level from 350 degrees to 430 degrees Fahrenheit. At maximum temperature, the vaporizer is ready to go in under 30 seconds. Its molded mouthpiece is comfortable, and the vape has a very powerful 2200 mAh battery that lasts through numerous sessions. The price on this vaporizer is a bargain, considering the high quality of the vapor that it produces.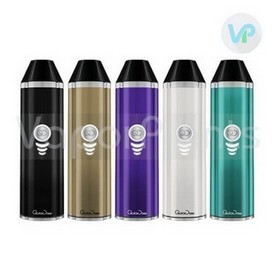 QuickDraw 500 Vaporizer
The QuickDraw 500 Vaporizer is a portable vaporizer version of the QuickDraw 300, and like the vape pen that we already discussed, this vaporizer gives you the flexibility to enjoy dry herbs, wax, or oil all with one vaporizer. The vape has the same magnetic chamber system and temperature sensing technology as the 300, so you're ensured a great experience with all types of materials. The primary reason to opt for the QuickDraw 500 is that it has a larger chamber to hold more material than its vapor pen counterpart.
There are a number of wax pen vaporizer models that do an excellent job of vaporizing waxy concentrates. Here are our picks for the best dab pen products of 2016: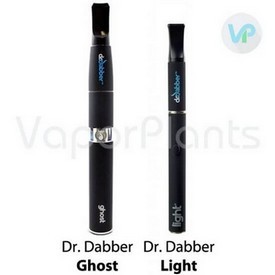 Dr Dabber Ghost
The Dr Dabber Ghost vaporizer pen is a two-in-one design that works as a vape pen for wax or for oils. Inside, the vape pen has an advanced titanium coil, which is highly resistant to wear and tear. The heating element is a low resistance component that gradually heats material up to the lowest possible temperature without compromising vapor production. As a result, there is much less risk of the material burning, and you're ensured a smooth draw. The Dr Dabber Ghost comes with a vape pen starter kit to which you can add a number of accessories. One popular accessory is a percolator that turns the Dr Dabber Ghost into a water vapor pen. The attachment cools and filters the vapor to make it even smoother.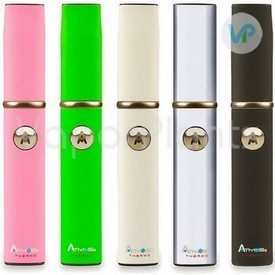 Atmos Thermo DW Vape Pen
This Atmos Vape Pen is technically made for wax and herbs, but it works best as a wax vape pen. What's really appealing about Atmos Thermo vaporizer pen is its compact size. The Thermo DW fits in the palm of your hand, making it one of the easiest vaporizers to carry. It is ready for use in just 5 seconds, and it produces vapor that's so potent, you really only need one or two hits to feel results. You can buy the Version 2 if you want a wax pen with a slightly larger capacity. As stylish as it is efficient, the vape comes in a pink vape pen, a black vape pen, and in many other colors.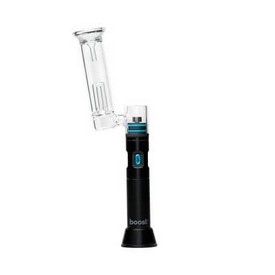 Dr Dabber Boost eRig
The Dr Dabber Boost eRig is not a true wax vaporizer pen. Instead, this vaporizer is a handheld vaporizer for herbs. The vape includes a titanium nail that is highly heat conductive, allowing you to liquefy and vaporize waxy concentrates at an impressively fast pace. With the portable vaporizer for wax, you also receive a glass water attachment that provides water filtration benefits similar to a hookah vape pen. It is larger than a wax vape pen, so this model is designed primarily for use at home. The quality of the vapor produced is exceptional, and you can get about 50 to 60 draws from the portable vaporizer before you need to recharge its battery. For those who want to be able to get vapor quality that rivals that of a desktop vaporizer for wax, the Dr Dabber Boost eRig is a great investment.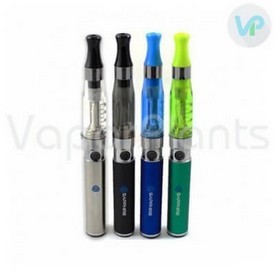 A number of the best vape pens discussed above are great for vaping oils, but if you're looking for a vaporizer pen that is used exclusively for e juice, we recommend the following vaporizer:
Vaporite Sapphire Vaporizer
The Vaporite Sapphire Vaporizer is made to provide a superior vaping experience with any type of e-juice, and it can also be used for vaporizing essential oils, and extracts from botanical plants. The vape pen battery is an 1100mAh lithium ion cell that can power the vape for an entire day before it needs recharging. To draw the oil to the heating element, the Vaporite Sapphire has a high quality cotton wick that is highly absorbent. This means that vapor flow is steady with this oil pen. The vape pen also has a handy cap on the mouthpiece to prevent leaks when you're on the go, and you can use the measurement lines on its clearomizer to measure how much e-liquid you're adding.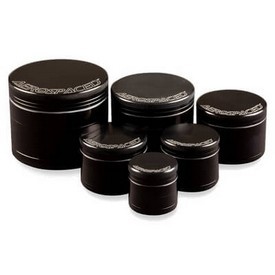 If you're planning to buy a dry herb vaporizer, you're going to need to buy a herb grinder to go with it. A weed grinder is a compact device that is used to break up medicinal marijuana or another aromatic blend into smaller pieces. By grinding up herbs, you increase their surface area, which allows for more efficient vaporization. There are a number of herb grinders on the market today, but the following ones stand out:
Aerospaced 4-Piece Herb Grinder
This herb grinder is deceptively light, making it very easy to carry, but don't be fooled by its weight--it's built tough to last. The secret to its strength is the fact that it's constructed out of aerospace-grade aluminum. The grinder has razor sharp teeth that tear through herbs with ease, allowing you to get a very fine grind in record time. As a four-piece grinder, the Aerospaced separates pollen from dry herbs, keeping it in a separate compartment for later use.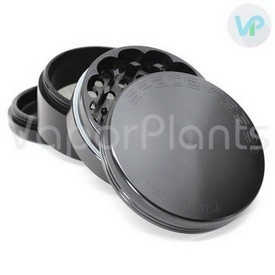 Space Case 4-Piece Herb Grinder
Available in an array of sizes, the 4-piece Space Case weed grinder is precision machined to greatly simplify grinding. The best one available is the titanium model, which features a body constructed out of aircraft aluminum with a coating of titanium over the top. Titanium is one of the hardest metals, so the herb grinder holds up well to wear and tear. The metal also has a natural nonstick finish, so you can rapidly get it clean after use. As a four-piece herb grinder, the Space Case captures pollen.
---
Here at VaporPlants, we have every vape pen mentioned above for sale at competitive prices, so that you can buy cheap vape pens or a luxury model and get a great deal. If you'd like some help deciding which of these vape pens for sale at our online vape shop is right for you, feel free to contact us for assistance. Our customer service team can also answer your questions regarding how to use a vape pen or maintain your new 2016 vaporizer.

VaporPlants is your home for the best Vaporizer, Vape Pen, and Vaping products
Buy Vaporizers and Vape Pens from VaporPlants.com