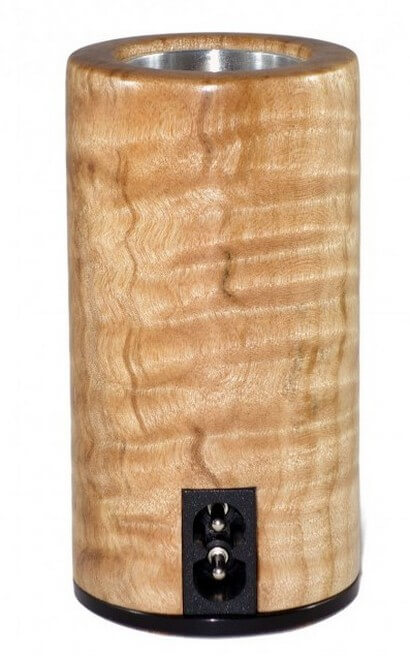 While the design of vapor pens has advanced greatly over the years, even the best models still can't compete with the performance of a desktop medicinal marijuana vaporizer. Still, the high price tag of most desktops leads most people to settle for vaporizer pen and portable vaporizer models; however, a company called EpicVape is trying to change that with their affordable, efficient E-Nano Log Vaporizer. Read on to learn more about the many benefits of this wax and dry herb vaporizer.
The Basics of EpicVape E-Nano Log Vaporizer
- Price - one of the most appealing aspects of the EpicVape E-Nano Log Vaporizer is its price. Retailing for less than $200, the model is one of the most affordable desktop vape options on the market. It doesn't cost much more than a top-of-the-line medicinal marijuana vape pen.
- Vapor Quality - the EpicVape E-Nano Log Vaporizer offers truly impressive vapor quality that no herb or wax pen could match. A combination of a ceramic heating element and a glass stem give vapor a very pleasing taste and perfect smoothness. Surprisingly potent, the vapor is plentiful and dense. For those who enjoy water filtration for cooler vapor, EpicVape offers an adapter that works with 18-millimeter water tools.
- Guarantee - EpicVape offers a lifetime warranty on the ceramic heater found in the EpicVape eNano Log Vaporizer and a 3-year warranty on the rest of the unit. That's an exceptional warranty for a desktop vaporizer, and possible because the unit is handcrafted.
- Prep Time - the EpicVape E-Nano Vaporizer is very easy to load; however, it's important to note that this vaporizer can't hold more than .1 grams of material at a time. As a result, you'll need to repack every 3 to 12 draws. Still, the vapor is so potent that many users find that they don't need as many draws to get the same benefits they get when using a medical weed vape pen. The desktop vaporizer heats up in about 3 minutes, which is about average for a vape of its size and style.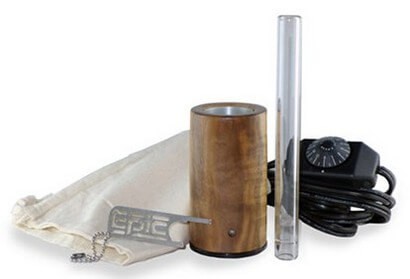 - Portability - the EpicVape E-Nano is compact compared to other desktop vaporizers, and it gives you the convenience of a handheld design with no whips or balloons necessary. Still, this is not a portable vaporizer. You cannot operate the vape without electrical power, so this would not be a suitable replacement for a medicinal marijuana vaporizer that you use on the go. The hardwood vape is light weight, though, so it's not hard to pack in a suitcase or bag for wired use when you're traveling.
- Ease of Use - very easy to set up and to use, the EpicVape E-Nano Log Vaporizer is suitable for beginners, but it does have some draw resistance that could make it hard for people with lung problems to use the device. One very nice feature is the silicone grip on the stem that keeps your finger cool.
- Heating and Temperature Regulators - the EpicVape E-Nano Log Vape has 10 heating levels, but you really can only use the device at the 6 to 8 heating level range for optimal results. If you're using the desktop vape as a your best wax vaporizer instead of a herbal vaporizer, you can set the temperature a little higher. A small drawback of the design is that it's very easy to bump the temperature dial and accidentally change the heat setting. Perhaps future models will have a lock to prevent this from happening.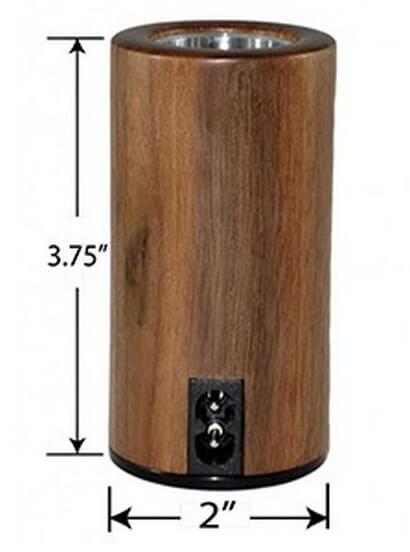 - Power Supply - the EpicVape E-Nano Log has a long cord that makes it easy to maneuver and handle. The power cord is removable, which comes in handy for storage; however, the cord doesn't lock in place on the vaporizer, so there is a risk that it could be pulled out or that it might come loose when you draw.
Pros of the EpicVape E-Nano Log Vaporizer
Very economical
Exceptional vapor taste, potency, purity, and smoothness
Handcrafted quality with a long warranty
Compatible with standard water tools with the optional adapter
Flexible temperature options
Easy to load and operate with no whip or bags
Comfortable to grip
Lightweight for travel
Cons of the EpicVape E-Nano Log Vaporizer
Very small heating chamber, so frequent refilling is needed
Temperature dial can be accidentally reset
Cord could come loose because there is no lock
Must be plugged in for use
Medium draw resistance that could be difficult for people with lung problems
The EpicVape E-Nano Log Vaporizer is an excellent choice of wax and dry herb vaporizer for those looking for an affordable, easy-to-use desktop model that doesn't compromise vapor quality. The only major downside is the small heating chamber, but many users won't find this to be an issue once they experience the potency of the vapor. Here is a link for more Vaporizer Reviews
EpicVape e-Nano Log Vape for Wax and Dry Herb Video

Buy Best Vaporizers and Best Vape Pens from VaporPlants.com