The Haze Vaporizer is a unique option among portable vaporizers that is designed to offer a fully customized vaping experience for users. The vape has a two chambered design, making it possible to vaporize dry herbs in one side and waxes, essential oils and ejuice in the other without having to put a new bowl or chamber inside when you want to mix things up.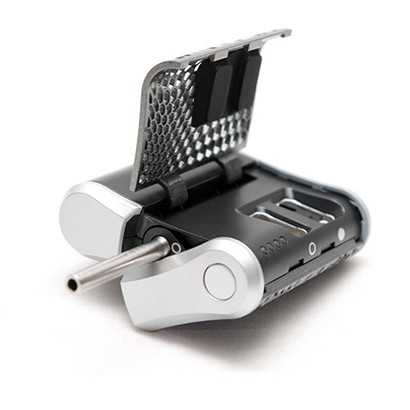 Pros
Two separate chambers: one for waxes and eliquid and one for dry herbs
Highly versatile with glass and metal mouthpieces
Conduction and convection screens for dry herb
Extra long battery life
User replaceable batteries to extend the life of the vape
Easy to draw from
Simple design
Cons
More expensive than some other portables
Batteries can take 5 or 6 hours to recharge
Vapor quality and quantity is not as high as some other small vapes
Huge customization options; may be overwhelming for new to vaping
Mouthpieces can get stuck inside.
To avoid this, wipe the stem after every use and let it cool down before you put the mouthpiece back inside
The dual chamber design and versatility of the Haze are some of its many benefits. Read on to learn more and find out about the potential drawbacks of this unit as well.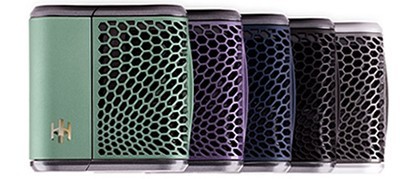 - Price - The recommended retail price of the Haze Vaporizer is $269, which is much more expensive than many other portable vaporizers; however, if you were considering buying two portable vapes for dry herbs and an oil pen for ejuice, purchasing the Haze model will likely be a more cost effective and much simpler solution.
- Reputation – It receives good ratings in reviews from customers. While its vapor production is not as impressive as some of the higher end portable vaporizers, it does produce above average amounts of vapor with a pleasing taste. The vapor can be a little hotter than what you'll experience with other vapes, which makes it slightly less smooth.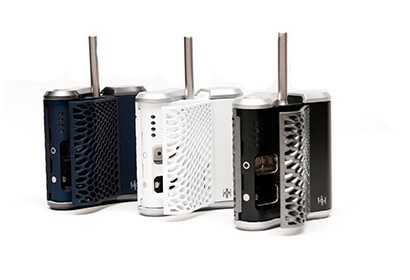 - Prep Time - The Haze Vaporizer is fairly easy to load; however, the mouthpiece can get stuck inside of its internal compartment. Ways to remedy this are discussed in the Pros and Cons section. The unit gets hot in about 60 seconds, which is about average for a high quality portable vaporizer. The first two or three draws usually produce only scant amounts of vapor, so you'll need to take a couple of hits before you can truly begin to vape.
- Versatility - Where the Haze 2.5 model really shines is in its versatility. The vaporizer makes it possible to customize every aspect of your vape. Not only can you vape any material you wish with the Haze, but you can also choose from a glass or metal mouthpiece. When you're vaping dry herbs, you also get the option to use the Haze as a conduction or convection vaporizer by selecting the screen of your choosing. There are also three temperature settings available to ensure optimal vaping results. For an experienced vape enthusiast who likes to mix things up and vape in different ways, the Haze Vaporizer is a great choice. Newbies might be a  little overwhelmed with all of the choices and may need to experiment before getting the perfect combination of screens, mouthpieces, materials and heat levels to ensure optimal results.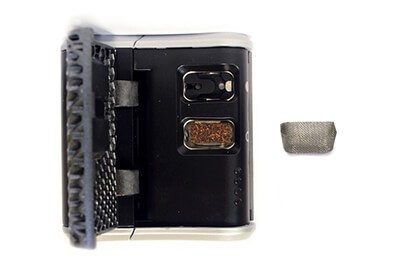 - Power Supply - Another unique feature of the Haze Vaporizer is that it includes two batteries, each of which can power the device for about 60 to 90 minutes. This makes it possible to vape for an incredible 2 to 3 hours before recharging. When it is time to recharge, the Haze Vaporizer will be out of commission for about 4 to 5 hours, a longer charge time than what you'll find with comparable vapes. The batteries are user replaceable, so when the ones provided with the unit wear out, it's possible to simply get a fresh set without having to buy a whole new vaporizer.
- Ease of Use - The Haze has a very straightforward design. The different chambers are clearly labeled, and there are indicator lights for setting and monitoring the heat. There is very little resistance, so even people with limited lung capacity should be able to get deep draws with this portable vape.
- Guarantee - With a 10-year warranty on the electronics, it has a generous guarantee from the manufacturer. Few other portables are warrantied for as long.
To read Version 3 Review of the newest Haze Vaporizer, click here.