A portable vaporizer is a convenient way to vaporize tobacco and dry herbs, but for many people shopping for portable units is expensive. Most of the best vaporizers in the portable category are priced at $200 or more, much more than what you'd pay for an e cigarette or dry herb vape pen. Now, there is finally an economical unit for tobacco and dry herbs that doesn't cost a fortune--the Atmos Vicod 5G. Read on to learn more about the benefits and drawbacks of the device.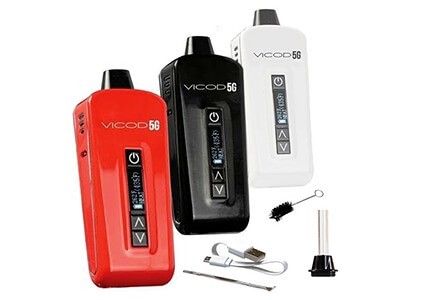 Pros:
Affordable price
Above average vapor quality
Compact in size compared to other portables
Easy to use
Adjustable temperature settings
Long warranty
Cons:
Rubber mouthpiece gets hot and sticky
Glass stem can break
Requires frequent cleaning
| | | |
| --- | --- | --- |
| | Atmos Vicod | Atmos Vicod 5G |
| Price | $100 | $120 |
| Materials Type | Dry herbs | Dry herbs |
| Heating Style | Convection | Convection |
| Oven Material | Stainless steel | Ceramic |
| Vapor Path | Hard plastic | Glass |
| Removable Battery | No | No |
| Battery Life (Usage time) | 3 Hours | 90 minutes |
| Charger | USB | USB |
| Charge time | 2-3 hours | 2-3 hours |
| Bluetooth / APP | No | No |
| Heat-up Time | 60 Seconds | 45 Seconds |
| Easy to Load? | Moderately | Yes |
| Draw Resistance | Moderately | Low |
| Vapor Production | Excellent | Moderate |
| Vapor Smoothness | Moderate | Excellent |
| Flavor / Taste | Excellent | Excellent |
| Odor Level | Low | Low |
| Precise Temp Adjust / Temp Range | 350-430 degrees Fahrenheit | 330-445 degrees Fahrenheit |
| Vape While Charging | No | No |
| Warranty | 5 years | 5 years |
In-Depth of Atmos Vicod 5G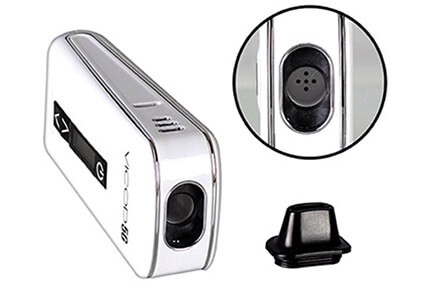 - Price - The Atmos RX Vicod 5G retails for around $140, but you can often find it for around $120 to $130 at authorized retailers. This makes the Atmos Vicod much less expensive than most other portables.
- Vapor Quality - With its ceramic heating chamber, the Atmos Vicod is able to produce pure, clean vapor that is flavorful and smooth. Cloud size is large with the portable tobacco vaporizer. Overall, the vapor quality is above average, particularly when you compare it to others that are similarly priced.
- Guarantee - Atmos RX offers a 5-year warranty on the Vicod 5G. This is longer than the warranties provided on most vaporizers.
- Prep Time - The Atmos Vicod 5G gets hot quickly and is very easy to load. The most time consuming part of prepping this vape will be grinding your herbs or tobacco finely to ensure best results.
- Portability - At 3.45 inches in height by 1.57 inches in diameter, the AtmosRX Vicod 5G is very easy to carry. It will fit into your pocket comfortably, and while it's not as inconspicuous as a vape pen that looks like an e cigarette, its size still makes it rather discreet.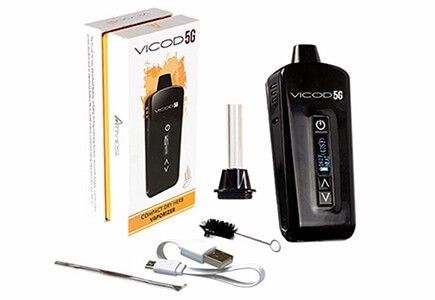 - Ease of Use - The Atmos Vicod 5G has a high quality OLED display that makes operating it simple. The draw resistance with the herb and tobacco vaporizer is about average and shouldn't be a problem for most people. One drawback with the unit is that it does get dirty quickly, and will require frequent cleaning to work properly and produce high quality vapor.
- Heating and Temperature Regulators - With the Vicod 5G by Atmos RX, you get full control over the vaping temperature. The unit can be set to a precise temperature between 300 and 435 degrees Fahrenheit. While the unit will stay at the temperature that you set, the rubber mouthpiece has a tendency to become uncomfortably hot because it's so close to the heating element. You can use the included glass straw for a more comfortable draw; however, the straw adds to the size of the unit and could get damaged on the go because it's fragile.
- Power Supply - A 2200 mAh lithium polymer battery powers the Atmos Vicod 5G. The battery life of the herb and tobacco vaporizer is about average for portables.
While the Atmos Vicod is not the best vaporizer in the portable category, it excels compared to other portables. The vapor quality of this portable unit is very good for the price you pay, and the warranty ensures that the vape will last. This vaporizer for tobacco and dry herbs is recommended for beginners as well as experienced vaporists who are most concerned with getting a vape that is a good value for the money.