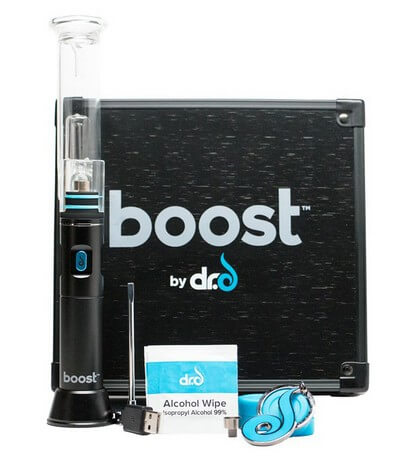 Dr Dabber is considered by many to be the preeminent manufacturer of vaporizers for dabbing, the term used for inhaling the essence of waxy concentrates. After producing a line of high quality products, Doctor Dabber is back with a brand new type of wax vaporizer, a portable e-Rig designed to take the place of traditional dab rigs used to smoke waxy concentrates. Read on to learn more about the benefits and drawbacks of this wax vape, or go to Video Section.
Pros of the Dr Dabber Boost eRig
Unparalleled vapor quality
Simple to load and use
Very long battery life
Cons of the Dr Dabber Boost eRig
More expensive than a wax pen
Short warranty
Not as portable as a Dr Dabber vape pen
Basics of the Dr Dabber Boost eRig
- Price - the Dr Dabber Boost eRig sells for around $200, making it more expensive than a Dr Dabber pen and other vape pen models used for vaping wax. Still, the vaporizer offers value for the money due to its premium quality design.
- Vapor Quality - the vapor quality offered by the Dr Dabber Boost e-Rig truly makes this wax vaporizer shine. With the wax vape, you can produce large clouds of potent, pure vapor that is very flavorful. The glass attachment makes the vapor incredibly smooth throughout every session.
- Guarantee - Dr Dabber warranties the Dr Dabber Boost e Rig for 1 year. This is a relatively short warranty, particularly for a vaporizer of this price.
- Prep Time - the Dr Dabber Boost e Rig makes dabbing easy, as it's very simple to load. The titanium nail is perfectly designed for dabbing, and even beginners will find it easy to get their material in place. It does take 30 seconds for the wax vaporizer to heat up, but this really isn't that long compared to the preheating times associated with some desktop vaporizers.
- Portability - the Dr Dabber Boost eRig is compact and can be taken with you on the go; however, it is not as small as a Dr Dabber dab pen. You can't really carry it in your pocket, and you need to place it on a flat surface to use it. If you're looking for something that can be used anywhere, you'll likely prefer a traditional wax pen.
- Ease of Use - the Dr Dabber Boost eRig is very simple to use once you take a few draws from it and see how it works. Most people find it easiest to use with the glass attachment in place, as it makes it simpler to draw.
- Heating - there is only one heat setting, but it is optimized to provide the best experience with no combustion risk.
- Power Supply - one of the best features of the Dr Dabber Boost eRig is its battery life. The battery allows you to get 50 to 60 draws before you need to recharge, which is more than what the traditional dabbing provides.
If you're looking for a dab vaporizer that is efficient and capable of producing vapor of excellent quality, the Dr Dabber Boost eRig is well worth the money. You can learn more about the vaporizer and check out the full line of Dr Dabber wax pen vaporizer models here at VaporPlants.com! Don't hesitate to contact us for more information about the Dr Dabber Boost e-Rig or any of the dab pen models.
Dr Dabber Boost Review