If you're looking for the best vape pen to enjoy on the go, the Linx Hypnos is definitely a model to consider. This vaporizer pen has a number of benefits and very few drawbacks.
Pros of the Linx Hypnos Pen
Made from durable stainless steel
Impurity-free glass mouthpiece and all top grade vapor path
Very pleasing smoothness, taste, and potency
Easy operation
Little to no resistance
Highly efficient
Incredibly small
Cons of the Linx Hypnos Pen
Smaller capacity than other vape pens
Vapor clouds are smaller in size unless you take very big draws
No manual locking feature; only locks with auto shutoff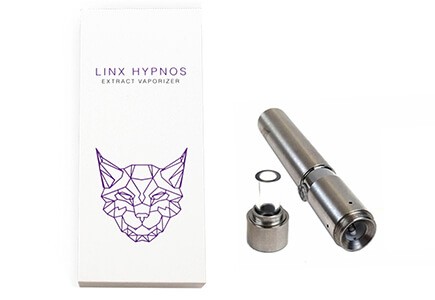 - Price - the Linx Hypnos Pen sells for around $75, making it a mid-range vape pen in terms of price. When compared to other units that are similarly priced, though, it performs much better, rivaling the performance of vape pens that cost well over $100.
- Vapor Quality - the Linx Hypnos Pen is truly one of the best vape pen options out there when you consider vapor quality. The entire vapor path of the vapor pen is made out of medical grade materials, which keeps impurities out of the vapor to give you very flavorful, pure vapor each time you vape. The ceramic heating rod and titanium coil provide low level heating, though, so vapor clouds from the waxy oil pen are often smaller than what's possible with some other vape pen vaporizers for waxes.
- Guarantee - Linx offers a 1-year warranty on the wax vape pen. This is not as long as what you receive with some other vapes, but it's average for a unit of this price.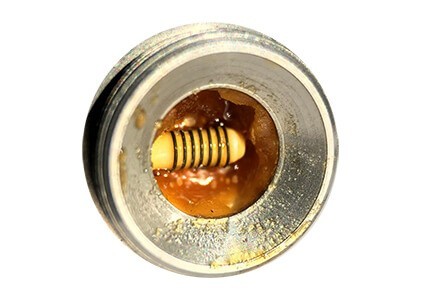 - Prep Time - the Linx Hypnos is very simple to load, but you do need to be careful not to fill the heating chamber more than 80 percent full in order to get optimal performance. It doesn't take long at all for the vaporizer to reach working temperature.
- Portability - one of the smallest vape pens for wax on the market, the Linx Hypnos Wax Vaporizer is very easy to carry. It's ultra discreet and perfect for those concerned about privacy. One small downside to the reduced size of this wax pen is that the heating chamber is smaller than that of other vapor pens; however, this wax vape pen is highly efficient, so your material will last a long time.
- Ease of Use - with four air holes inside of its heating chamber, the Linx Hypnos Pen provides steady air flow with very little resistance. As a result, it's very easy to use. There is only one button in the design to further simplify operation. One odd thing about the wax vape pen, though, is that there is no manual battery lock. The vaporizer pen will lock only if the automatic shutoff kicks in. There is no way for you to lock it yourself in order to prevent it from turning on in your pocket.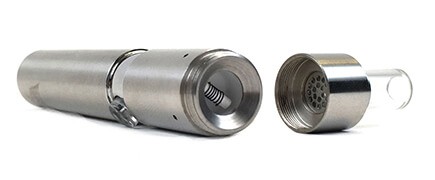 - Heating and Temperature Regulators - the Linx Hypnos has four temperature settings, all of which are intended for low heating to maximize the smoothness and flavor of vapor.
- Power Supply - powering the Linx Hypnos is a 650mAh rechargeable vape battery that has an average life span and charges at an average rate.
In conclusion, if you're looking for the best vaporizer pen for waxy concentrates, the Linx Hypnos Pen definitely is a model to consider. Just remember this is not a dry herb vaporizer, so you can only use it for waxes. You can learn more about the wax pen right here or contact us for answers to specific questions.
Video: Linx Hypnos in action