The Arizer Solo hit the market in 2013, offering a new portable solution for enjoying herbal blends and dry tobacco on the go. It is also one of the more popular models among vaping enthusiasts. With the Arizer Solo, you can create vapor from any coarsely ground material – making it suitable for use as a tobacco or dry herb vaporizer. An alternative to vaporizer pen designs, the Arizer Solo has a number of key features, and a devout legion of fans among vape enthusiasts. Keep reading to learn all about this vape pen alternative.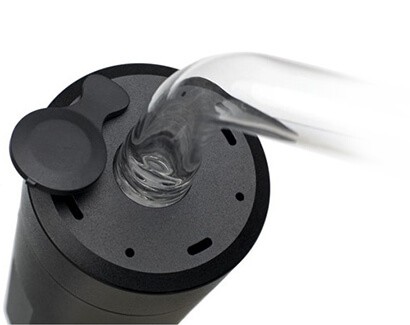 Pros:
Low risk of combustion with the Arizer Solo, and the model produces high quality vapor.
Wide range of temperature settings makes the Arizer Solo highly customizable.
Controls on the Arizer Solo are easy to operate.
A total of seven heat settings to ensure optimal temperature for whatever you're vaping
All glass vapor path keeps impurities out of vapor for great taste
LED indicator system lets you know at a glance if there is enough power left for a session
Pass through technology allows you to vape while you recharge
No screens or other vaporizer parts to replace
Lifetime warranty, which is much longer than what is common with other portable vapes
Includes bent and straight vape mouthpieces, so you can choose the type that is most comfortable for you
Cons:
A slow draw is necessary to produce thick vapor
Slower draw than what's possible with a conventional vaporizer pen or other portable vapes
Separate mouthpiece gives you an extra part to carry
It's made of glass, so you have to be careful not to break it
Larger than a standard vape pen at 4.437 inches by 1.75 inches by 1.812 inches
Can be difficult to use, so you'll need to read the directions carefully
Gets very hot to the touch
Allow ample cooling time before refilling or cleaning
More expensive than most vape pen options
Higher priced than other portable vaporizers
There may be issues with the battery life
People with poor mouth strength, due to illness or disabilities may be unable to use the vaporizer successfully
| | |
| --- | --- |
| | Arizer Solo |
| Price | $225 (MSRP) |
| Materials Type | Dry Herb |
| Heating Style | Convection |
| Oven Material | Ceramic |
| Vapor Path | Glass |
| Removable Battery | No |
| Battery Life (Usage time) | 2.5 to 4 hours |
| Charger | Wall charger |
| Charge time | 1 hours |
| Bluetooth / APP | No |
| Heat-up Time | 15 seconds to 120 seconds |
| Easy to Load? | Yes |
| Draw Resistance | High |
| Vapor Production | Excellent |
| Vapor Smoothness | Excellent |
| Flavor / Taste | Excellent |
| Odor Level | Low |
| Precise Temp Adjust / Temp Range | 122 to 410 degrees Fahrenheit |
| Vape While Charging | Yes |
| Warranty | Lifetime warranty on battery |
In-Depth of the Arizer Solo
Materials: Ceramic heating chamber, stainless steel heater cover, glass mouthpiece
Function: Strictly a dry herb vaporizer
Power: 2200 mAh lithium ion battery
Included Accessories: Potpourri dish, wall battery charger, aromatherapy sample
Required Maintenance: No replacement parts required
Let's take a look at some of the features of the Arizer Solo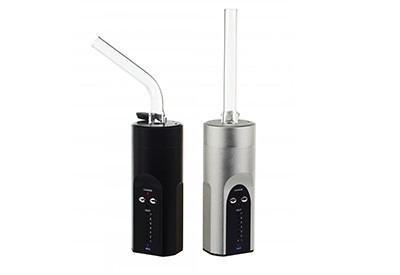 - Price - Selling at around $225, the Arizer Solo is slightly lower in price than models like the Pax by Ploom and the Firefly Vapoirzers; however, it is still more expensive than basic models like the Magic Flight Launch Box and the Vapir NO2. The aesthetic design also lies somewhere between the higher end and more economical models. Some people think the details of the Arizer Solo are not as stylish as the Pax or Firefly, but it does have a more modern and look than other less expensive models.
- Reputation - The Arizer Solo has a strong reputation, typically earning it fair to good online reviews, which is why it's frequently recommended by smoke shops. Due to its glass tube, the vaporizer is praised for its great-tasting quality vapor.
- Guarantee - With the Arizer Solo, you get a 2-year warranty on the craftsmanship and parts, and a 1-year warranty on the battery.  The ceramic heating element is backed by a lifetime limited warranty.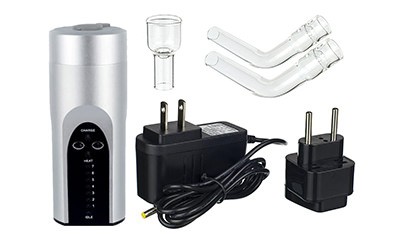 - Prep Time - Depending on the temperature level that you select, the Arizer Solo can be ready for use in as little as 15 seconds or as long as 2 minutes and 30 seconds. When you first assemble the Arizer Solo, you may have a hard time inserting the glass tube into the tight O-ring seal on the vaporizer. You can make the process easier by preheating the vaporizer on the highest temperature setting.  Don't be afraid to use some force when inserting the tube.  It is constructed out of durable glass, so it's unlikely to break.
- Portability, Size and Privacy - Arizer Solo measures 1.75 inches in width by 4.5 inches in height. It's designed to be used on the go as a portable vaporizer. But it is larger in size than many of the other portables. As a result, it can be difficult to keep it concealed in your pocket. As a result, many experts at vape shops only recommend the Arizer Solo for individuals who want a cordless vaporizer to use at home.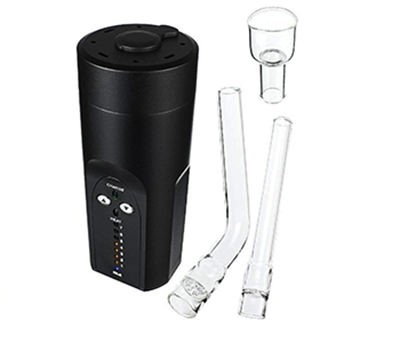 - Ease of Use - controls on the Arizer Solo are rather straightforward, and it's simple to clean and maintain the model. Drawing from the device, however, can be challenging. Many people compare the experience of trying to pull vapor from the Solo as being similar to trying to suck up an extra thick milkshake through a straw. The best approach is to draw slowly and deeply, spending 5 to 25 seconds with each inhalation.  The slower you draw, the thicker the vapor will be.
- Heating and Temperature Regulators - Arizer Solo offers seven temperature settings with options ranging from 122 to 410 degrees Fahrenheit.  The wide range of options makes this a very versatile device and greatly cuts down on the likelihood of combustion. It is a convection model, which helps to ensure great tasting vapor.
- Power Supply - With the Arizer Solo, you get a lithium ion battery, which is meant to last for 2.5 to 4 hours – depending on the temperature setting.  Reviews of the vaporizer indicate that many people experience a much shorter battery life than the stated standard.  This could be because the users didn't completely drain the battery before the first use. Then again, there's always a chance that the battery life isn't as long as other models.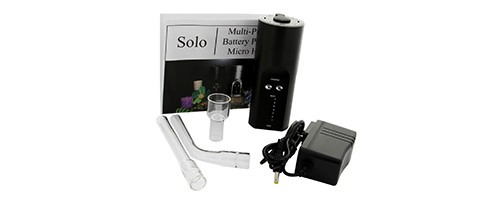 Tips for Using the Arizer Solo
Always grind your herbs to a medium coarseness prior to using the Solo.
Never leave the dry herb vaporizer in a very cold place like inside your car in the wintertime.
Keep your herbs loosely packed in the heating chamber to avoid blocking airflow and diminishing vapor production.
All in all, the Arizer Solo is a great quality vaporizer for those who are willing to pay the higher price tag. This vaporizer makes up for the amount of money it costs by being powerful and efficient, leaving none of your dry herb material untouched by the time you are finished vaping. The Arizer Solo uses convection heating technology, which not only completely eliminates the risk of combustion, it also helps to evenly spread the heated air it produces around the dry herb, making the vape more efficient. This will save you money in the long run.
The Arizer Solo features a powerful rechargeable battery with a wall charger. While you have this vape plugged into the wall, you are able to continue to use it which is really convenient. The battery itself only takes around an hour to charge and can last anywhere between 2.5 and 4 hours depending on the temperature setting you are using. Temperature options come in five unique levels that range from 122 to 410 degrees Fahrenheit, offering you total control over how you vape. The draw resistance is high, but the high quality vapor produced that travels through the glass mouthpiece is smooth and tasty making it worth the effort.
Because it is a handheld vaporizer but not quite a discreet and portable one, the Arizer Solo is recommended for those who need a high quality vaporizer at home.