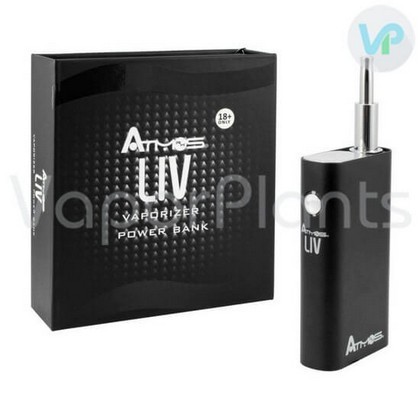 The Atmos Liv is a portable vaporizer made for dry herbs. Similar to some other herbal vaporizer designs, like the Flowermate, this herb vaporizer has many benefits to offer anyone who wants to be able to vape easily on the go.
Pros:
Very low price compared to other portable models
Plentiful vapor clouds
Highly efficient
Reaches working temperature fast
Small in size for a portable vaporizer
Mouthpiece is detachable for easy storage
Provides three temperature options
Simple to operate
Includes 2 batteries to provide an exceptionally long battery life
Cons:
Can only be used for dry herbs
Vapor taste and smoothness declines during a session
However, the vape outperforms others in its price range in terms of vapor quality
May come apart in your pocket if you don't hold it properly
Higher draw resistance than some other herb vaporizer models
Liv is discontinued by AtmosRX
Rating:

8

/

10

by VaporPlants
To purchase a similar model, click below


Use coupon code 'VPR' to save 10% OFF
In-Depth of Atmos Liv Vaporizer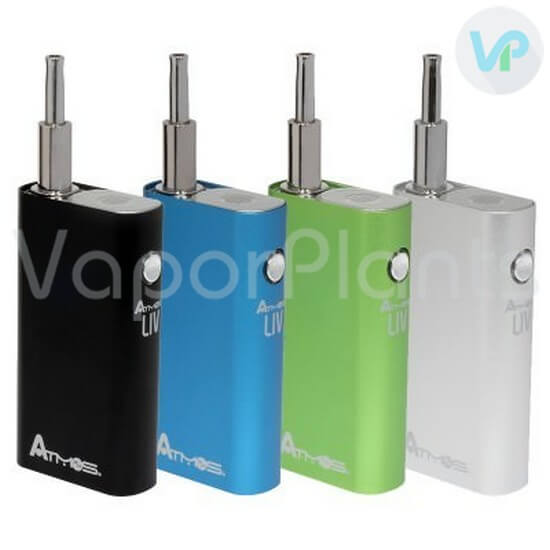 - Price - The Atmos Liv is remarkably priced compared to other portable dry herb vaporizer models on the market today. You can purchase one for less than $60, making it more affordable than other models that are very similar to it. The low price point makes this a very appealing portable vaporizer for those new to vaping.
- Vapor Quality - With the Atmos Liv, you can expect large vapor clouds for a satisfying session, and you won't have to worry about waste due to inefficiency. The vaporizer brings out the flavor of herbs and provides smooth draws at the start, but the vapor does slowly lose flavor and become harsher as sessions continue. When you consider the cost of the dry herb model, the vapor quality is still above average.
- Guarantee - Atmos warranties the battery on the Liv for 1 year. More expensive herbal vaporizers may have longer warranties, but a year is average for one so low in cost.
- Prep Time - There is very little wait time involved with the Atmos Liv, as it reaches working temperature in about 7 seconds. For best vaporization results, take the time to grind your herbs as finely as possible prior to loading.
- Portability - Like other portable vaporizers, the Atmos Liv is bigger than a vape pen, but you can still fit the unit into your pocket. The metal mouthpiece detaches and stores away inside of the vaporizer to make it more compact for carrying. Bear in mind that the bottom section can detach when you're slipping the vape in and out of your pocket. It's a small annoyance that you can avoid if you hold the vape on the bottom when you're maneuvering it.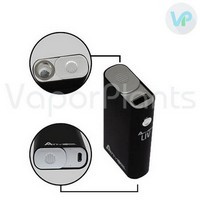 - Ease of Use - Moderate draw resistance is fairly common with the Atmos Liv, so people with breathing problems may struggle to use it. It can take some time for beginners to fully adjust to the best way to draw from the vape, but the controls are straightforward enough to still allow for convenient operation.
- Battery - The Atmos Liv battery life is by far its biggest selling point, as it beats many of the other portable vaporizers on the market. Atmos uses two batteries in the portable herb vaporizer instead of only one. This makes it possible to vape continuously with this model for 1.5 to 2 hours.