The Atomos RX Ruva is a portable dry herb vaporizer that uses reliable conduction heating technology and a pure quartz atomizer to produce crisp, pure tasting vapor. Handheld, this unit has a rubberized finish that makes transporting it anywhere a breeze.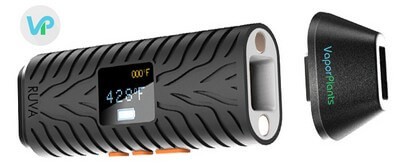 Pros:
Long limited warranty
Long battery life
Pure quartz chamber
Great vapor quality
Highly portable
Variable temperature between 330 and 430 degrees Fahrenheit
Competitive price
Easy to use
Cons:
Not compatible with concentrates
| | |
| --- | --- |
| | AtmosRX Ruva |
| Price | $119 (MSRP) |
| Materials Type | Dry Herb |
| Heating Style | Conduction |
| Oven Material | Quartz |
| Vapor Path | Plastic |
| Removable Battery | No |
| Battery Life (Usage time) | Around 180 puffs |
| Charger | USB |
| Charge time | 4 hours |
| Bluetooth / APP | No |
| Heat-up Time | Around 30 seconds |
| Easy to Load? | Yes |
| Draw Resistance | Moderate |
| Vapor Production | Moderate |
| Vapor Smoothness | Excellent |
| Flavor / Taste | Moderate |
| Odor Level | Low |
| Precise Temp Adjust / Temp Range | 330 to 430 degrees Fahrenheit |
| Vape While Charging | No |
| Warranty | 5-Year Limited Warranty |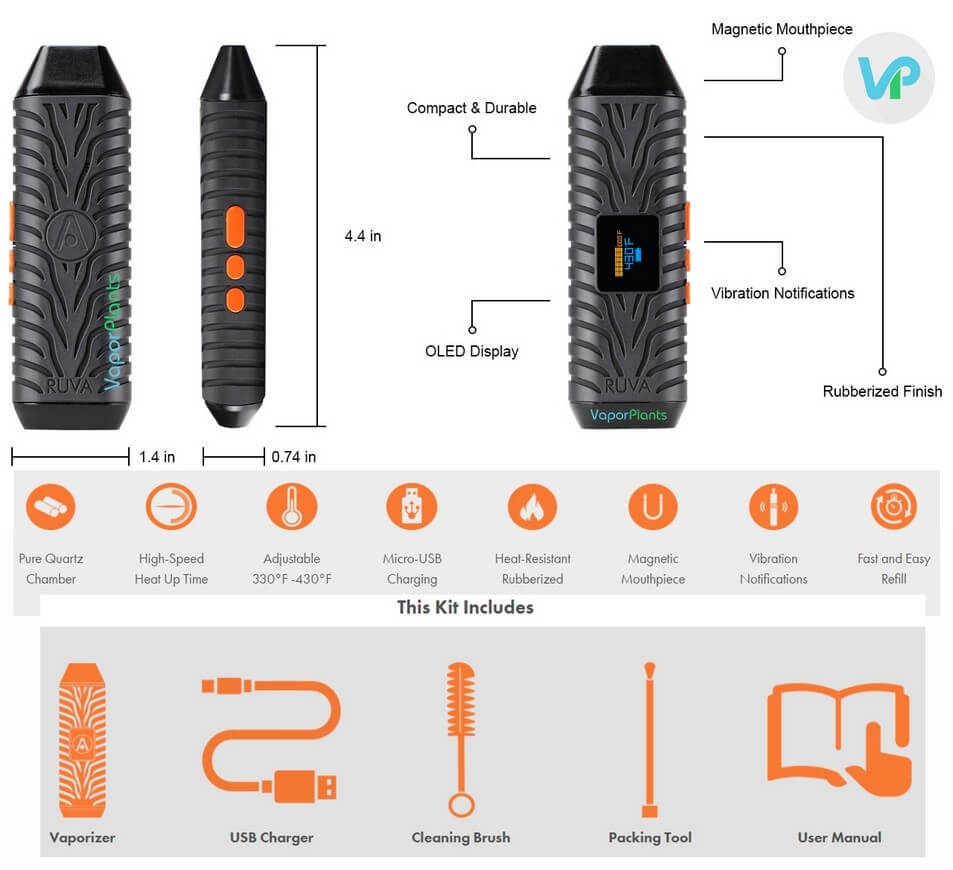 In-Depth of Atmos RX Ruva
- Price - The Atmos RX Ruva is priced at $130, which is a reasonable and rather competitive price compared to other similar dry herb vaporizers.
- Vapor Quality - Because of its embedded pure quartz chamber, the Atmos RX Ruva produces rich, flavorful vapor that tastes pure and without traces of metallic flavors like you might get with titanium.
- Guarantee - Atmos offers a five year limited warranty on the Atmos RX Ruva, a much longer guarantee period than a lot of other dry herb vaporizers of this caliber.
- Prep Time - Preparing the Atmos RX Ruva takes no time at all. Turning on the vape is simple, and it begins heating to your last temperature setting immediately. Packing the Atmos RX Ruva is as simple as removing the magnetic mouthpiece and tamping the dry herb material down into the chamber.
- Portability - Ultra portable, the Atmos RX Ruva fits easily into the pocket. It has a rubberized finish with grooves throughout that ensure it won't slip from your hand while you walk around with it.
- Ease of Use - The Atmos RX Ruva is simple to use. It features two up and down buttons that let you cycle through the temperatures to find your desired setting. The magnetic mouthpiece makes loading easy, and turning the vape on and off is as simple as employing the 5-click method.
- Heating and Temperature Regulators - The Atmos RX Ruva features variable temperature settings that range anywhere between 330 and 430 degrees Fahrenheit. You can also toggle to Celsius mode. This vape heats to temperature in no time at all and has a memory function that will automatically heat to your previous vaporizer temperature setting.
- Power Supply - The Atmos RX Ruva uses a powerful 1800mAh battery that can last for around 1,800 puffs. When it's time to recharge, simply plug it into the included USB charger until the indicator light turns green.
All in all, the Atmos RX Ruva is a great buy for a reliable dry herb vaporizer that is built well, highly portable, and that produces great vapor. It lasts for quite a while on a single charge and can be charged virtually anywhere with its universal USB charger, making this an excellent choice for vapers who like long sessions on the go.

Warranty Information
Atmos will take returns on units that have been purchased directly through them or one of their official retailers' websites. These refunds can only be obtained for unopened and unused items that have been purchased within 30 days of the return. Each one is subject to a 15 percent restocking fee and you will not receive a refund on shipping.
The 5-Year Limited Warranty Program backs any rechargeable product. This warranty will only be valid if the units have been purchased through Atmos or an authorized retailer. If it has been bought through a retailer, you must keep your receipt to show proof of purchase. These items won't be replaced by different parts or models, and all items that are being replaced may be subject to a replacement fee.
All disposable parts are final sale for sanitary reasons and aren't covered by the warranty. Atmos will not cover any product purchased on third party sites like Amazon, eBay, Alibaba, and so on due to issues with counterfeit products being sold. This applies to any other unauthorized retailer as well.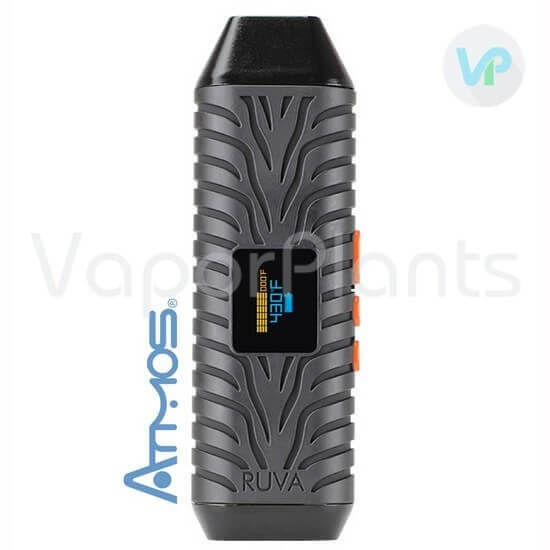 Frequently Asked Questions
Q: Is it recommended that I charge my battery before I use it?
A: Batteries are sent to you with a 70 percent charge, the recommended way to store a lithium-ion battery. For the best performance, it is recommended that you let the battery completely deplete from this partial charge before charging it again. It will take around four hours to charge the first time, but the following charges shouldn't take nearly as long. Promptly remove the battery from the charger when the indicator light glows green.
Q: How long will my battery last on one charge?
A: These batteries are designed using lithium-ion and range from power levels of 180mAh to 2600mAh. Most kits come with a 650 mAh battery that lasts around 650 hits, a 200 mAh will last around 200 hits, an 1100 mAh will last around 1100 hits, and so on. These are all approximations and may vary from unit to unit.
Q: What is the best way to take care of my Atmos vaporizer?
A: Be sure to frequently wipe down the battery connection by using a 90 percent alcohol solution and a q-tip or cotton swab to remove any residue that could harm the battery. Let the battery dry fully before putting it back on the charger. Always remember to remove your battery from its charger when it has been charged fully and be sure that you are unscrewing the battery from the atomizer or cartridge if you won't be using it for a while.
How to Use the Atmos RX Ruva
Turn the Atmos RX Ruva on by pressing the power button for approximately three seconds. It will vibrate when it turns on.
Remove the magnetic mouthpiece by simply popping it off.
Insert the dry herb and press it in gently using the included tool.
Set the temperature that you prefer using the up and down arrows. To change the original Celsius temperature setting to Fahrenheit and back again, hold down the up and down buttons on the side of the vaporizer at the same time.
When the Atmos RX Ruva vibrates again, it has heated to your desired temperature.
Vape and enjoy!