The Atmos Boss is one of the true convection vaporizer models released by AtmosRX, and features a completely new design that is meant to be an improvement over previous models made by the brand, that had the tendency to combust dry herbs. Did the improvements lead to a better device? It seems so! Read on to get the full story.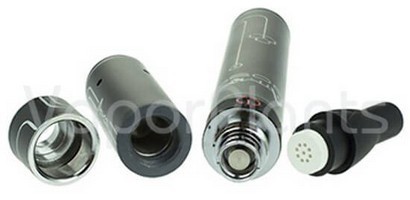 Pros
Good to very good vapor taste and smoothness
Simple-to-load design
Easy to operate
Very compact
Cons
Vapor cloud size is limited
Top can get uncomfortably hot
Very fine grind is needed for good results
In-Depth of the Atmos Boss
| | |
| --- | --- |
| | Atmos Boss |
| Price | $130 (MSRP) |
| Materials Type | Dry Herb |
| Heating Style | Convection |
| Oven Material | Ceramic |
| Vapor Path | Rubber |
| Removable Battery | No |
| Battery Life (Usage time) | 20 minutes of continuous use |
| Charger | AC |
| Charge time | 2 hours |
| Bluetooth / APP | No |
| Heat-up Time | 40 seconds |
| Easy to Load? | Yes |
| Draw Resistance | Low |
| Vapor Production | Moderate |
| Vapor Smoothness | Excellent |
| Flavor / Taste | Excellent |
| Odor Level | Low |
| Precise Temp Adjust / Temp Range | One optimized temperature around 385 degrees Fahrenheit |
| Vape While Charging | No |
| Warranty | 5 year limited warranty |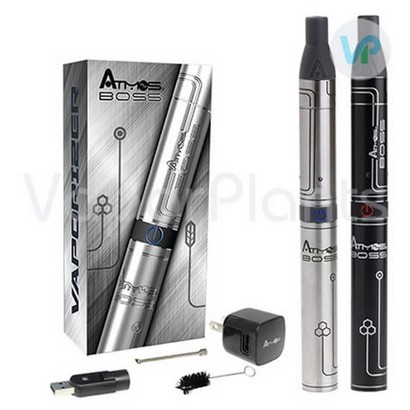 - Price - The Atmos Boss sells for $130, but here at VaporPlants, you can pick one up for $104. That makes the herbal vaporizer a mid-priced vape pen that sells for less than the top-of-the-line models, but more than some entry-level on the market.
- Vapor Quality - The air flow system, combined with the low temperature heating technology used in the design has eliminated the problems of combustion that were all too common with previous Atmos vape pens. You get good vapor quality from this model with a pleasing taste and smooth vapor. Still, it doesn't give you very big vapor clouds, which may be a turnoff for some vapists.
- Guarantee - AtmosRX offers a 5-year limited warranty on the Boss when you purchase it from an authorized retailer like VaporPlants.com. The warranty is longer than what you receive with most herbal models.
- Prep Time - If you want to get good results, you have to take the time to grind your herbs very, very finely. This can be a bit of a hassle, but it does make a big difference in the size of vapor clouds. The herbal vaporizer is easy to load, and it gets hot within just a few seconds, which cuts down on vaporizer prep time.
- Portability, Size and Privacy - The Boss is only 6.35 inches long, making it a pocket vaporizer that is simple to carry. It looks so much like an electronic cigarette, yet it still looks stylish with its etched stainless steel housing.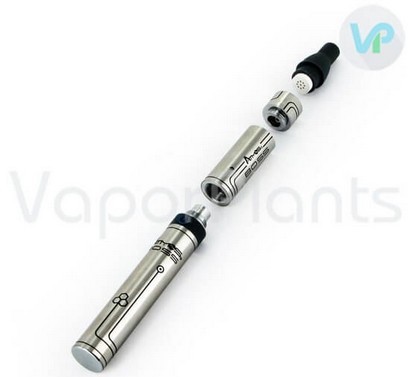 - Ease of Use - It's not hard to draw from the vape pen, and there is only one button to worry about operating. Even beginners will find it easy to use once they master grinding their herbs correctly to get good results.
- Heating - There is only one temperature setting for the Atmos Boss, but that's not uncommon with herb vaporizer pen models. It does seem that the vape pen gets abnormally hot on top, so it's important to hold the vape pen by the battery.
- Power Supply - The battery provided with this unit is a lithium-ion power cell, and it allows you to vape for around two or three sessions before you need to recharge. The lifespan of the battery on a single charge is comparable to what you get with other herbal pens.
In closing, the Atmos Boss is a big improvement over other dry herb vape pen models, in that it truly does vaporize and not combust herbs. For those who don't worry much about vapor cloud size, this is a good everyday vapor pen that is easy to travel with, provided you don't mind a little extra grinding to get your herbs ready. Overall, the it receives a B grade, which is a good score for a vaporizer pen of its price.
Video: Atmos Boss Unboxing