Atmos is well known for their vaporizer pens, but the brand also offers a selection of portables, including the Atmos Orbit. Exclusively for dry herbs, the Atmos Orbit has many features in common with the Atmos Transporter, but it looks more like a fatter ecig than the uniquely shaped Transporter. Read on to learn more about the benefits and drawbacks of this unit.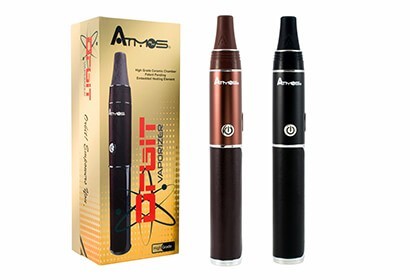 Pros
Affordably priced compared to other portables
Excellent starter model
Does not combust herbs
Consists of only two parts for simple cleaning and ease of use
Above average in terms of vapor quantity and flavor
Cons
Runs a little hot, and there is no way to adjust the temperature
Vapor is sometimes harsh and can be uncomfortably hot in some cases
Number of draws per fill is lower than what's possible with other portable vaporizers
Orbit is discontinued by Atmos RX
Rating:

8

/

10

by VaporPlants
To purchase a similar model, click below


Use coupon code 'VPR' to save 10% OFF
In-Depth of the Atmos Orbit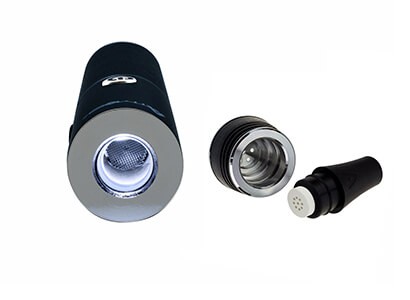 - Price - The selling price is one of the most attractive features of the Atmos Orbit. Retailing for roughly $150, it has a lower than average price compared to other portable vaporizers. This makes it a favorite for those who are new to vaporizing and don't want to invest a lot in their first vaporizer. Atmos Orbit is also a good choice for a secondary device for people who normally vape with a desktop vaporizer at home.
- Reputation – In terms of reputation, the Orbit is known for being above average for a vaporizer of its price range. Vapor production and taste are superior to other competitor's vaporizers, and the Orbit vape doesn't combust herbs. However, there are some shortcomings regarding quality. The vapor from the Atmos Orbit portable vape is often hot and a little harsh. Also, it gives fewer draws from a full chamber than some competitors.
- Guarantee - The Orbit has a 1-year warranty, which is average or a little above average for a vaporizer of this price.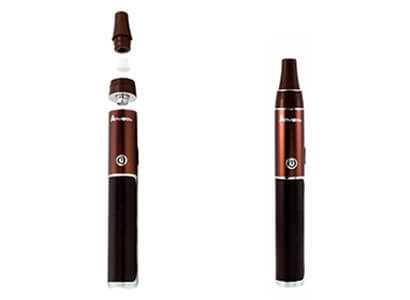 - Prep Time - Because the Atmos RX Orbit consists of only two parts, it's very easy to load. The device gets hot in about 7 seconds, which is faster than some portable vaporizers, but slower than most vaporizer pens.
- Portability, Size and Privacy - Although it's shaped like a vape pen, the Orbit is larger and heavier. It's still a very convenient portable vaporizer, but it's not as discreet as some other models.
- Ease of Use - There is only one button to push to vaporize with the AtmosRX Orbit, and there is an LED indicator that simplifies operation. It's not difficult to clean or care for the vape, which is another reason why it's a good option for beginners.
- Heating and Temperature Regulators - A shortcoming of the Atmos Orbit is that it only has one temperature setting; however, unlike many other hand held vaporizers that lack flexible temperature options, the Orbit vape doesn't combust herbs. For more information about combustion equals smoke, see convection vaporizers.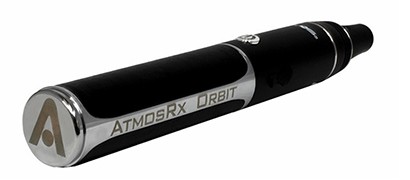 Stir halfway through your vaping session to maintain the highest possible vapor quality with this dry herb vaporizer.
Use the included cleaning brush to clean out the vaporizer heating chamber after every session to keep the vaporizer in good repair.
Pack the chamber as full as possible to ensure efficiency.
You can learn more about it by checking out VaporPlants.com Atmos Orbit product page link above!