When it comes to portable vaporizer pens, size does matter! That's been the philosophy of Atmos RX since the brand's official launch. The company has continued to push the envelop in the world of portable vaporizer design, introducing new compact vaporizer models that make it easier and easier to enjoy a satisfying vape anywhere you go. Science is at the heart of everything that AtmosRX does. In-house engineers and scientists work to develop new designs to make vaping more convenient and to improve the purity and taste of vapor produced by their products.
Atmos RX vaporizer collection includes dry herb vaporizers, wax vapes, oil and multi-function vaporizers that allow you to enjoy different types of vaping materials with one single portable vaporizer or vape pen. Products are offered in a wide range of price points and in different stylish colors, allowing everyone to find a vaporizer that will fit their budget and suit their tastes. Atmos RX is a leading manufacturer of wax, oil, and dry herb vaporizers, the brand has produced a number of now famous designs, including the Atmos Boss, Jump, and Kiln. Constantly innovating, they continually release new models, which you can find in our selection above.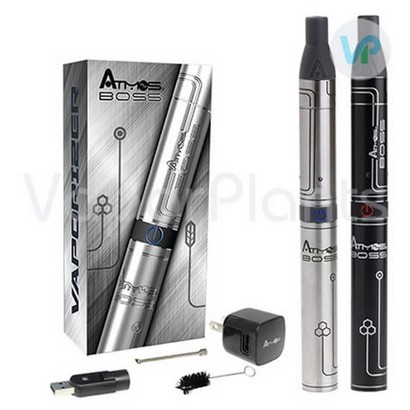 Atmos RX, is the makers of some of the smallest vape pens in the world. Based in the USA, this brand continuously strives for excellence in design, creating devices that provide satisfying amounts of pure vapor while making it simple to vape on-the-go. For them, vaping research and development never stops. The company employs a team of talented, knowledgeable engineers who are constantly at work improving existing designs and developing exciting new vaporizers. No matter what you prefer to vape with, there is sure to be something that bears the Atmos seal of trust that is perfect for your needs. Backed by warranty, with innovative features like rapid heat-up times, you can't go wrong.
If you're looking for an economy, any of the options above is an ideal solution. While producing some of the finest vapes on the market today, their models are all competitively priced. Sold with 5-year warranties, all of the wax, dry herb, and oil pens in the collection deliver a satisfying vape experience, and with so many very different products to choose from, they guarantee to have a model that is perfect fit for you.
Convection vs Conduction
One of the first things to think about when selecting an Atmos Vaporizer is whether you would prefer a convection or a conduction vaporizer. The selection includes both types of vapes, and each type has its own distinctive benefits and drawbacks.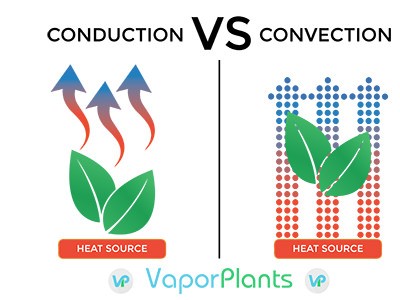 - Conduction models heat up herbs, wax, or oil directly with the heating element positioned to come in contact with your material. Such models allow vapor flow to begin almost instantaneously and are the most affordable. Many in the collection are conduction models. The biggest downsides to a conduction method, is that your material may not vaporize as evenly and there is more risk of combustion or burning.
- Convection units heat indirectly by warming up the air in the heating chamber and passing that warm air through your material. Such Atmos vaporizers require more warm-up time, but they are much more efficient and less likely to combust or burn any of your material. Due to the fact that more parts are needed in a convection system, it is usually more expensive. Examples of convection vaporizers in the collection include Vicod 5G, Jump, and the Boss.
As you shop, you can keep the following points of comparison in mind to find the best vape pen for your needs.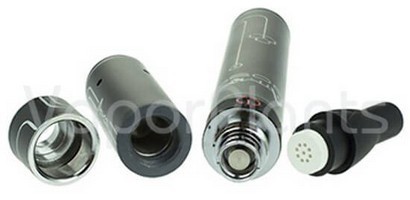 - Material - the collection includes vaporizer pen models which can be used to vape herbs, oil and/or wax.
- Size - Atmos vaporizers vary greatly in size. Some models are larger, so they have a longer battery life and bigger heating chambers. Others are smaller, making them easier to carry and more compact.
- Appearance - Atmos offers many different styles. Some, like the Vicod 5G, are designed to look like something other than a vaporizer to make them more compact. Others look just like an electronic cigarette. You can choose above from simple models with metallic finishes to designer colors that show off your sense of style.
Learn more about any of the Atmos products in this collection by clicking on the product and reading the information. In addition, we have a number of vaporizer reviews available for you to read. If you need help selecting the right model for your needs, we'll be glad to assist you. We can also provide assistance with instructions, cleaning tips, and more. Whether you use your Atmos pen to vape dry herbs, or essential oils, it's important that you replace key parts like atomizers regularly. At VaporPlants, we have additional replacement parts for all of the vaporizer models that we carry.