The Da Buddha by 7th Floor is a desktop vaporizer for dry herbs that is a favorite of many vape enthusiasts, particularly those who prefer more economical designs but still want satisfying quality. The whip-style vaporizer has a number of benefits, but there are a few drawbacks to choosing Da Buddha over other desktop vapes.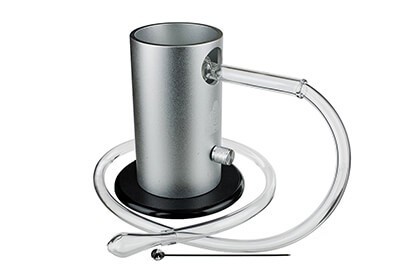 Pros:
7th Floor Da Buddha provides vapor of above average quality
Vapor quality is still adequate even when compared to more expensive models
Very inexpensive desktop option
Ground glass hands-free connection allow you to let go of the whip
High quality ceramic heating element heats up rather quickly
Has adjustable temperature settings for customizing heat levels
Most people will find the desktop vape easy to use
Cons:
Need to stir dry herbs often to prevent combustion, due to uneven heating
Glass components are fragile and can easily break
There are no numbers on the heating dial, making it hard for precise setting
Breakdown of the Da Buddha Vaporizer
| | | | |
| --- | --- | --- | --- |
| | Da Buddha (Being reviewed) | Silver Surfer Vaporizer (Other model by 7th Floor) | Life Saber Vaporizer (Other model by 7th Floor) |
| Price | $190 | $270 | $180 |
| Materials Type | Convection | Convection | Convection |
| Heating Style | Ceramic | Ceramic | Ceramic |
| Oven Material | Glass | Glass | Glass |
| Vapor Path | No | No | No |
| Power type | Wall outlet | Wall outlet | Wall outlet |
| Bluetooth / APP | No | No | No |
| Heat-up Time | 90 seconds | 3-5 minutes | 90 seconds |
| Easy to Load? | Yes | Yes | Moderate |
| Draw Resistance | Low | Low | Low |
| Vapor Production | Excellent | Excellent | Excellent |
| Vapor Smoothness | Excellent | Excellent | Excellent |
| Flavor / Taste | Excellent | Excellent | Excellent |
| Odor Level | Moderate | Moderate | Moderate |
| Precise Temp Adjust / Temp Range | Unlabeled heating knob | Unlabeled heating knob | Unlabeled heating knob |
| Warranty | 3 years (Limited) | 3 years (Limited) | 3 years (Limited) |
In-Depth of the Da Buddha Vaporizer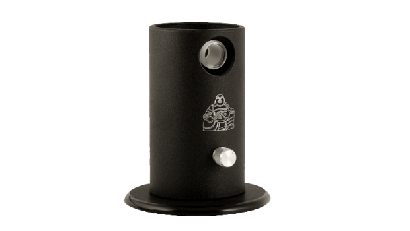 - Price - At a price of $189, the Da Buddha is one of the less expensive desktop vaporizers on the market today. Many vape enthusiasts consider it to be the least expensive unit that is still capable of producing vapor of adequate quality to make for an enjoyable experience.
- Reputation – While the 7th Floor Da Buddha does not have the same stellar reputation as other dry herb models like the Volcano, it is known for producing satisfying vapor. Most people consider the amount, taste, and potency of draws from the DBV to be average when compared to all desktop devices, and above average when compared only to vapes sold at a similar price.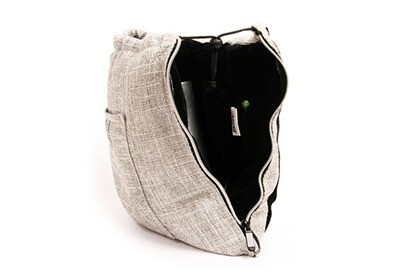 - Guarantee - The heating element on this movel has a 3 year warranty, which is about average for desktop vaporizer models and a little less than what's offered on some other vapes. The glass components of the device are not covered by the warranty, and they can break if they are not cared for properly. It's recommended that the device is always be stored in its padded carrying bag when not in use to protect the pieces.
- Prep Time - This 7th Floor vaporizer does not require a lot of time to setup. The unit gets hot in approximately 2 to 4 minutes, which is about average for desktop vaporizers, even those that are more expensive.
- Heating and Temperature Regulators - The DBV features a powerful ceramic heating element, and it does allow you to set the temperature to the optimal level for whatever you're vaping. One thing to keep in mind is that there are no numbers on the dial, so it is hard to set the temperature precisely.

- Ease of Use - With the Da Buddha, there are not a lot of buttons to push or settings to configure. Most people will be able to begin vaping and getting satisfying draws with the vaporizer right away. The DBV has a ground glass connection as a standard feature. A benefit of this is that it holds the wand in place, so there is no need to grip it while vaping. The only problem is that the angle of the wand causes the herbs to fall down inside of the whip, which can result in uneven heating. To eliminate this, it's necessary to stir the herbs frequently. This somewhat lessens the benefits of having the hands-free connection.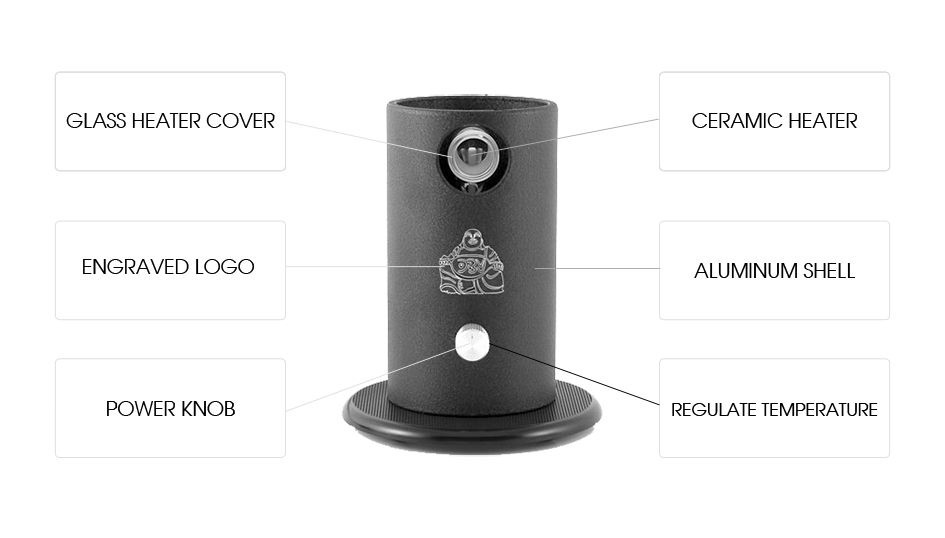 Produced by leading dry herb vaporizer manufacturer 7th Floor, LLC. The Da Buddha is one of the most popular vaporizers for dry herb and tobacco on the market today. The following product guide is intended to help you learn more about the Da Buddha and provide you with the information you need to successfully cape using this device.
When compared to other dry herb, tobacco and aromatherapy vaporizers, the Da Buddha stands out for a wide variety of reasons, including: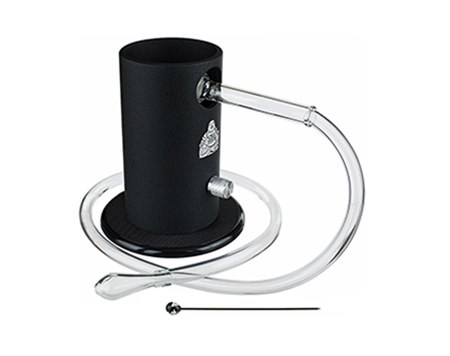 - Extended Warranty - The Da Buddha is backed by a three-year warranty on all of its components, excluding glassware. This sets the Da Buddha apart from many of the vaporizers sold in smoke shops today

- Replacement Program - After the warranty expires, 7th Floor will replace any broken parts on Da Buddha and ship the device back to you via UPS. In the vast majority of situations, repairs and replacement parts cost just $25 plus shipping.

- Ceramic Heater - The Da Buddha features a premium ceramic heater that is kept separate from all other components and is truly one of the best that you'll find in any other vaporizers sold in vape shops today

- Glass Intake - Thanks to an all-glass intake, the Da Buddha keeps impurities out of the produced vapor, allowing for a consistently great taste.

- Safe Housing Design - The housing of the Da Buddha is constructed entirely out of aluminum in order to reduce the risk of fire. It is polished to perfection and features a sleek anodized finish to enhance its durability and styling

Da Buddha Heating Process
Air is inhaled through a small hole in the mouthpiece of the whip
Da Buddha's ceramic heating element heats the air to the vaporization temperature (pre-selected by the user)
Air moves from the heater into the wand
Hot air vaporizes your herbal blend or tobacco
Vapor is produced for you to enjoy
How to Vaporize with Da Buddha - two methods:
Option A - Turn the glass knob to 100 percent and wait for two to three minutes. Then, turn the knob back approximately to the 1 o'clock position on the dial for use.

Option B - Turn the glass knob to your preferred temperature position and wait three to five minutes for full preheating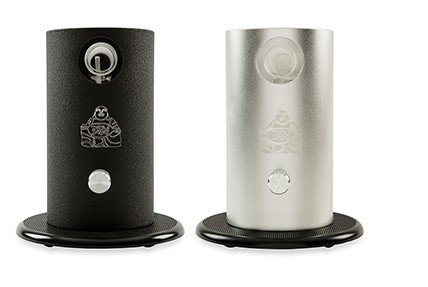 Process of vaporizing with Da Buddha:
While you wait for the unit to preheat, we recommend that you grind your herbal blend or tobacco. Grinding is necessary to get best results
Fill the wand so that it is 12 percent to 25 percent full. You can fill it with your fingers or suck it off of a flat surface into the wand
Insert the wand into the heater hole on the device
Draw through the mouthpiece. A slow draw will produce hotter vapor, while a fast draw will produce a cooler vapor
Stir the contents of the wand periodically to ensure complete vaporization and the best possible flavors
When finished, empty the used blend into the trash
How to Maintain Your Da Buddha Wand
To keep your Da Buddha vaporizer working in peak condition, you will need to periodically change the wand screen. The process for changing the screen is as follows:

Remove the old screen
Put a fresh screen on top of the wand
Using the included glass pick, push the screen down
Flip the screen to attach it on one side
Push the other side down with the glass pick
What's Included with the Da Buddha?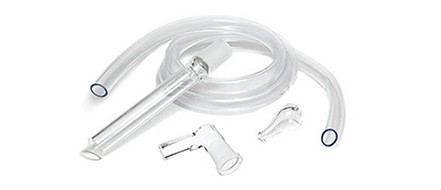 1 complete DaBuddha vaporizer
1 handcrafted marbled glass pick
1 ground glass hands-free whip, and a PYREX wand with food-grade vinyl tubing
1 padded hemp storage bag
3 replacement screens for the wand
1 instruction manual and warranty information booklet
If you're looking for a weed vaporizer to use at home for medicinal marijuana treatments, a desktop vaporizer model can be the ideal choice. Desktop vapes are highly efficient and help to maximize the potency of medical cannabis, so that you can get the most benefits out of treatments. There are many types of vaporizer weed desktops for medical marijuana available on the market, but the 7th Floor Da Buddha Vaporizer is one of the most well-known and affordable.
Who Is 7th Floor?
7th Floor is the company that manufactures the Da Buddha vaporizer, as well as a number of other medical weed vaporizer models, like the Silver Surfer, and the Life Saber. The company was founded in 2002 and has become world renowned for providing very high quality vapes that are economically priced. All of the vaporizers are developed in house and are exclusive designs from the brand. Glass construction is a hallmark of 7th Floor vaporizers and helps to ensure a pure vaping experience.
What Is the Da Buddha Vaporizer?
The Da Buddha vaporizer is the economical entry-level desktop vaporizer in the 7th Floor collection. This vaporizer weed desktop model is a whip vaporizer, meaning that you load your material into a wand that you insert into the heating element, and then draw the vapor out using a silicone tube and a glass mouthpiece. The vaporizer has adjustable heat settings that you control with an analog knob.
A Quick Da Buddha Vaporizer Review
For the low price of the Da Buddha Vaporizer, this desktop model offers real value for the money. The medical weed vaporizer produces very potent, smooth vapor that is of excellent quality for medicinal cannabis users' needs. The vape is ready for use in about 2 to 3 minutes, and its temperature regulators are highly effective, to reduce the risk of combustion, and ensure that you're getting a true vaping experience and not just burning your material.
There are a couple of small drawbacks to the Da Buddha vaporizer. The biggest one is that the angle that you insert the whip into can be a little awkward, as you have to turn the wand horizontally to heat up your material. Some other desktop vaporizers have angled heating elements that are simpler to use. The other major drawback is that there are no numbers on the analog dial, so it can be hard to return to the exact same temperature setting once you find one that works for you.
You can learn more about the Da Buddha vaporizer by checking out its product page here at VaporPlants.com. We also have a Usage Guide for the Da Buddha medical weed vaporizer available for your review, and will be glad to answer any questions that you have about the desktop vaporizer if you contact our customer service team.
If you have any questions about how to use or care for the Da Buddha model, feel free to contact our customer service team for assistance. We pride ourselves on providing valuable vaporizer information to both new and old customers alike! Let us show you why so many individuals trust us with their vaping needs! Contact us today!