Dr Dabber has become well known for making very high quality wax pen vaporizer units for users who prefer waxy concentrates. After changing the world of vaping wax with their Boost e-nail, the brand is back with a brand new concept, the Dr Dabber Budder Cutter. Read on for a full Dr Dabber review to learn more about this vape.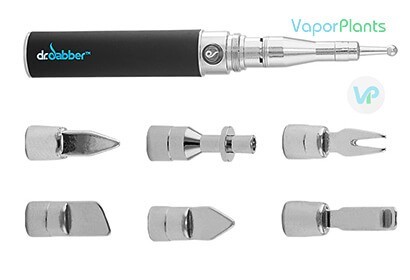 Pros:
Inexpensive price
Works with concentrates that are otherwise very difficult to use
Includes seven heads, giving you a tool for everything
Can be used as a dab tool with a wax pen
Comes with three nails for flexible vaping
Cons:
May be too complex for new users
Short, 1-year warranty
Not really a vaporizer
Dr Dabber Budder Reviewed
Rating:

7

/

10

by VaporPlants
To see other Dr Dabber products, click below:


Use coupon code 'VPR' to save 10% OFF
In-Depth of the Dr Dabber Budder Cutter
- Price - The Dr Dabber Budder Cutter costs just $50, making it a good investment for the money for the right user.
- Vapor Quality - First of all, the Dr Dabber Budder Cutter is not really a vaporizer. It's a dab tool that is battery operated to help make concentrates easier to handle. You do get three nails with the unit that can be used for vaping, and you can also use this tool to load a wax vape pen made by any manufacturer. So since you really can't discuss vapor quality with this tool, it's better to consider its performance. The dab tool has a calibrated heating system that allows it soften material very well without vaporizing or burning it.
- Guarantee - The Dr Dabber Budder Cutter is backed by just a 1-year warranty.
- Ease of Use - You get seven different heads with the Dr Dabber Budder Cutter, giving you a nice variety of tools to manage any type of material. It's much easier to use than a non-heated dab tool; however, people who are new to dabbing may find the large number of options overwhelming.
- Portability - The Dr Dabber Budder Cutter is sized like a compact wax pen vaporizer for easy carrying.
- Power Supply - With the Dr Dabber Cutter, you get a very high quality battery with a long life. It's based on the design of the battery on the Dr Dabber Ghost, which has won numerous awards.
For someone who is looking to expand their waxy concentrate repertoire, the Dr Dabber Budder Cutter is an excellent investment. It's geared toward the needs of wax connoisseurs and available for a low price that makes it a handy tool to have on hand.