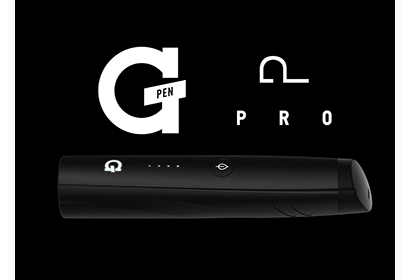 The G Pen Pro is a dry herb vaporizer that allows you to enjoy all of the full heating functionality of a full-sized vaporizer while on the go. It offers total temperature control with its range of 200 to 428 degrees Fahrenheit, allowing you to vape your way. This vaporizer features an ergonomic mouthpiece that offers minimal draw resistance so that you can enjoy each hit like a natural breath of air. It costs around $99, but with all of its features, it is worth it. This vaporizer has a ceramic heating element that is ideal for heating your herbs evenly every time. This will leave no charred residue behind, only ash that is simple to clean out with the included cleaning tools.
Pros:
Easy to load & clean
Even heating
Great vapor quality
Large temperature range
Total temperature control
Cons:
Longer heat up time of up to 90 seconds
The G Pen Pro is yet another powerful vaporizer from Grenco Science. This vaporizer is designed for use with dry herbs only and can be heated up in a minute flat. At an affordable price and with its great features, it is a must for anyone who loves vaping their flowers.
| | |
| --- | --- |
| | G Pen Pro |
| Price | $99 |
| Materials Type | Dry herb |
| Heating Style | Conduction |
| Oven Material | Ceramic |
| Vapor Path | Plastic |
| Removable Battery | No |
| Battery Life (Usage time) | Average |
| Charger | USB |
| Charge time | 2-3 hours |
| Bluetooth / APP | No |
| Heat-up Time | 60-90 Second |
| Easy to Load? | Yes |
| Draw Resistance | Low |
| Vapor Production | Moderate |
| Vapor Smoothness | Moderate |
| Flavor / Taste | Average |
| Odor Level | Low |
| Precise Temp Adjust / Temp Range | 275 – 428 degrees Fahrenheit |
| Vape While Charging | No |
| Warranty | 1 year |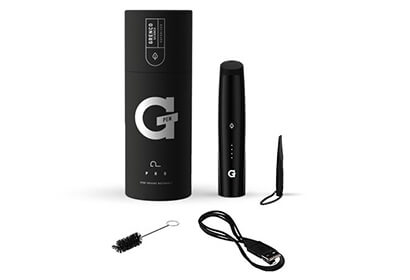 - Price - The G Pen Pro will run you around $99, which is a bit higher than most dry herb vaporizers cost.
- Vapor Quality - The G Pen Pro offers a ceramic heating element. This heating element delivers smooth, even heating that will let you enjoy fuller, more flavorful hits.  There will be little to no residue left over when the job is done, and only a few ashes will remain.
- Guarantee - The G Pen Pro comes with a one-year manufacturer's warranty on the electronic parts to give you peace of mind.
- Prep Time - The GPen Pro takes no time at all to load. Once it is loaded, you can enjoy the flower of your choice in as little as 60 to 90 seconds, depending on the temperature.
- Portability - The G Pen Pro is ultra portable and looks like an electronic cigarette which makes it ultra discreet to take with you on the go. It fits well in the hand and can easily be slid into the pocket.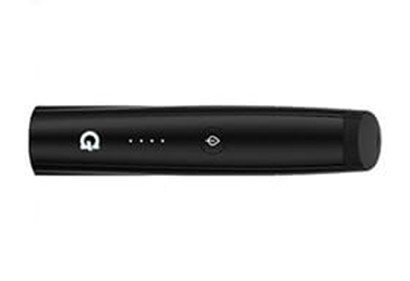 - Ease of Use - The G-Pen Pro is incredibly simple to use and functions on a five-click system like most vaporizers do. This vaporizer comes complete with its own cleaning supplies as well, which makes the device simple to maintain.
- Heating and Temperature Regulators - The G Pen Pro allows you a choice of temperature with a range between 275 and 428 degrees Fahrenheit. Its ceramic heating element can have your device thoroughly heated and ready to go in only a minute and a half. The ceramic oven also ensures that the material in the chamber will be evenly heated from the start, offering you flavorful, crisp hits.
- Power Supply - The G Pen Pro has no removable battery, but it is long lasting all the same. In order to charge the GPen Pro, you just have to plug it into the USB charger which comes included in the package.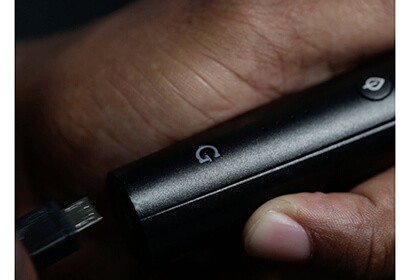 Cleaning the G-Pen Pro is Simple:
Allow the unit to cool down completely before you clean it so that you don't burn yourself.
Once the unit is cool, simply take off the mouthpiece.
Access the chamber.
You can brush it out with the included tool and then use a Q-tip dipped in diluted ISO to wipe it down.
Be sure that all of the liquid has been completely wiped out with no residue remaining before continuing to use it.
How to Use Your G Pen Pro:
Register the device online. This is imperative to do before anything else so that you can claim the warranty if you need to.
Charge the G Pen Pro for a minimum of two to three hours. It should be charged completely before you use it for the first time for best results.
Let the lights blink until they are solid. This will indicate a full charge.
Take off the mouthpiece by pressing on either side of it.
Access the chamber and insert your finely ground herb. You will want to be sure it is ground finely and packed in but not packed too tightly.
Place the mouthpiece back on.
Turn the device on by clicking the front panel button five times.
Let it heat to the desired temperature.
Vape and enjoy!
Head over to VaporPlants to get the G Pen Pro for yourself. Use coupon code VP10 to save 10% off.