The Haze vaporizer made headlines when it was released a few years ago as the first truly multi-function portable vaporizer. While the original Haze vape was advanced, there were some issues with its performance. Since then, the portable vaporizer has been redesigned twice, and the new and improved Haze Version 3 is finally available! Let's take a look at how it works. (Make sure to scroll down to see the Haze version 2.5 reviewed by us below.)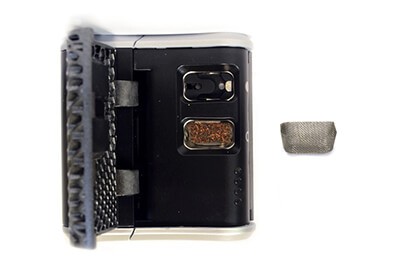 Pros:
Far more versatile than other vaporizers
3 dry herb modes, and one wax mode
Above average vapor quality compared to other portables
Average priced compared to others, but is a better value due to multi-functionality
Batteries are replaceable
Above average battery life
Longer warranty than most vapes
Cons:
Charging time is lengthy compared to other vapes
The vape needs short rests between draws
Vapor production is slow to start
Large clouds not possible, until the third or fourth draw
Haze V3 is Discontinued
Rating:

8.4

/

10

by VaporPlants
To purchase a similar model, click below:


Use coupon code 'VPR' to save 10% OFF
In-Depth of the Haze V3 (Discontinued)
As many say - variety is the spice of life - so why not spice up your vaping with a portable vaporizer that lets you control every detail? Haze V3 vaporizer has been in the hands of numerous Hollywood stars for some time now, so as you can imagine it is also ideal for many other typical users as well. The vape, by a very established brand is a major step up from the average wax and herbal vaporizers, but is still very simple to use. The described, 3rd version is extremely customizable, so you can get the precise results you want or try something new with every session! Even beginners say how much they love the Haze V3, because it allows them to experiment and experience many ways of enjoying the benefits of different vapors. Plus, experienced enthusiasts appreciate how this unique device lets them vape the exact way that they wish. Selling for around $250, it is available for purchase above, right here at VaporPlants.com, in case you'd like to get your own.
The Haze Vaporizer offers a true multi-function versatility. You can use it as a dry herb vaporizer for aromatic blends, or load it up with your favorite wax concentrates and even latest oils! Because of it's unique features it has found its way again into the February 21st of 2016 Oscar's gift bags. Shaped like a box, rather than a stick, the way a vape pen is designed: modern and sleek, the vaporizer first appeared in the Oscar's gift bags in 2015. The Best Actress, Best Actor, Best Supporting Actress, Best Supporting Actor, and Best Director nominees went home with one of these vaporizers. Plus, complete kits have also been distributed at other events, like the Daytona 500, and was also demonstrated by Bill Maher on his late night television show.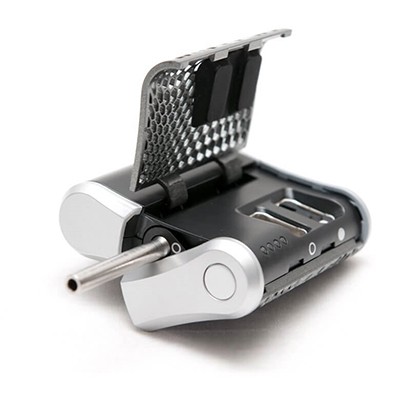 - Price - The Haze Version 3 retails for around $250, which is about average for a dry herb or wax vaporizer. What's unique about this Haze vape is it's both for wax and herbs. Plus, there is a pad inside that you can use with concentrated oils like e-liquids. As a result, you basically get an e-cig, a wax vape, and an herbal vape for $250, making this model an incredible value.
- Vapor Quality – Unlike other multi-function vaporizers on the market today, the Haze V3 works equally well in all three modes. The quality of vapor produced by the Haze vape is above average in terms of taste, potency, and smoothness. You also get a variety of accessories with the this model, giving you the freedom to vape herbs with six different chamber and mouthpiece combinations, and waxes and e-liquids with two different mouthpiece options. Overall, the glass mouthpiece seems to provide a slightly better tasting vapor, while the stainless steel stem will give you slightly smoother vapor.
- Guarantee - It is backed by a 10-year warranty, which is exceptionally long.
- Prep Time - The Haze V3 is easy to fill, and it heats up quickly.
- Portability, Size, and Privacy - Nicely sized for use on the go, the Haze V3 is rather compact. The mouthpiece is stored inside of the vaporizer to make it more compact. Both the battery, and herb/wax chamber areas stay closed in your pocket when you're on the go.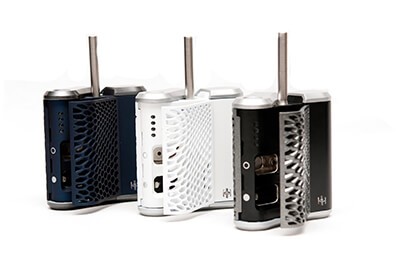 - Ease of Use - You won't have any difficulty setting up the Haze V3 or drawing from it; however, it's important to pause for at least 30 seconds between draws. Otherwise, vapor production may be diminished. You'll also notice that the first two or three draws from the Haze vape are lighter.
- Heating - There are four heat settings to choose from with version 3 of the Haze vaporizer. During testing, level 2 seemed to be optimal when using the vape as a dry herb vaporizer, and Level 3 was ideal for using the vape as a wax vaporizer.
- Power Supply - The Haze V3 gives you the convenience of removable, replaceable batteries, and you receive two with the portable vaporizer. On a full charge, the batteries last an impressive length of time and won't require recharging for at least an hour. Recharging does take a few hours, and because the batteries are charged in an external charger, you can't vape while you recharge.
Double the Heating Chambers, Double the Possibilities
Truly the next stage in the evolution of handheld vaporizers, the Haze V3 is the first to have two separate heating chambers instead of just one. The side-by-side placement of the chambers allows you to load two different materials into the device at once. You can then effortlessly shift from dry herb to oil, from wax to essential oil, or to and from any other combination of materials that you can imagine. The dual chamber design also allows you to load double the amount of one material into the vape for convenient vaping throughout the day.
Convection or Conduction? You Get to Choose
When you're choosing from what is available on the market today, it can be difficult to decide whether to opt for a conduction or a convection vaporizer, but with the Haze's new 3rd generation model, you don't have to make that decision when buying! That's because this pocket vape lets you alternate between convection and conduction to suit your vaping material and your needs at the exact moment. If you're looking for the fast heat-up of conduction, load the two stainless steel screens into the vaporizer. Their design includes two openings that allow your material to come in direct contact with the heating element. When you want the smoother vapor production of convection, swap in the pair of stainless steel convection screens. Their four-sided enclosed design keeps the material lifted and out of contact with the heating element. You can even load a convection screen in one chamber and a conduction screen in the other to get the best of both worlds!
The customization possibilities of the Haze Vaporizer continue with the adjustable temperature functionality. You can pick from 4 different heat levels for the heating chamber of your choosing before you begin to vape. With its advanced programming, the program subtly adjusts the temperature based on air flow within the heating chamber, so vaporization occurs efficiently every time, so you can reach working temperature in 60-90 seconds or even less for your convenience.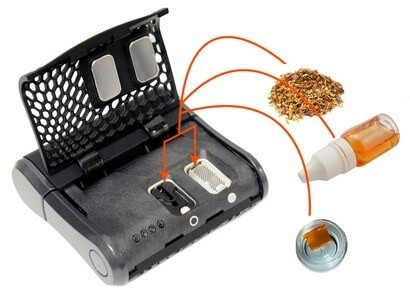 When it comes to setup, it is truly one of the easiest. As mentioned before it comes with two cans which can be filled with any material of your choosing and then slipped into the desired chambers. A dabbing tool comes with the kit to further simplify filling. The loading door snaps shut securely, preventing leaks and spills.
Easy-to-Set Best Temperature Level
Setting the heat is easy; as you switch between the levels - LED lights will illuminate. One light corresponds to Level 1 at 250 to 275 degrees Fahrenheit. Two lights will set the temperature at Level 2, which ranges from 350 to 370 degrees Fahrenheit. Three lights corresponds to Level 3 at 375 to 410 degrees Fahrenheit, while four lights indicated Level 4, ranging from 410 to 470 degrees Fahrenheit. The light or lights will blink until your desired temperature is reached, and then will glow steadily to signal that it's time to vape.
Comfort and Superior Vapor Taste Ensured
Not only can you choose the best material, temperature and heating option to customize this new vaporizer, but you can even select the right mouthpiece for your needs. The kit includes both glass and stainless steel mouthpieces, both of which will help to keep your vapor free of impurities. With either mouthpiece, you'll benefit from the advanced heat-exchange mechanism built in the all-in-one vape, as it cools off vapor for a pleasing feeling and improved taste.
Sleek Design of new Haze 3.0
The Haze Vaporizer is sleek and is stylishly crafted with available 5 colors to chose from: Absinthe Green, Stealth Black, Graphite Grey, Midnight Blue and Orchid Purple. Considered one of the best vaporizers for many years, the Haze measures 4.75 inches in length with the mouthpiece attached and 3.13 inches in length when it is removed, 3 inches wide by 1 inch deep and is exceptionally light.
Charging Made Simple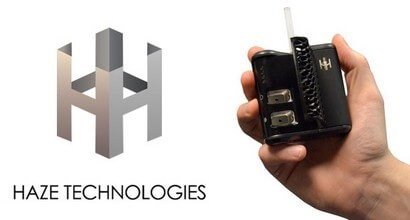 Every Haze Vaporizer box, new or older models, comes with a convenient wall charger. You'll know the battery requires recharging when the LED light glows steady red. Once you add the batteries to the charger, the battery indicator lights make it simple to monitor the progress. There are a total of three indicator lights, which will all be flashing when charging begins. The first light will glow solid when the battery is charged one-third of the way, and at two-thirds charged, the second light will begin to glow steadily. When the third light is solid - charging is complete and you're ready to vape.
Included, are two lithium ion external replacement batteries which are built for maximum performance. Ultra light in weight, the battery pack used in the Haze is shown in tests to power for 35% longer on a single charge than other similar batteries. Plus, the vaporizer features a 5-minute auto shutoff feature to conserve battery life.
Constructed to Last
Due to the high quality components, it can stand up to frequent use without ever showing signs of wear and tear. The superior durability of this superior design vaporizer allows it to carry a 10-year warranty from the manufacturer. The warranty covers all of the electronics, not just the battery as you'll find with other brands.
On top of all of the great features, it comes with all of the essential accessories needed to enjoy the all of the benefits. You even get a cleaning tool and an instructional DVD to walk you through how to use and care for the Haze V3. Some additional accessories, like a car adapter and extra cans, can be purchased separately above as well.
In conclusion, the Haze Vaporizer gives you double the vaping possibilities, compared to other portable vapes, and is an excellent choice for anyone who wants to be able to vape any type of material. Although it has some minor disadvantages, like lengthy recharge time, this handheld unit has many useful features, like interchangeable mouthpieces, and both convection and conduction heating capabilities, making the Have V3 an excellent investment for anyone who wants a satisfying vaping experience with the freedom to move from one type of material to another. Because there are so many ways to customize it, the Haze Vaporizer is ideal for more experienced users. Beginners may feel overwhelmed with all of the options.

Vaping Industry according to Haze
There are still many questions surrounding the use of different vaporizers, more specifically, the use of herbal vapes. Scott, a prominent member of Haze Technologies gave an interview in hopes of bringing some light to the subject, and we've decided to post the information he shared below to highlight some of the important concepts that he has detailed.
From traditional smoking to vaporizing
Basically, any true vaporizer will not combust the materials, but instead properly heat them to where the active compounds are released and nothing else - no toxins or carcinogens. When vaping temperature matters, as with the right temperature the vapor just tastes better, smells better, and is more potent than using combustion known to traditional smoking.
Vaping is also more efficient as you are able to choose the size of the bowl for your materials, the temperature at which it is vaped, and how much you use at once. There is the added benefit of using what's called Already Been Vaped (ABV) material for making oils that can be used for other purposes.
What to keep in mind when buying a vaporizer?
First, do your research. Check out active forums and website guides, along with many available reviews. Know how much you want to spend and determine the best models for your personal use, from mods to portables and desktop devices. After doing quality checks, it all comes down to personal preference, as all vapes function the same but offer different features.
Keep in mind that desktops will almost always have an advantage over any portables because they use a direct power source instead of a battery, therefore producing a higher quality vapor. Desktop vaporizers are great for sessions at a party or with a large group at home, and will never have you fearing your battery's depletion.
What makes Haze Vaporizers stand out from all others on the market?
After much research with older models, user feedback, and testing, Haze Technologies came out with the Haze V3, the only multi-chamber model on the market. It is built ready to vape all materials such as dry herbs, oils, and waxy concentrates, making it an all-in-one device. Making Haze engineering stand out by from the crowd, by creating brand new products to introduce to the market and prioritize the satisfaction of the customers over everything else, as evidenced by the third generation of the Haze Dual, meticulously crafted around ideas for improvements from customers.
Even after understanding the basics described above, you might still have a few questions lingering regarding the overall dynamic of the vaping industry. One of this questions might be: Why are some vapes better than others, and how to choose a vaporizer?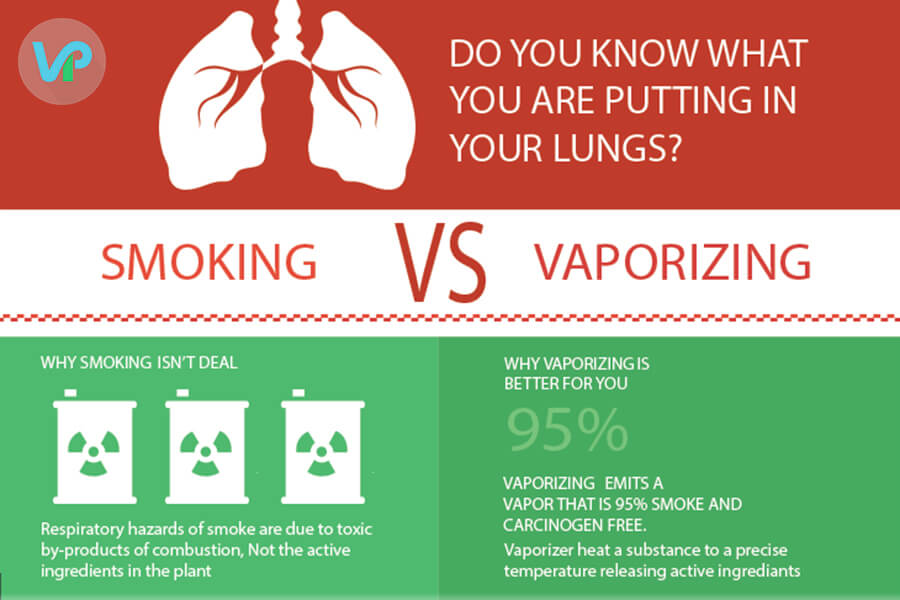 That is why Scott from Haze has shared this information, and what some of this means from the standpoint of an industry leader, leaving all of us feeling a little more confident and knowledgeable about what we are getting into by stepping into the world of vaping.
Original Haze 2.5 Version Reviewed (Discontinued)
The Haze Vaporizer is a unique option among portable vaporizers that is designed to offer a fully customized vaping experience for users. The vape has a two chambered design, making it possible to vaporize dry herbs in one side and waxes, essential oils and ejuice in the other without having to put a new bowl or chamber inside when you want to mix things up.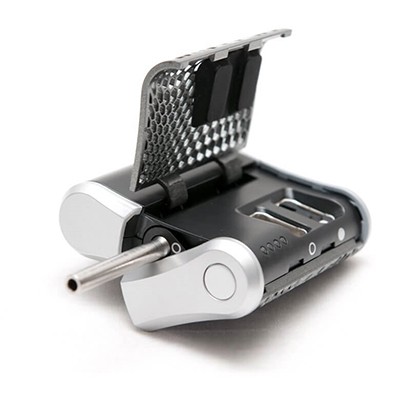 Pros
Two separate chambers: one for waxes and eliquid and one for dry herbs
Highly versatile with glass and metal mouthpieces
Conduction and convection screens for dry herb
Extra long battery life
User replaceable batteries to extend the life of the vape
Easy to draw from
Simple design
Cons
More expensive than some other portables
Batteries can take 5 or 6 hours to recharge
Vapor quality and quantity is not as high as some other small vapes
Huge customization options; may be overwhelming for new to vaping
Mouthpieces can get stuck inside.
To avoid this, wipe the stem after every use and let it cool down before you put the mouthpiece back inside
The dual chamber design and versatility of the Haze are some of its many benefits. Read on to learn more and find out about the potential drawbacks of this unit as well.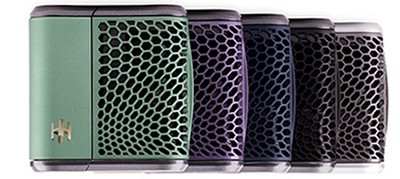 - Price - The recommended retail price of the Haze Vaporizer is $269, which is much more expensive than many other portable vaporizers; however, if you were considering buying two portable vapes for dry herbs and an oil pen for ejuice, purchasing the Haze model will likely be a more cost effective and much simpler solution.
- Reputation – It receives good ratings in reviews from customers. While its vapor production is not as impressive as some of the higher end portable vaporizers, it does produce above average amounts of vapor with a pleasing taste. The vapor can be a little hotter than what you'll experience with other vapes, which makes it slightly less smooth.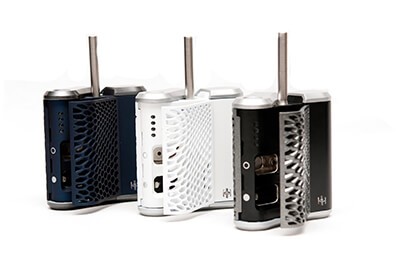 - Prep Time - The Haze Vaporizer is fairly easy to load; however, the mouthpiece can get stuck inside of its internal compartment. Ways to remedy this are discussed in the Pros and Cons section. The unit gets hot in about 60 seconds, which is about average for a high quality portable vaporizer. The first two or three draws usually produce only scant amounts of vapor, so you'll need to take a couple of hits before you can truly begin to vape.
- Versatility - Where the Haze 2.5 model really shines is in its versatility. The vaporizer makes it possible to customize every aspect of your vape. Not only can you vape any material you wish with the Haze, but you can also choose from a glass or metal mouthpiece. When you're vaping dry herbs, you also get the option to use the Haze as a conduction or convection vaporizer by selecting the screen of your choosing. There are also three temperature settings available to ensure optimal vaping results. For an experienced vape enthusiast who likes to mix things up and vape in different ways, the Haze Vaporizer is a great choice. Newbies might be a  little overwhelmed with all of the choices and may need to experiment before getting the perfect combination of screens, mouthpieces, materials and heat levels to ensure optimal results.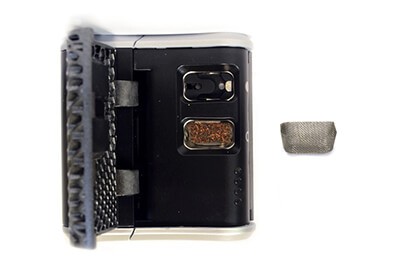 - Power Supply - Another unique feature of the Haze Vaporizer is that it includes two batteries, each of which can power the device for about 60 to 90 minutes. This makes it possible to vape for an incredible 2 to 3 hours before recharging. When it is time to recharge, the Haze Vaporizer will be out of commission for about 4 to 5 hours, a longer charge time than what you'll find with comparable vapes. The batteries are user replaceable, so when the ones provided with the unit wear out, it's possible to simply get a fresh set without having to buy a whole new vaporizer.
- Ease of Use - The Haze has a very straightforward design. The different chambers are clearly labeled, and there are indicator lights for setting and monitoring the heat. There is very little resistance, so even people with limited lung capacity should be able to get deep draws with this portable vape.
- Guarantee - With a 10-year warranty on the electronics, it has a generous guarantee from the manufacturer. Few other portables are warrantied for as long.