Today many people are looking for a compact pocket unit that doesn't make it obvious that they're using a vaporizer. The HipVap Vaporizer is a wax and dry herb vaporizer designed with this desire in mind. Read on to learn all about it.
Pros:
Incredibly compact design looks like a hip flask
Can be used for some concentrates
Very flexible temperature settings
Above average vapor quality when used for dry herbs
Affordable price
Cons:
Difficult to load
Vapor quality is not as good, when used for wax
Not as small as other portable vaporizers
HipVap Reviewed
Rating:

7.8

/

10

by VaporPlants
To purchase a similar model, click below:


Use coupon code 'VPR' to save 10% OFF
In-Depth of the HipVap Vaporizer
- Price - The HipVap Vaporizer sells for around $150, making it less expensive than many other portable vaporizers on the market. When you compare its performance, it holds its own against portable vaporizers that cost $100 more.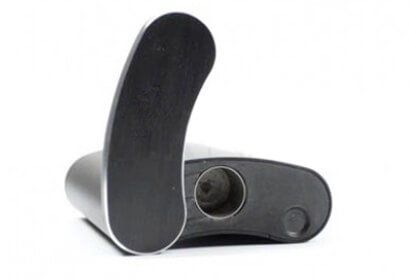 - Guarantee - The HipVap Vaporizer comes with a 2-year warranty, which is about average for a handheld vaporizer.
- Vapor Quality - With the HipVap Vaporizer, you can vaporize dry herbs and some waxy oils and concentrates. Vapor quality seems to be better when you use the unit as an herbal vaporizer rather than a concentrate vaporizer. To get large vapor clouds, you will need to set the vape to a high temperature, which can result in less flavorful, harsher vapor. Still, the vape provides above average vapor quality, compared to dry herb vaporizer pen models, and portable vape models that are similarly priced.
- Prep Time - With the HipVap Vaporizer, you don't have to wait long for your handheld vaporizer to be ready for use; however, the herb vaporizer is a little challenging to load. One problem is that you can't rest the vaporizer on a flat surface to fill it due to its design. The oven door is also difficult to open, and it can be hard to take out the screen to clean and replace it.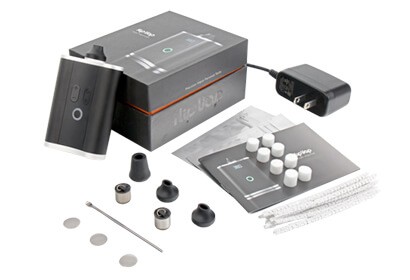 - Portability - In terms of portability, the HipVap Vaporizer really shines. The small vaporizer is designed to look like a standard hip flask, so it can be used conveniently anywhere. It will easily fit into your pocket for use on the go.
- Ease of Use - The HipVap Vaporizer is simple to use, thanks to its digital display. The dry herb vaporizer has no resistance, so even people with breathing problems can get a satisfying draw from the vaporizer unit.
- Heating and Temperature Regulators - With the HipVap Vaporizer, you can set the temperature to the exact level that you desire right down to the degree. The unit holds its temperature well and heats herbs evenly.
- Power Supply - On a single charge, the HipVap Vaporizer can be used continuously for about 90 minutes, so its battery life is equal to or greater than most other dry herb vape portables on the market.
The HipVap Vaporizer is a great choice for a portable vaporizer for someone who is most concerned with being able to vape inconspicuously, and wants a better vaping experience than what's possible with a standard vape pen. Because of its limitations as a wax vaporizer, the portable vaporizer is best used for dry herbs, but it can be a good choice for someone who wants to occasionally enjoy concentrates. Overall, this vape would be among the best vaporizer models for both beginners and experienced users who want a very compact, efficient, small vaporizer.