The Da Vinci is a portable dry herb and concentrate conduction vaporizer pen that features a bronze heating element for tasty, clean rips. Small enough to fit in the pocket and comfortable enough to hold for extended periods, the Da Vinci is simple to load, will never spill while you travel with it, and features precise temperature control up to 430 degrees Fahrenheit for users who enjoy spectrum full spectrum of heat.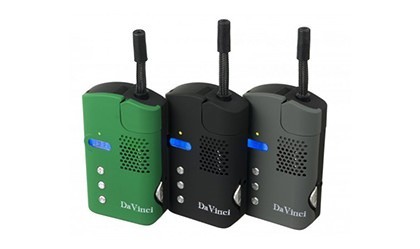 Pros:
Compatible with dry herbs and concentrates
Bronze heating element
Precision control up to 430 degrees Fahrenheit
Great vapor quality
Simple to use
Highly portable
Cons:
Only lasts 40-60 minutes
90-second heat up time
Breakdown of the DaVinci Classic
| | | | |
| --- | --- | --- | --- |
| | DaVinci (Being reviewed) | Ascent by DaVinci (Newer model) | IQ by DaVinci (Newest model) |
| Price | $130 | $200 | $275 |
| Materials Type | Dry herbs and concentrates | Dry herbs and concentrates | Dry herb |
| Heating Style | Conduction | Conduction | Conduction |
| Oven Material | Bronze | Ceramic/Glass | Ceramic zirconia |
| Vapor Path | Carbon fiber blend | Glass | Ceramic zirconia |
| Removable Battery | No | Yes | Yes |
| Battery Life (Usage time) | 40-60 Minutes | 3+ hours | 1.5 hours |
| Charger | 110-240 volt wall charger | 110-240 volt wall charger | USB |
| Charge time | 3 Hours | 4-5 hours | 1.5 hours |
| Bluetooth / APP | No | No | Yes |
| Heat-up Time | 60 seconds | 50 seconds | 45 seconds |
| Easy to Load? | Moderately | Yes | Yes |
| Draw Resistance | Medium | Low | Low |
| Vapor Production | Outstanding | Outstanding | Outstanding |
| Vapor Smoothness | Moderate | Moderate | Excellent |
| Flavor / Taste | Moderate | Moderate | Excellent |
| Odor Level | Low | Low | Low |
| Precise Temp Adjust / Temp Range | Precision up to 430 degrees Fahrenheit | Precision up to 430 degrees Fahrenheit | 250 - 430 degrees Fahrenheit |
| Vape While Charging | No | Yes | Yes |
| Warranty | 2 Years | 2 Years | 10 Years |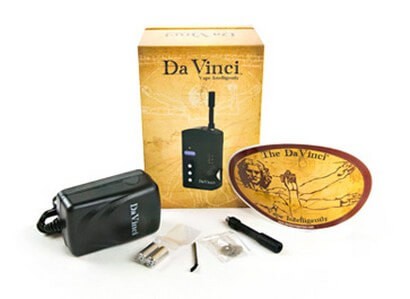 - Price - The Da Vinci is priced at $130 which is about average for a hybrid handheld vaporizer.
- Vapor Quality -  Due to the bronze heating chamber in this portable vape, the Da Vinci produces pure and flavorful hits every time. At lower temperatures the flavor is going to be better but the vapor production will be low, while at higher temperatures, vapor production is impressive but flavor suffers a bit.
- Guarantee - The Da Vinci comes with a 2-year warranty.
- Prep Time - It only takes 90 seconds for the Da Vinci to heat up. Loading it is as simple as pressing the small silver button that opens up the corner lid on the portable vaporizer for dry herb to give you access to the chamber.
- Portability - The DaVinci Vaporizer is small enough to fit inside your pocket and is easily held in the hand, making it highly portable.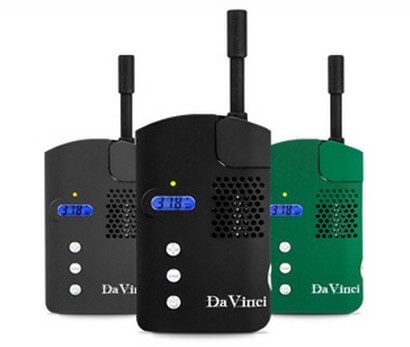 - Ease of Use - The Da Vinci is simple to use with the convenient latch that promises none of your dry herbs or concentrates will accidentally spill out of the chamber while sitting or in motion. When it comes time to stir the chamber, there is a self-enclosed brush that fits snugly back into the body of the Da Vinci after use.
- Heating and Temperature Regulators - There is a bronze heating element inside the Da Vinci herbal vaporizer that allows it to heat up to 430 degrees Fahrenheit without the user ever having to worry about inhaling bronze residue thanks to the high melting point of the material. Vapers can enjoy precision control using the buttons and the screen on this unit.
- Power Supply - A strong lithium ion battery powers the Da Vinci for up to an hour of robust vaping after only charging for three hours on the included AC wall charger.
The Da Vinci is a wonderful choice for those who enjoy vaping their herbs and concentrates at home or on the go. It produces low odor levels and fits well in the pocket, making it great for discreet use on the go. With its precision temperature control, great ease of use and delicious vapor, this vaporizer is for anyone who wants to take control of their vaping experience.
The DaVinci by Karma, is a portable model, that makes it possible to vape tobacco or your preferred herbal blend when you're on the go. Sold in a large number of  vape shops, the DaVinci is rather simple to use, a fact which makes it very appealing to both new and experienced tobacco vaping and herbal vaping enthusiasts alike. This guide will provide valuable information regarding basic herbal vaping techniques with the DaVinci, as well as a few basic steps which will ensure that you keep the device properly maintained.

How to Use the DaVinci Vaporizer
Charge your DaVinci Vaporizer by plugging the cord into the power port. The main power should always be on during charging
Once charged, open the DaVinci unit by pressing the lid release button
After grinding herbs with a herb grinder place dry herbs into the chamber, or fill the oil can with your preferred liquid and place it into the chamber
Touch the temperature power button
Use the plus and minus keys to adjust the vaping temperature
Draw from the mouthpiece at the top
NOTE:
You can add material to the oil can while vaping by unscrewing the upper chamber. And enjoy high quality vaping experience with DaVinci, byfollow the steps above.
How to Care for the DaVinci Vape
To remove particles from the chamber, you can use the included brush. Be sure to clean your device using only mild soap and water. The included screen should be cleaned regularly. When it becomes clogged or shows signs of wear and tear, replace it with a fresh screen.
Click here for DaVinci Vaporizer User Manual PDF file
DaVinci Vaporizer features:
An indicator light on the front at the top-left side
A digital display window that provides accurate temperature readings
Plus and minus buttons which can be used to adjust the temperature up and down, as any best vaporizer should have
Flexible straw top for inhaling
Built-in storage compartment for the include oil can or your herbal blends
- It can be opened by pulling on the tab
Switch for opening the lid of the vaporizer
Ventilated heating chamber
Power port for recharging
Primary power switch for turning the unit on and off
Oil can
If you need assistance with the DaVinci Vaporizer, contact our customer service team. One of our vaping experts will be glad to answer your questions. We've helped countless clients maximize their enjoyment with a variety of vaping products. Let us show you why so many individuals consider us the best vape shop online! We look forward to hearing from you!
Buy from VaporPlants.com with promo code: VP5