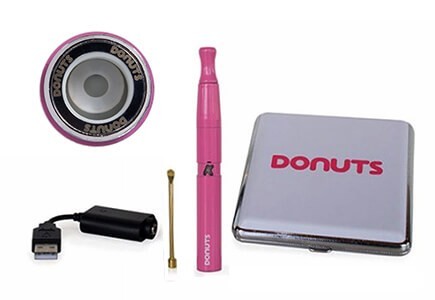 The KandyPens Donuts vape pen provides a convenient way to enjoy waxy concentrates. This compact wax vapor pen is one of the newest models from KandyPens and is a solid buy for the money.
Pros
Excellent vapor taste and quality
Highly efficient
Very small (with a large heating chamber)
Simple to load
Lifetime warranty on battery
Cons
Vapor clouds are thin
Wax can bubble inside and make a mess
Draw resistance could be difficult for people with breathing problems
Breakdown of the KandyPens Donuts
| | |
| --- | --- |
| | KandyPens Donuts |
| Price | $100 (MSRP) |
| Materials Type | Wax |
| Heating Style | Conduction |
| Oven Material | Ceramic |
| Vapor Path | Plastic |
| Removable Battery | Yes |
| Battery Life (Usage time) | Average |
| Charger | USB |
| Charge time | 4 hours |
| Bluetooth / APP | No |
| Heat-up Time | Around 30 seconds |
| Easy to Load? | Yes |
| Draw Resistance | Moderate |
| Vapor Production | Low |
| Vapor Smoothness | Excellent |
| Flavor / Taste | Excellent |
| Odor Level | Low |
| Precise Temp Adjust / Temp Range | Three settings: 350, 390 and 430 degrees Fahrenheit |
| Vape While Charging | No |
| Warranty | Lifetime warranty on battery |
In-Depth of the KandyPens Donuts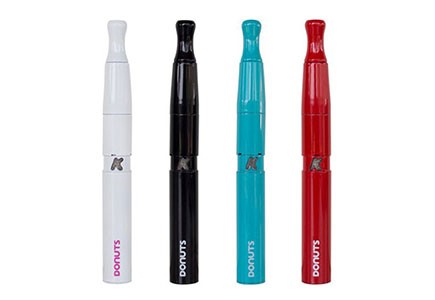 - Price - This vape pen sells for around $100, which makes it more expensive than many vapor pens; however, it's not the most expensive wax vape on the market either. Its features and benefits of the wax vaporizer pen do make it a good buy for the price.
- Vapor Quality - Outfitted with a ceramic disc atomizer, the KandyPens Donuts heats waxy concentrates at a lower temperature than other wax vaporizer pen models. As a result, it won't combust material, and it produces very flavorful, pleasant vapor. The downside of the low heat waxy oil vaporizer pen is that clouds are typically thinner than what you may be accustomed to with traditional pens.
- Guarantee - KandyPens offers a lifetime warranty on the battery found in the Donuts model. You won't find many other waxy oil vape pen manufacturers offering that type of warranty, and it reflects the high quality of this vape pen.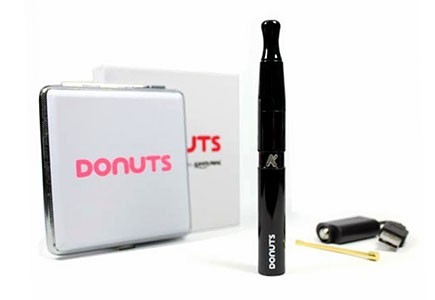 - Prep Time - Considering its size, the KandyPens Donuts has a large heating chamber that can hold about .25 to .3 grams. Still, it's important that you don't fill the vaporizer completely full. Because of the low heat, this vape can cause wax to bubble up. If you fill it too high, this can lead to residue build-up along the inside of the heating chamber that can be messy to clean. This unit reaches working temperature quickly.
- Portability - Very compact, the KandyPens Donuts is easy to take with you anywhere. The portable vaporizer looks very much like a mini electronic cigarette, and it only has a light in its button, so it's very compact.
- Ease of Use - the KandyPens Donuts is simple to use with one button operation. The device has average draw resistance, making it suitable for nearly all users, except perhaps those with breathing problems.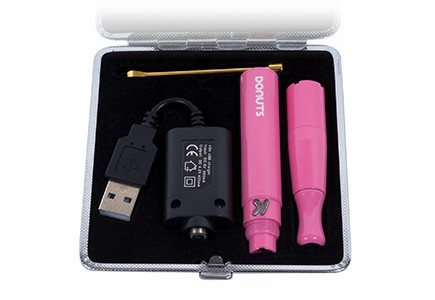 - Heating and Temperature Regulators - with the KandyPens Donuts, you can choose between three different heat levels. While this does give you the flexibility to choose the right temperature for your material, there doesn't seem to be much of a difference in the performance of the dab pen no matter which level you set it on.
- Power Supply - KandyPens Donuts is powered by a high quality lithium-ion battery with an average life span and charging rate.
Overall, this KandyPens Vaporizer is a very compact portable vaporizer that allows you to enjoy vapor on the go without requiring you to give up great vapor quality. This wax pen will suit the needs of most users, except for people who are very concerned about cloud size.
All in all, the KandyPens Donuts portable wax vaporizer is an excellent choice for those who want to take high quality dabbing with them on the go. The KandyPens Donuts comes with everything a vaper could need in order to enjoy their dabs the way they were meant to be enjoyed--no wicks, no coils, no dyes, and no glues. Just pure, ceramic chambers that deliver crisp, clean vapor without any of the extra hassle and none of the aftertaste.
The heating chamber is unique, not only in that it is coil-less and uses no dyes or glues, but also that it uses ceramic disc technology that evenly heats up all of your material and leaves behind no residue to go to waste. It also poses no risk of combustion so that you can be sure you won't be vaping one minute and then smoking the next. The chamber is also ultra deep and can accommodate around .25 to .3 grams for a prolonged vaping experience so you won't need to stop and refill constantly.
The KandyPens Donuts is also great for those who enjoy having more control over their vaping temperatures. Unlike many other dab pens with only one optimized, set temperature, the KandyPens Donuts actually has three ideal temperature options to vape at. These temperatures include 350, 390, and 430 degrees Fahrenheit so that you are in control of your experience. Whichever you choose, the KandyPens Donuts' SloBurn technology ensures that your wax and oil is heated properly and efficiency to maximize your material.
With its glossy enamel finish and its portability, this really is a great vapor pen for any dabber who likes to vape on the move.