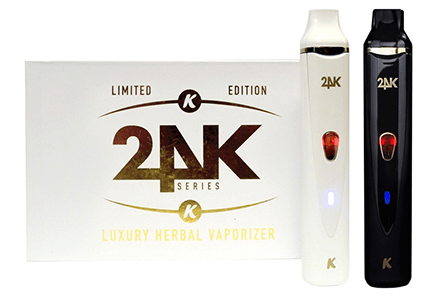 While vaporizer pens can be convenient solutions for enjoying dry herbs on the go, many of these products end up combusting herbs, and they typically can hold only a small amount of material. The K-Vape Vaporizer by KandyPens is a step up from a vape pen that is still simple and convenient to use on the go. The model has a number of benefits and a few drawbacks that you should be aware of before you buy.
Pros:
Above average vapor quality
Affordable price
Lifetime warranty
Easy to load and use
3 heat settings
Little risk of combustion
Cons:
Vapor runs hot and a little harsh at the end of a session
Material must be finely ground
In-Depth of the KandyPens K-Vape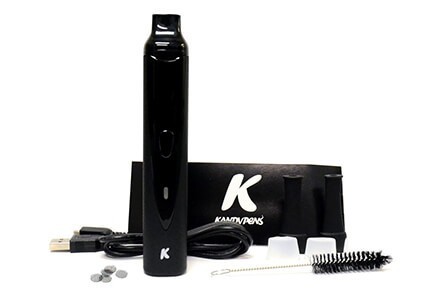 - Price - The KandyPens K-Vape sells for around $120, making it more affordable than most models on the market, and about the price of a high quality vaporizer pen. As a result, this is a good choice of herbal vaporizer for someone who doesn't want to spend a lot on a vape, but wants a better experience than what's possible with most dry herb vaporizer pen models.
- Vapor Quality - With the KandyPens K-Vape, you're unlikely to combust your herbs, and you can get large clouds of vapor when you draw. The flavor and smoothness are good to start, but they do decline as the session continues. This is a pretty common occurrence with a portable vaporizer of this price.
- Guarantee - KandyPens does offer a lifetime limited warranty on the KandyPens K-Vape. This is a much longer guarantee than what's common with a vaporizer pens.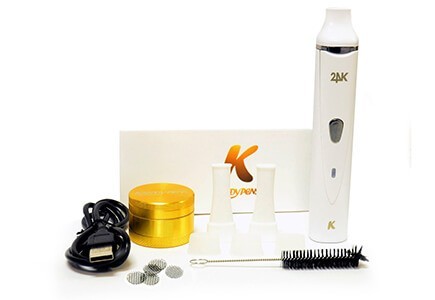 - Prep Time - To get the most out of the K-Vape Vaporizer, you need to grind your material finely, which is a little time consuming; however, it's worth the extra step. The vape reaches working temperature in about 30 seconds, which is average for a vaporizer of this size. The heating chamber is easy to load as well.
- Portability - While the KandyPens K-Vape is bigger than a vape pen, it's still relatively compact. You can take the vaporizer with you on the go, but be aware that because of its size it is less convenient than an herbal vaporizer. It won't look like you're using an e-cigarette when you draw from this vape.
- Ease of Use - With just one button in its design, the KandyPens K Vape Vape is a very easy to use portable dry herb vaporizer. The pocket vaporizer doesn't have much draw resistance, so people with breathing problems should still be able to use it with ease.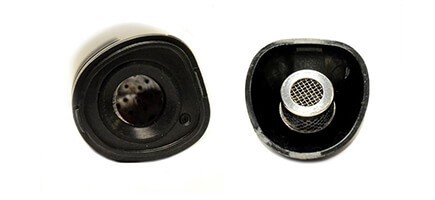 - Heating and Temperature Regulators - The KVape Vaporizer does have three heat settings, so you can customize its performance. The hand held vaporizer remains at a steady temperature throughout use.
- Power Supply - Both the battery life and charging time of the KandyPens K Vape Vaporizer are about average compared to other small vapes of its kind. The handheld vape pen does have a micro USB charger, which is nice because it allows you to use standard plug adapters if you want to recharge your vape with AC power through a wall socket.
While the K-Vape by Kandypens isn't the best dry herb vaporizer from a vapor quality standpoint, it's still an excellent buy for the money. This would be one of the best herbal vaporizer portables to buy on a budget, and is a great choice of handheld vaporizers for those who are new to vaping, and don't want to invest a fortune on their first dry herb vaporizers. You can learn more about the handheld vaporizer on its product page here at VaporPlants.com, see more at Kandypens K Vape.

Buy from VaporPlants.com - USE Promo Code - VP5 - at checkout for 5% OFF