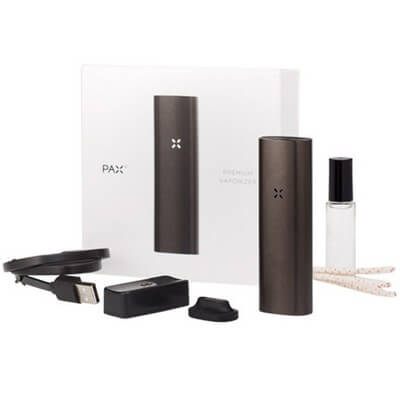 The Pax Vaporizer was a herbal vape made by Ploom. This model arrived on the market a few years ago, and is now available in an updated version called the Pax 2, which has all of the features that made the Pax Classic Vaporizer a success and more! Read on to discover what's great about this dry herb vaporizer and the few areas where Pax Labs could still improve their design.
Pros:
Allows you to take short or long draws
All-around good vapor quality at the start of a session
Potency and cloud size remain consistent throughout a session
Very compact sized vaporizer
Simple to operate
Heats up quickly
Variable temperature settings with four options
Built to last with a 10-year warranty
Cons:
More expensive than other vaporizers
Vapor taste and smoothness diminish as you vape
Requires frequent cleaning to keep draw resistance to a minimum
Does not work as well for multiple sessions without reloading the chamber
Takes three hours to fully charge
| | |
| --- | --- |
| | Pax 2 |
| Price | $149 |
| Materials Type | Dry Herb |
| Heating Style | Conduction |
| Oven Material | Stainless Steel |
| Vapor Path | Stainless Steel |
| Removable Battery | No |
| Battery Life (Usage time) | 90 minutes |
| Charger | Micro-USB |
| Charge time | 90 Minutes |
| Bluetooth / APP | No |
| Heat-up Time | 45 Seconds |
| Easy to Load? | Yes |
| Draw Resistance | Moderate |
| Vapor Production | Moderate |
| Vapor Smoothness | Excellent |
| Flavor / Taste | Moderate |
| Odor Level | Low |
| Precise Temp Adjust / Temp Range | Four temperature settings |
| Vape While Charging | No |
| Warranty | 2 years |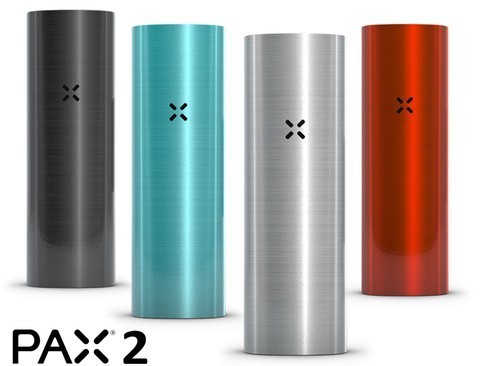 - Price - The Pax 2 sells for roughly $200, making it one of the more expensive models on the market today.
- Vapor Quality - Throughout a vaping session, the Pax 2 portable vaporizer will provide plentiful clouds of vapor that are highly potent. At the beginning of a session, the dry herb vape produces flavorful vapor that is very smooth, but by the end of the session, vapor will become less flavorful and run hotter.
- Guarantee - Pax Labs offers a 10-year warranty on the Pax 2 herbal vaporizer, which is longer than what's provided on other similar models.
- Prep Time - You won't have a difficult time loading the Pax 2, as it's very simple to use. The vape also reaches working temperature rather quickly.
- Portability - The Pax 2 is a dry herb vaporizer and is very compact for easy carrying. The silicone mouthpiece can be hidden away inside of the lid to keep it sanitary when you're on the go.
- Ease of Use - Operating the Pax 2 is very straightforward, as the controls are intuitively designed. One of the nicest things about the Pax 2 is that it allows for both short draws and long draws. This device can have an uncomfortable level of resistance if it's not cleaned often. Any build-up on the interior screen can interfere with airflow. As a result, this vaporizer is more maintenance intensive than some other portable vapes.
- Heating and Temperature Regulators - There are four temperature settings available with the Pax 2, so you can set the heat to the ideal level to suit what you're vaping.
- Power Supply - On a single charge, the Pax 2 can be used for 90 minutes, which is longer than many other portable vaporizers. Unfortunately, the battery takes longer to charge than most competitors, requiring three full hours to reach full battery status.
Size - The 2nd version is more compact in size.
Style - The Pax 2 has a more modern appearance, with its silver polished aluminum housing.
Mouthpiece - the Classic has a retractable mouthpiece, while the Pax 2 has a silicone rubber mouthpiece that disappears into the top. This makes care easier.
Draw Resistance - It's easier to pull from the Pax 2 than from the Pax Classic vaporizer.
Heating Chamber - The Pax 2 holds more material than the previous model.
Battery - With the Pax 2 vape, you get a longer battery life at 90 minutes versus 1 hour; however, it takes three times as long to charge at 3 hours versus 1 hour for the Pax Classic vaporizer.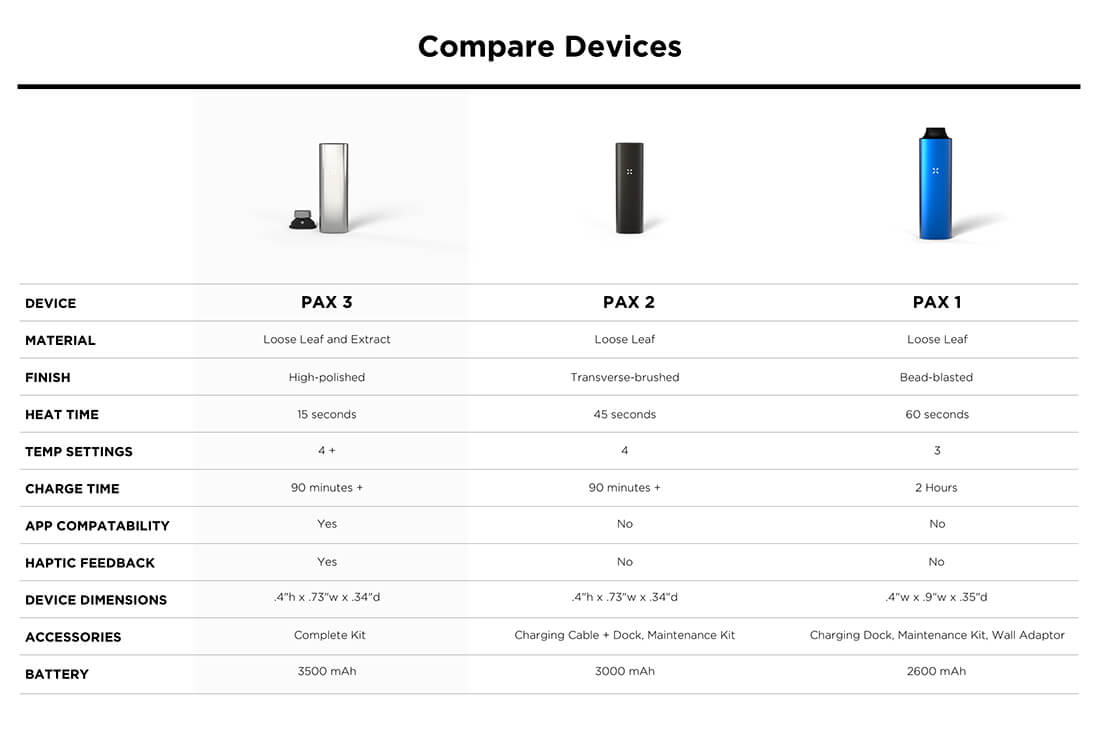 What is the Gold Pax 2?
Vaping has been causing a cultural revolution! All over the world, people are choosing to use portable vaporizers instead of smoking, and the use of these devices is on the rise. The Gold Pax 2 Limited Edition's arrival to the market is sure to only further increase sales. Part of the reason why herbal vaporizer use is booming is health; people believe that it's healthier to vape rather than smoke. And because of it certain dry herb vaporizer models have become fashion accessories and status icons, making vaping chic.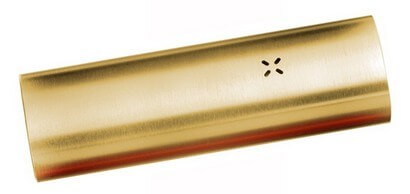 The Gold Pax 2 Edition is definitely one one of the vapes that is changing what people think of vaporizers. Available for sale in boutique stores and brick & mortar vape shops only!
The Gold Pax 2 Limited Edition is the newest version of the classic to hit the market. While it works and looks like all of the other Pax 2 models, the gold edition has a lustrous golden finish that gives it a sophisticated, elegant look. Much flashier and more stylish than the basic models, the Gold Edition makes users look fashionable as they vape. The Pax 2 is not a new product. It's been on the market for some time now. Sleeker and more modern in its design than any average vaporizer pen, the Pax 2 provides a very satisfying vaping experience. It has four heat settings, and uses a lip motion sensing technology to increase heat levels when you draw, and then decrease them afterwards for optimal vapor quality. In most reviews, the vaporizer consistently earns top marks, and is considered by most to be a better solution for vaping than smaller dry herb vape pens.
PAX Labs Meets The Weeknd
The vape movement is growing, with more and more people using herb vaporizers. This has led the manufacturers of such devices to compete with one another, differentiate themselves, and increase their market shares by offering new and innovative products. One way to gain brand recognition is partnering with celebrities, which is what Pax Labs is now doing with musician The Weeknd.
PAX brand is well known in the vaporizer industry as the company that pioneered the Pax by Ploom, which is considered by many to be the first luxury pocket vaporizer ever made. Now, the company has shed the Ploom brand name but continues to innovate and come up with new ways to enhance its products. The company's team is actively marketing to affluent individuals discovering vape culture for the first time. To promote their brand, Pax Labs is the official sponsor of The Weeknd's North American Fall Tour. In celebration of the event, the brand has developed a limited edition Madness Tour Limited Edition Pax 2, which is sold at concert venues and is sometimes available to purchase online.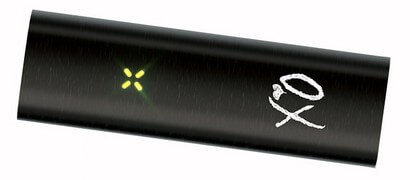 Some of the key features of the new limited edition Madness Tour PAX 2 vape include:
Redesigned Housing - has The Weeknd's XO logo on its front and is all black in color - was designed by the engineers at PAX Labs with the help of the Weeknd.
Musical Feature - when you power on the Madness Tour Limited Edition Pax 2 vaporizer, it plays the tune of The Weeknd's song "The Hills".
Customized Light - instead of the usual LED light featured on other Pax vaporizers, the Madness Tour Edition has a golden light indicator.
Like the original Pax 2 vaporizer, the Madness Tour Limited Edition can be used for dry herbs only with four heat settings, and lip sensing technology that adjusts heat levels automatically when you draw for optimal vapor quality. It is compact in size and has a long-lasting high-capacity battery. The cost is $325, which is more than the $280 price point of the standard Pax 2 vaporizer. When releasing the news about this Pax edition, produced with the help of The Weeknd, brand's marketing team revealed that they have more celebrity collaboration vaporizer products in the works. So keep a close eye out for more information on the latest vapor products from the brand, and stay tuned to see what's next from Pax.
Some Reviews by Our Customers:
By Jeffrey J. - I have a Pax 2 and it's proven to be a really good investment. It works well. It's not hard to maintain and the vapor quality is good. I don't know if I need a gold one, but it sure does look nice in the pictures. I never thought about the style of the vaporizer when I was buying it, but a lot of people compliment me on it, so I guess it does attract attention
By Sean Hamlin - That's pretty cool that The Weeknd designed a vaporizer. I do think it's kind of silly that the only difference between it and the regular Pax 2 is the engraving and the black shell, but it's more expensive in price. I guess it does play The Hills, too, but to me, that's not enough to justify the increase in price. That said, I love my regular Pax 2 vaporizer. The battery life is great. It feels great in your hand. It fits good in your pocket. I get good vapor from it and have never had my herbs burn.