Vapir is a vaporizer company that has been around for some time and has produced a number of portable models. While they're not as well-known as some other brands, Vapir does have a solid reputation, so the release of their new dual dry herb and wax vaporizer has been anticipated for some time. It takes advantage of convection based heating. This heating style, no matter whether you heat the unit to its minimum 350 degrees Fahrenheit or its maximum temperature of 400 degrees Fahrenheit, will never combust your material. Solid and durable, the device fits well in the pocket and produces thin amounts of vapor, perfect for public vaping. It comes with a stainless steel heating element and utilizes a powerful 3200 mAh lithium ion battery that is removable and only takes around 90 minutes to charge on its docking station. Unfortunately, the dual function wax and herbal model has a lot of shortcomings that make it far less attractive than competitors like the PAX.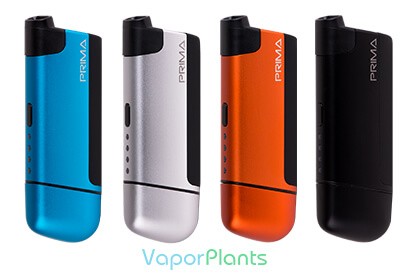 Pros:
Convection
Durable
Efficiently heats all materials
Large heating oven
Long warranty period on both battery and device
Powerful 3200 mAh lithium-ion battery
Relatively short heat up time
Temperature control
Cons:
High price point
Not as compact as some other portable devices
| | |
| --- | --- |
| | Prima |
| Price | $260 |
| Materials Type | Dry herbs and wax |
| Heating Style | Convection |
| Oven Material | Stainless steel |
| Vapor Path | Stainless steel |
| Removable Battery | Yes |
| Battery Life (Usage time) | 5 sessions |
| Charger | Docking station |
| Charge time | 90+ minutes |
| Bluetooth / APP | No |
| Heat-up Time | 40-60 seconds |
| Easy to Load? | Yes |
| Draw Resistance | Low |
| Vapor Production | Low |
| Vapor Smoothness | Moderate |
| Flavor / Taste | Exceptional |
| Odor Level | Low |
| Precise Temp Adjust / Temp Range | Four heat settings between 350 and 400 degrees Fahrenheit |
| Vape While Charging | No |
| Warranty | 2 year warranty on battery; 5 year warranty on defects |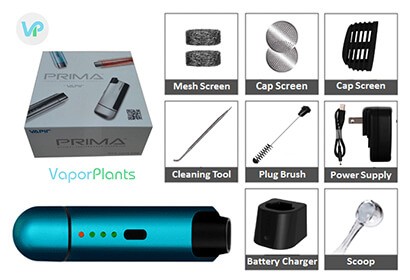 - Price - the problems with the Prima would be acceptable if this small vaporizer only cost $100, but the model is priced at $260, only $20 less than the PAX, which is a far superior model.
- Vapor Quality - The vapor quality of the Prima is fine. It offers above average flavor but it does lack the huge clouds that a lot of vapers chase, so keep that in mind. It has a stainless steel vapor path that does an okay job of retaining flavor and the smoothness of said vapor is moderate when compared to other similar units.
- Guarantee - The Prima has a 2-year warranty on its long-lasting battery as well as a 5-year warranty on any defects in the unit, both of which are substantially longer than most other vape manufacturer's warranties.
- Portability - the Vapir Prima is a portable vaporizer, so you don't expect it to be as small as a vaporizer pen. Still, the model is much heavier than most other portable vaporizers. You can carry it in a bag or a deep coat pocket, but it's nowhere near as compact as a unit like the PAX 2 that isn't much bigger than a vapor pen.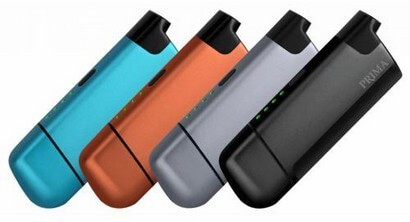 - Small Oven - even though the Prima is hefty, it has a very small heating chamber. When you're using it in the wax mode, this isn't too much of an issue, but when you want to use it as an herbal vaporizer, this is very problematic.
- Weak Magnet - a magnet is included in the Prima to keep the heating chamber closed, but if you move too much, the magnet will fail, and the vape can come open. As a result, you can't really load herbs before you leave the house, which is rather inconvenient for those who want to be able to vape on the go.
While there are some definite problems with the Prima vaporizer, the model does have some good features, too, including: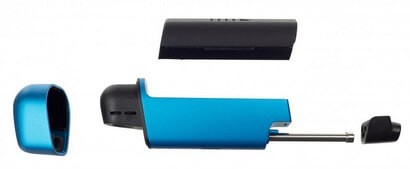 - Fast Heat Up - the wax and dry herb vaporizer can reach its maximum working temperature in 1 minute or less. That's rather fast for a portable unit.
- Heat Protection - it has a built-in heat sensor that powers the model off if it gets too hot. This ensures safety and helps prevent combustion.
- Efficiency - although the oven is small, the Prima does a good job of vaporizing what it can hold. The vapor quality is good with both wax and dry herbs, which only makes the problems it has more disappointing. A few tweaks in the design, and this unit could be a standout true portable model.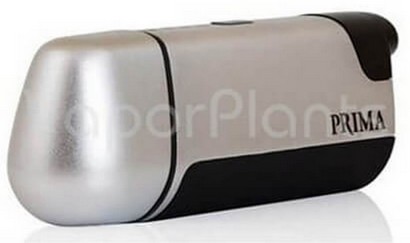 - Heating and Temperature Regulators - The Prima uses convection heating technology that promises never to burn or combust your materials. Using its stainless steel heating element, the Prima has four levels of heating: level one ranges between 350 - 360 degrees Fahrenheit; level two ranges between 365 - 375 degrees Fahrenheit; level three ranges between 380 - 390 degrees Fahrenheit; and level four ranges between 390 - 400 degrees Fahrenheit, allowing the user great control over their heating styles. It only takes around 40 to 60 seconds for the Prima to heat to your desired temperature. The large vape chamber also makes the Prima very easy to load and can be used with both wax and dry herbs, allowing you to store your material in the chamber while you take it with you on the go.
- Power Supply - The battery is an impressive, powerful 3200 mAh lithium-ion cell that can be removed and then charged in its own docking station. This means that pass-through heating is not available, but the battery charges quickly in just over 90 minutes and can then be used for approximately five complete sessions on a full charge.
As you can see from the Prima vaporizer review, this Vapir model doesn't live up to the bar set by competitors, or even by some of the other models made by the brand. Those who want a dual function wax and herbal vaporizer may want to look at other vape pen and portable options.