The Puffit Vaporizer is a handheld vaporizer that can be used in conjunction with herbs. The device is simple to use and offers convenient USB charging. This guide will teach you the basic operating procedures for the Puffit Vaporizer and help you get the best vapor quality during use.
Rating: 3.5 out of 5
| Coupon code 'VP10' to save - 10% |
PUFFiT vaporizers have been discontinued
To purchase a similar model, click below

Puffit Vaporizer is very simple to operate, follow this simple process to begin vaping:
Remove the magnetic cap from the mouthpiece.
- This will automatically turn the vaporizer on


Take off the cap


Fill the chamber with your preferred herbal blend
- Ensure that it is finely grounded with a herb grinder


Put the cap back on


Use the dial on the side of the device to choose a temperature setting
- between one and eight


Start at the lowest temperature setting and increase as needed until the preferred results are obtained


Push down on the cap for two seconds to turn on the heating element


Wait 10 to 30 seconds for the device to reach working temperature


When the LED light turns green, it is ready for use


Put the mouthpiece to your lips and draw slowly
When you're ready to charge the Puffit Vape, just connect it to a USB power source, such as a computer.
How to Charge & Check the Puffit Vaporizer
Push down on the top cap three times in rapid succession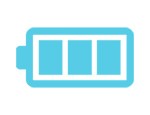 LED light will turn off and then light back up in one of three colors:
Green indicates 80% battery life or more
Orange indicates 60% battery life
Red indicates less than 30% battery life
Indicator Lights on the Puffit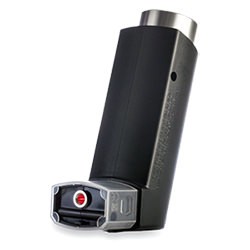 Indicator lights on the Puffit Vaporizer provide the following important information:
Steady red light means that your vaporizer is in standby mode (will turn off within 90 seconds)
Slow red flashing light means that this herb vaporizer is heating up
Steady green light means that the device is ready for vaping
Steady orange light means that the vaporizer has gone into a reset period to protect the battery and prevent overheating
Note: A rapid flash between red and green means that the chamber cap is not properly in place;
Take chamber cap off, and remove any visible debris, before putting it back into place
Rapid, flashing red light indicates that the battery is low and requires recharging
Rapid orange flash indicates that there is a problem with the vaporizer;
Discontinue use and contact the manufacturer
Safety and the Puffit Vape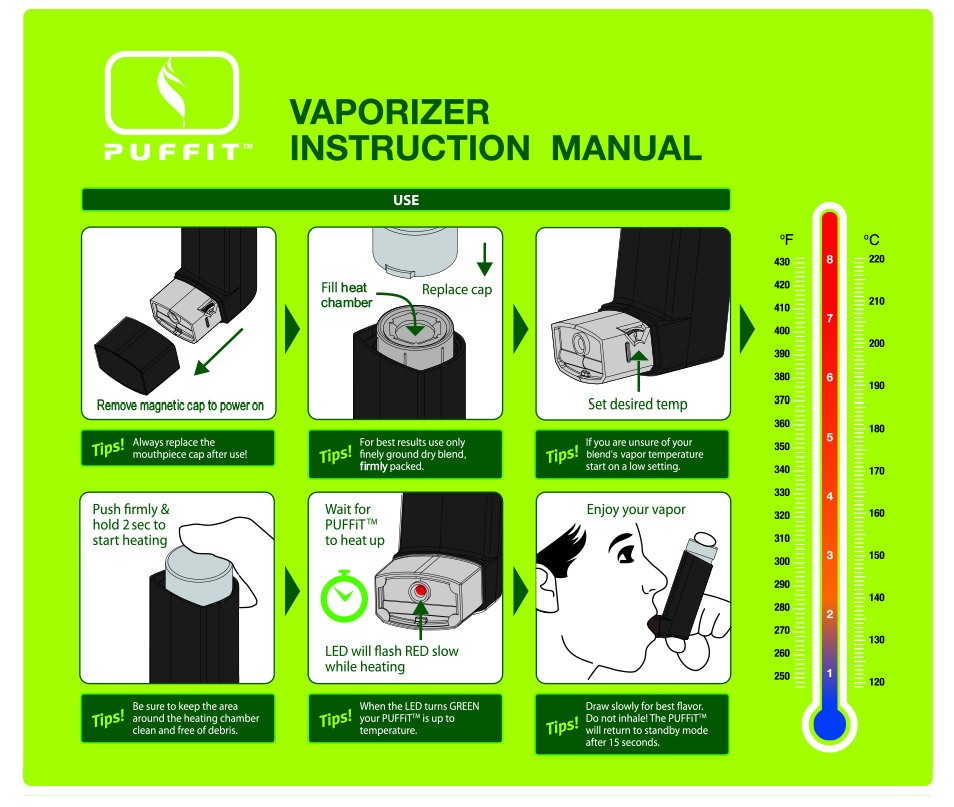 To ensure that you fully enjoy your Puffit Vaporizer and avoid the possibility of accidents and injuries, we recommend that you keep the following safety tips in mind:
Puffit Vaporizer becomes very hot during use, and burns are possible;
Always handle the vaping device with care
Allow it to cool completely before use
Never allow children to handle or use any of your vaporizers
Never turn the vaporizer on if its heating chamber is empty or the cap has been removed
The vaporizer is only intended for use with dry herbal blends or tobacco
Do not place liquids, gels, waxes or e-juice inside of the vaporizer chamber
Clean your device with the included tool, as well as soft objects like cotton swabs. Cleaning with a hard or sharp object could damage the device
Do not submerge the Puffit Vaporizer or place it under running water
Always remember to turn the Puffit Vaporizer off when it is not in use
What's Included With the Puffit Vaporizer
Puffit Vaporizer package includes:
1 Puffit Vaporizer
1 Silicone heat shield
1 Stirring attachment
4 Replacement screens
1 Cleaning and packing tool
3 Replaceable mouthpieces
1 Neoprene storage bag
1 USB charging cable
If you need more information or have a specific question about your Puffit Vaporizer, please don't hesitate to Contact Us. We've helped countless customers find the perfect vaporizer that matches their budget and expectations. We'll be glad to help you!
To check out many of VaporPlants' Vaporizer Reviews.
Video: Puffit Vaporizer Review