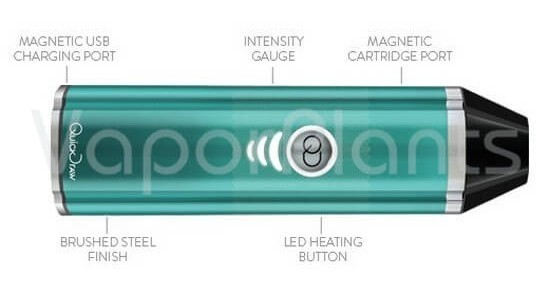 A number of vape pens on the market today give you the freedom to change between different types of materials, but so far, there hasn't been much in the way of similar high quality multi-function portable vaporizer options. Finally, there is a portable vape on the market that can act as an oil, wax, or dry herb vaporizer. It's called the QuickDraw 500 Deluxe, and you can learn more about it in this review.
Pros:
Works as for oil, wax, and dry herb equally well
Good bargain due to the multi-function design
Above average vapor quality
Very long battery life
Cons:
Taste declines if you use material for more than one session
Relatively short warranty
Larger than some other portable vapes
Heat setting is not adjustable
500DLX is discontinued by QuickDraw
Rating:

8.8

/

10

by VaporPlants
To purchase a similar model, click below


Use coupon code 'VPR' to save 10% OFF
Breakdown of QuickDraw 500
| | |
| --- | --- |
| | QuickDraw 500-DLX |
| Price | $160 |
| Materials Type | Dry herbs, wax, and oils |
| Heating Style | Conduction |
| Oven Material | Cartridge style - Ceramic/Nickel/Aluminum |
| Vapor Path | Plastic (short path) |
| Removable Battery | No |
| Battery Life (Usage time) | All day for an average user |
| Charger | Magnetic USB charger and wall charger |
| Charge time | 1-2 hours |
| Bluetooth / APP | No |
| Heat-up Time | 20 seconds |
| Easy to Load? | Yes |
| Draw Resistance | Moderate |
| Vapor Production | Great |
| Vapor Smoothness | Average |
| Flavor / Taste | Average |
| Odor Level | Low |
| Precise Temp Adjust / Temp Range | Self-adjusting variable temperatures |
| Vape While Charging | No |
| Warranty | 1 year |
In-Depth of QuickDraw 500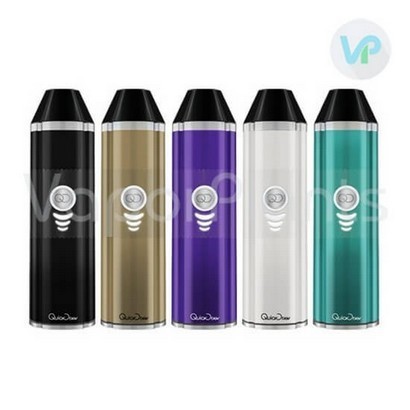 - Price - The 500 DLX sells for around $200, making it less expensive than many models, but a bit above some of the economy portables on the market. When you consider the fact that you'd need to purchase a separate vaporizer for oil, dry herbs, and wax to do everything that you can do with the 500 Deluxe, it's more than worth the money.
- Vapor Quality - In terms of vapor quality, the QuickDraw produces good to very good results. It is comparable or better than other models that sell for a similar price no matter which of the three heating chambers you're using to vape. To get the most flavorful vapor possible, it's best to complete an entire session in one sitting. Leaving material in any of the three chambers and then returning can lead to poor taste.
- Guarantee - The 500 model only has a 1-year warranty, which is shorter than what you get with some other portable vaporizers that are similarly priced.
- Prep Time - The QuickDraw 500 is easy to load. This unit is designed to sense what you're vaping and to heat up rapidly to optimal temperature. As a result, you don't have to wait long to start your session.
- Portability and Size - The QuickDraw 500 has a very sleek, stylish look, but it is a little bigger than some portables. It does have an ergonomic shape, making it easy to grip. It will fit into a coat pocket or a bag, but it's not the smallest option.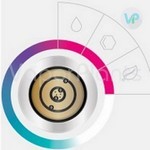 - Ease of Use - You can begin using the vape right away because it has a very straightforward design. There is very little draw resistance. Beginners will not have a difficult time using it as a wax, oil, or herb vaporizer.
- Heating - Unlike other small vaporizers of comparable price, the QuickDraw 500 features variable temperatures; it self-adjusts based on what you're vaping. Testing did not show this to be a problem, but some more experienced vapor enthusiasts may be turned off by the lack of control.
- Power Supply - The battery on the QuickDraw 500 is very powerful. With ordinary use, you can usually vape through several sessions before you need to recharge. The unit comes with both USB and wall chargers for convenience.
Basics of the QuickDraw 500 Series
The liquid and extract cartridges found inside the QuickDraw 500 kit are similar to many dry herb vaporizer chambers in the way they function; you simply need to make sure your vaporizer is charged, then press the on/off button, and draw from it whenever you'd like. It is recommended that you put about 5-6 draws worth of material onto the chamber. When loading the cartridges with either extract or liquid, it is imperative that you do not overfill them. There are fill lines to guide you when deciding how much material to put into each cartridge, and to help you keep it below the rim. If you overfill, or do not store the vape in an upright position, you run the risk of allowing material to seep out into the device, causing a malfunction.
With the 500DLX model, you are given the option of three different voltage settings for your materials. To set the voltage, power your device off and take it out of safety mode. Press the heater button twice, quickly and consecutively. This will cause the three white LEDs under the button to glow. One white LED signifies it is set at a low voltage of 3.7 volts. Two white LEDs mean a medium voltage of 4.2 volts. For the highest voltage you need only wait for three LEDs to be displayed, setting your voltage at 4.7 volts. Simply press the heating button once when the desired voltage is reached.
The dry cartridge on the QuickDraw 500 model allows you to choose between three temperature settings instead, allowing you the ultimate control over your vaping experience. After loading your material on top of the screen inside the chamber, power on your device. Using the same process you used for your waxy material, the three lights under the button will indicate the temperature being used. One illuminated LED means it is at 415°F. Two illuminated LEDs signify a moderate temperature of 425°F. Finally, three LEDs under the button indicate a temperature of 440°F. Use caution when using the highest setting, as the point of combustion for most dry herbs is 425°F. After choosing your temperature setting, simply press the button as you draw from the device.
The safety shut off time for each type of material varies. Oil cartridges cut off after 10 seconds of continuous hold. Wax cartridges will deactivate after 30 seconds of continuous hold, and dry herb chambers will cut off after roughly 2-2.5 minutes after turning green. The bottom ring will flash before deactivation occurs notifying you in advance so that you can prepare.
For ideal results, it is best to use a long, slow and steady draw. A 5-10 second draw is recommended, as this gives the air more time to heat up. Most conduction vaporizers tend to have their temperatures altered by the speed in which you inhale. If you inhale too quickly, too much air rushes over the heating element at once, giving it less time to heat up. This is why drawing slowly is recommended; it allows the air more time to heat as it passes the heating element, offering a much warmer and more fulfilling hit. The QuickDraw vaporizer pen is designed with draw resistance, giving you an advantage from the start by automatically allowing the air to pass over your material more slowly. Therefore, it is helpful if you pull slowly to aid in this process.
The amount you use your QuickDraw device, as well as the purity of the materials you use, will determine how often you need to replace your cartridges. You will know it is time when you notice a difference in the way material tastes, along with decreased vapor production. You may also notice a drastic discoloration on the inside of the cartridge when it is time to replace it in the herbal vaporizer pen. For oil liquid and wax extract cartridges, you will notice the wick and coils become caked with residue, causing a noticeable difference in vapor production as well.
There is a warranty on the QuickDraw 500, truly making this one of the best vaporizers out there today. In the event of an internal malfunction, such as the unit not recognizing the cartridge, or if one of the magnetic rings malfunctions, there is a one-year time frame in which you can return your product for an exchange with proof of purchase. This means that the warranty does not cover malfunctions instigated by the user, such as improper cleaning, getting liquid inside the cartridges' magnet, dropping the unit, or any stolen or physically broken parts or accessories.
At VaporPlants.com, we're proud to carry a selection of all QuickDraw vaporizers. Learn more about the models offered and purchase one. If you have any questions, please don't hesitate to contact us for assistance with choosing the perfect vaporizer to suit your needs. You can learn more about both the QuickDraw 500-DLX by checking out their product pages here at VaporPlants.com, see link at the top!