AirVape emerged a couple of years ago with a portable vaporizer that was about average. It wasn't disappointing, but it certainly wouldn't have won a prize for being one of the best vaporizers out there. After listening to their customers and apparently reading some vaporizer review articles, the manufacturer revamped the model and reintroduced it as the AirVape XS. The improvements have made a big difference in the performance, read on to learn all about it. (To learn about the first generation of this vape, please make sure to scroll down for our older review)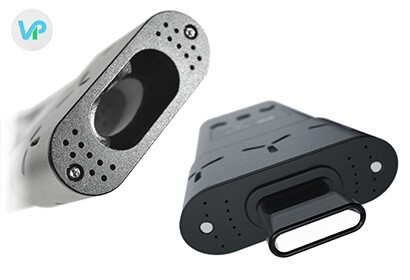 Pros:
Very economical price
Above average vapor smoothness and flavor at low heat settings
Simple to use
No real draw resistance
Pocket sized
Lifetime warranty
Precise digital temperature controls
Cons:
Vapor quality can be harsh at high temperature settings
Vapor is thin at low settings
| | | |
| --- | --- | --- |
| | AirVape 1st Gen (Discontinued by AirVape) | AirVape XS (New current model) |
| Price | Was $170 | $174 |
| Materials Type | Dry Herbs | Dry Herbs |
| Heating Style | Convection | Conduction/Convection |
| Oven Material | Metal | Ceramic |
| Vapor Path | Hard Plastic/Stainless Steel | Glass |
| Removable Battery | No | No |
| Battery Life (Usage time) | 1 Hour | 3 Sessions worth |
| Charger | USB | USB |
| Charge time | | |
| Bluetooth / APP | No | No |
| Heat-up Time | 40 Seconds | 20 Seconds |
| Easy to Load? | Yes | Yes |
| Draw Resistance | Average | Low |
| Vapor Production | Excellent | Excellent |
| Vapor Smoothness | Moderate | Moderate |
| Flavor / Taste | Moderate | Excellent |
| Odor Level | Low | Low |
| Precise Temp Adjust / Temp Range | Digital temperature control | 200 - 428 degrees Fahrenheit |
| Vape While Charging | No | Yes |
| Warranty | Limited Lifetime | Limited Lifetime |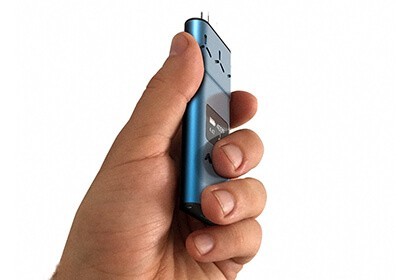 - Price - The AirVape XS sells for around $180, making it much more affordable than many other vaporizers in the portable category.
- Vapor Quality - The AirVape XS works through conduction, but the manufacturer has done a good job of eliminating some of the common problems that come with a conduction vaporizer. Before the vapor reaches your mouth, it travels through a vapor path that cools it off to make it smoother and more flavorful. Keeping the temperature around 350 to 355 degrees Fahrenheit will give you an above average experience in terms of taste, potency, and smoothness, but the vapor amount is a bit low. When you turn the heat up, you get more vapor but things do get harsher and you'll miss some of the flavors in your material.
- Guarantee - The AirVape XS comes with a lifetime limited warranty, which is a great unit. Most manufacturers only offer 1 to 5-year warranties, separating this model from the pack.
- Prep Time - To get the best results from the AirVape XS, you need to grind your material very finely prior to use, so setup is a little more complicated with this model than with some others. Still, the unit is ready to go in just 30 seconds, so wait time is minimal.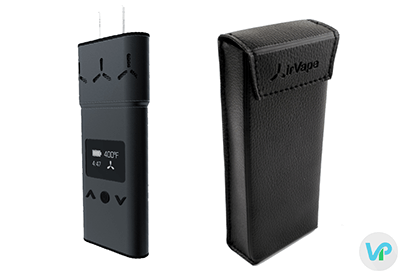 - Portability - While the AirVape XS is bigger than a vapor pen, the model is very compact compared to some other portable vaporizers. It's a pocket sized vape, and it's extra thin so it fits very comfortably in your hand.
- Ease of Use - The AirVape XS features digital controls that are very easy for even a beginner to use. You'll get little to no draw resistance from the herbal vaporizer, so inhaling through the mouthpiece is easy.
- Heating and Temperature Regulators - With the AirVape XS, you can set the temperature to the precise level that you desire. Even most high end portable models do not offer this type of digital LCD display, further separating this unit from the competition. As previously mentioned, you'll want to keep the heat low on this vaporizer for best results.
- Power Supply - Battery life on the AirVape XS is about average for a portable unit.
While still not quite in the league with more expensive units like the Firefly 2 and the Pax 2, the AirVape XS performs much better than the average cheap vaporizer. It's a great choice for anyone who wants a good vape experience and is shopping on a budget. Make sure to read our other vaporizer reviews.

AirVape First Generation Review: (Discontinued)
The information that is covered from here on, is about the previous generation of the AirVape vaporizer. The Apollo brand, came about with the AirVape, which was their first style of herbal vaporizer that is considered a portable vape rather than a dry herb vape pen, because of its rectangular shape. While at first it was not as well known as some other models, the AirVape did and does have some nice features, which we'll uncover in this Air Vape review.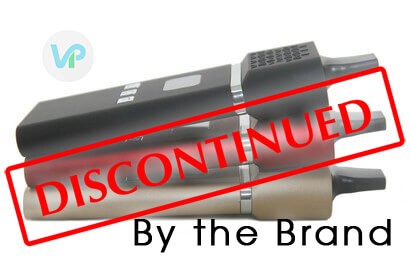 Pros
Very inexpensive
Lifetime warranty
Simple to fill
Highly efficient
Precise temperature controls
Good vapor quality for the price
Cons
Vapor does begin to run hot by the end of a session
LCD screen is not always easy to see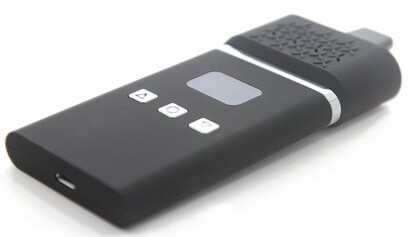 - Price - what stands out most about the Air Vape is that it sells for less than $170 at most retailers. While this is more expensive than some dry herb vaporizer pen models, it's very economical compared to most portables.
- Vapor Quality - in terms of vapor quality, the AirVape is above average overall. There is a screen built into it to keep fine particulates from ending up in the vapor. You can enjoy large clouds with the unit, and the vapor potency is average to above average. At the beginning of the session, you'll get very smooth, flavorful vapor that is comparable to the best products, but the vapor quality does tend to decline during a session. Still, you won't end up with combusted herbs like you will with many dry herb models, and the unit is also more efficient than most models.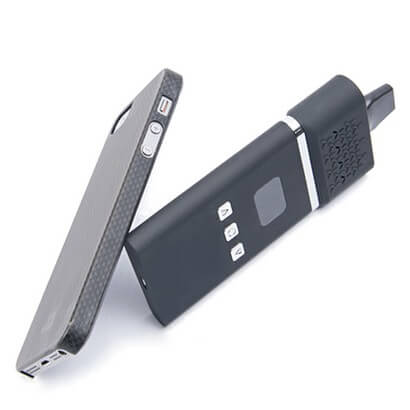 - Guarantee the AirVape has a lifetime guarantee, which is considerably longer than nearly all similar units.
- Prep Time - as a convection vaporizer that heats herbs by warming them up with heated air, the AirVape does take a little longer to heat up than some units. Still, you can have the vape ready to go in about 45 seconds, and it's very easy to fill.
- Portability - naturally, the Air Vape is larger than a typical vaporizer pen dry herb model; however, this portable is more compact than many other portables. It is very thin, so you should have an easy time fitting it into your pockets.
- Ease of Use - with just two parts that are very easy to fit together and take apart, the AirVape is very straightforward. The unit has average draw assistance, so most people can use it with ease.
- Heating and Temperature Regulators - in terms of flexibility, the AirVape excels. It has an LCD screen that accurately sets temperatures and allows you to decide the precise degree that you wish to set the vape to. As a convection model, it does run a little cool, but this decreases the risk of combustion. The only real drawback with this vape's design is that the screen can be difficult to see when you're outdoors or in a bright room.
- Power Supply - on a full charge, the AirVape can be used for about 1 hour of continuous vaping, which is pretty average.
If you're looking for a portable vaporizer that won't cost you a fortune to purchase and that will give you a good vaping experience, the AirVape is a great option.