Atmos has done it again with their portable vaporizers, and this time, they have released the ultra-functional and convenient Atmos Kiln RA. A step up from its predecessor, the Atmos Kiln, the AtmosRX Kiln RA vape comes as either a kit complete with a battery or as a standalone wax attachment. Compact, discreet, and simple to load and use, it features a rebuildable atomizer that its earlier counterpart did not have. For those who love to tinker and create their own vaping experience right down to the heating element, this wax pen is for you.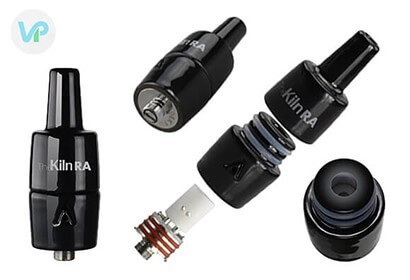 Pros
Passthrough charging
Rebuildable atomizer for ultimate customization
Discreet size just over 2 inches in height
Easy to load
Clean ceramic heating element
Tasty, smooth, potent clouds
Cons
Can only be used between 5 to 15 watts or else it may fry the atomizer
Small chamber for loading material
In-Depth of Atmos Kiln RA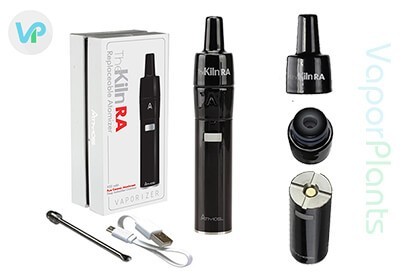 - Price - The entire Atmos Kiln RA sells for around $84, a nice, average price in comparison to other vapes of its kind. Do keep in mind, though, that this vape allows you to rebuild the atomizer, something most vapes of this caliber don't, making it well worth the price point.
- Vapor Quality - It produces a good amount of vapor as well as super clean and smooth, tasty hits. It appropriately heats the terpenes so that each hit is aromatic and delicious, as well as dense. It boasts incredible airflow which also helps to improve the vapor quality.
- Prep Time - To load, simply pull off the top and fill the ceramic heating chamber with material. Since it is made out of ceramic, it only takes a few seconds to become evenly heated for optimum performance.
- Portability - At 2.12 inches in height, this wax vaporizer pen is perhaps one of the most portable and discreet vapes or attachments you can buy.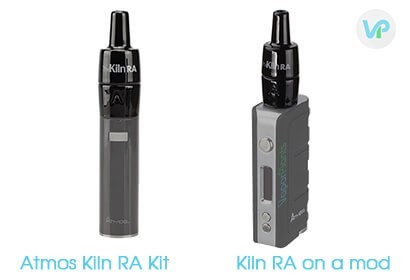 - Ease of Use - It is simple to load and simple to draw from, and its air holes are perfectly placed to minimize resistance. Its standard 5-click button will turn the unit on and off, making for a simple, straightforward experience every time. Press the button again to fire it up!
- Heating and Temperature Regulators - If you use this as an attachment, use the Atmos RX Kiln RA with a variable wattage battery and keep it between 5 to 15 watts for best performance. If you use temperature control batteries, keep the temperature between 200oF-400oF for best results. This Atmos vaporizer uses conduction heating.
- Power Supply - The Atmos Kiln RA employs a portable, powerful 950 mAh lithium-ion battery that comes complete with Dual PCB/IC Protection, which stops the vape battery from shorting out or overcharging. This battery is also capable of passthrough vaping, meaning that you can vape while it is charging for added convenience and ease of use.
- Guarantee - This dab vaporizer pen is guaranteed under a 5 year warranty!
Atmos Kiln vs Atmos Kiln RA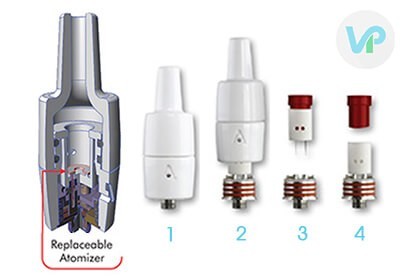 Both vapes measure a compact and convenient 2.12 inches in height by .875 inches in diameter, making them equally discreet. The main, and really only, difference between the Atmos Kiln and the Atmos Kiln RA is the fact that the atomizer can be rebuilt on the Atmos Kiln RA, but not on the Atmos Kiln. The Atmos Kiln RA also comes with packing tools to help load the device.
Otherwise, both share these same qualities:
Pure ceramic makeup
Stylish design
Simple to maintain, use, and clean
Designed to sit flush with any box mod and batteries due to its 510 threading
The Atmos Kiln RA is an excellent choice for experienced vapers who like to build their own atomizers and truly personalize each vaping session. All in all, it is so versatile, since it can be used as a standalone unit or as a wax attachment on a compatible battery, so it really would be a great match for anyone who enjoys concentrates. With its 2.12 inches in height, it is discreet and compact, but it does pack a powerful, flavorful punch that anyone will enjoy.