The Atmos Tyga X Shine L'Or is a compact, portable, and sleek little wax pen designed for dabbing on the go. It features a heating element with a unique blend of titanium and quartz that delivers a flavorful vape and is worth taking a look at. Check out our full review of the Atmos Tyga X Shine L'Or below.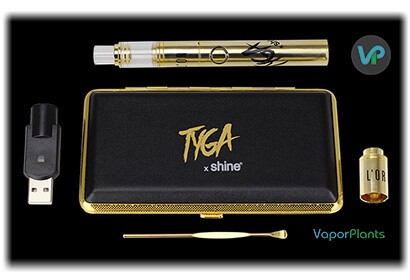 Pros:
Dual/single quartz rods
Titanium heating element
Magnetic cap chamber
Quick battery charging
5-year warranty
Excellent vapor quality
Simple to use
Portable
Cons:
Weaker battery than some other vapes
Breakdown of Atmos L'Or - Tyga X Shine
| | |
| --- | --- |
| Price | $70 |
| Materials Type | Concentrates |
| Heating Style | Conduction |
| Oven Material | Titanium and Quartz |
| Vapor Path | Acrylic/Glass |
| Removable Battery | Yes |
| Battery life (Usage time) | Short, 15-20 sessions |
| Charger | 510 / USB |
| Charge time | 2 Hours |
| Bluetooth / APP | No |
| Heat-up Time | 3 Seconds |
| Easy to load? | Yes |
| Draw Resistance | Average |
| Vapor Production | Excellent |
| Vapor Smoothness | Excellent |
| Flavor / Taste | Superb |
| Odor Level | Low |
| Precise Temp Adjust / Temp Range | 3 Optimized Temperature Settings |
| Vape While Charging | No |
| Warranty | 5 Year |
In-Depth of Atmos L'Or - Tyga X Shine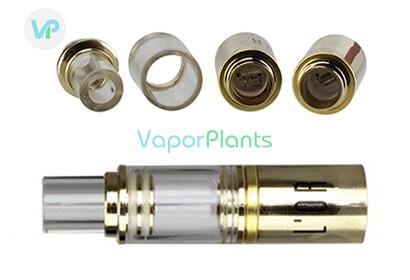 - Price - It retails at a price of $70 which is just about standard of this caliber.
- Vapor Quality - The vapor quality of the Atmos Tyga X Shine L'Or Vaporizer is stellar. By combining the power of pure titanium coils with the option of dual/single quartz rods that maximize flavor output, this vape delivers the pinnacle of flavor. It heats up evenly so that you do not have to worry about wasting your material, and it also produces better vapor output and better clouds. The Atmos Tyga X Shine L'Or Vaporizer also features a glass mouthpiece that not only cools the vapor as it reaches your lips but improves the flavor quality, as well.
- Guarantee - The Tyga X Shine L'Or boasts an impressive 5-year warranty to ensure your complete happiness with their product.
- Prep Time - There is very little prep time. It takes no time at all to heat up, and filling this herbal pen for use is a breeze.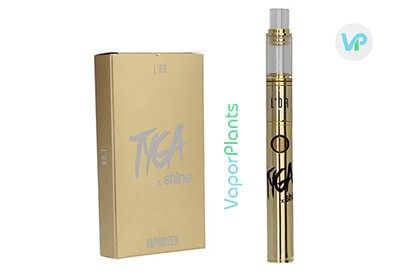 - Portability - This AtmosRX vaporizer is super slim and very compact, making it a great choice for an on the go vape.
- Ease of Use - The Tyga X Shine L'Or utilizes a magnetic chamber cover for easy refilling of your material. Snap technology is included, which easily separates all of the components of the vape for easy maintenance and clean up. To use, simply take off the magnetic chamber cover from the atomizer, fill with concentrate, pack it down with the dabbing tool and you're ready to go. It's as simple as that.
- Heating and Temperature Regulators - The 650mAh Temperature Control Lithium-ion battery uses a streamlined, single-button activation to cycle through three optimized temperature settings designed to be the best.
- Power Supply - This model uses a 650mAh Temperature Control Lithium-Ion that only takes 2 hours to charge and can last for hours with a full charge.
Overall, the Tyga X Shine Atmos L'Or is a great small vaporizer that you can take anywhere. Its flavor is unmatched and the clouds it produces are dense and potent. Its heating system is top-notch and one that many vapers seek out intentionally. It features a magnetic chamber lid for easy loading, making this an easy-to-use, powerful vape; one that your collection needs.