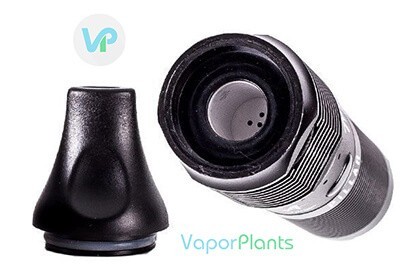 Always an innovative name, Atmos has released another gorgeous vaporizer that outperforms so many on the market today. Created by Tyga, the Atmos Pillar is a hybrid vaporizer that allows the use of both dry herbs and concentrates such as oil and wax. Strong and portable, this vaporizer is worth considering.
Pros:
5-Year Warranty
Dry herb/concentrate compatible
Fantastic vapor quality
Ceramic heating chamber
Scratch resistant and durable
Cons:
Price is a little on the high end
Can't vape while charging
Breakdown of the Atmos Pillar
| | |
| --- | --- |
| Price | $150 |
| Materials Type | Concentrates/Dry Herbs |
| Heating Style | Conduction |
| Oven Material | Ceramic for Dry Herbs, Titanium for Concentrates |
| Vapor Path | Isolated |
| Removable Battery | No |
| Battery life (Usage time) | N/A |
| Charger | USB |
| Charge time | N/A |
| Bluetooth / APP | No |
| Heat-up Time | 20 Seconds |
| Easy to load? | Yes |
| Draw Resistance | Low |
| Vapor Production | Excellent |
| Vapor Smoothness | Outstanding |
| Flavor / Taste | Excellent |
| Odor Level | Average |
| Precise Temp Adjust / Temp Range | 6 Heat Settings, Pre-set |
| Vape While Charging | No |
| Warranty | 5 Year |
| Portability | Yes |
In-Depth of the Atmos Pillar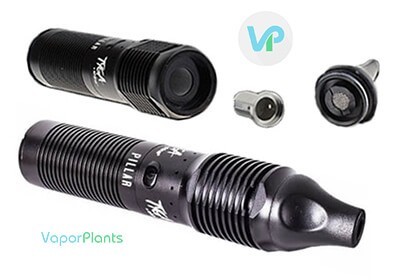 - Price - The Pillar vape comes in at a price of $150, which is reasonable for such a durable hybrid vaporizer.
- Vapor Quality - The vapor quality of the Atmos Pillar is intense. It delivers exceptionally large clouds which are dense and thick. The embedded ceramic heating chamber is likely responsible for this when it comes to dry herbs, as ceramic provides a crisp flavor and even vape. It even has an isolated air path which also delivers cleaner, more flavorful draws. The titanium cup for concentrates delivers this same, wonderful crispness of hits.
- Guarantee - The AtmosRX offers an astounding 5-year warranty, so long as you keep the receipt.
- Prep Time - The Pillar requires very little time to heat up, and its easy-to-access dry herb chamber can be packed swiftly with the packing tool, and then when the mouthpiece is closed, it is ready to go. The same can be said with the included titanium cup for waxes and oils.
- Portability - The Atmos Pillar features a hard-anodized exterior which has a scratch-resistant finish. These qualities make it durable and strong, which in turn, makes for an excellent vape pen for sale unit. It is also a relatively handheld size and has an ergonomic design that makes it simple to grip onto during travels.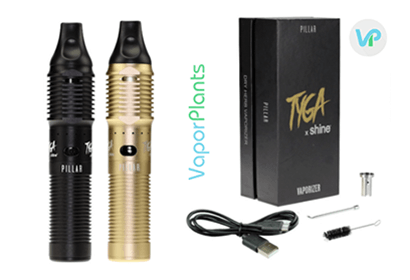 - Ease of Use - The incredibly ergonomic design can be linked to the ridged design of the Atmos Pillar. This design not only fits well in the hand, but it does a wonderful job at keeping the Atmos Pillar cool to the touch and comfortable to use as well. It has a perfectly sized oven that doesn't waste any material and is able to provide a thorough, even vape.
- Heating and Temperature Regulators - The Atmos Pillar vape features not only an embedded ceramic chamber for dry herbs, it comes with a titanium cup that does just as fine of a job distributing heat and flavor. There are 6 pre-set temperatures to choose from as well.
- Power Supply - The long lasting battery can be charged through a universal USB port.
The Atmos Pillar is a great vaporizer for those who enjoy both concentrates and dry herbs but don't like traveling with two separate units. It is a great producer of flavorful, robust clouds and can be dropped without being scratched, making this a nice choice for a portable vaporizer. The ceramic heating chamber also works to provide even, clean hits through the isolated air path which furthers its smoothness. Overall, the Atmos Pillar is a hybrid vape you don't want to overlook.