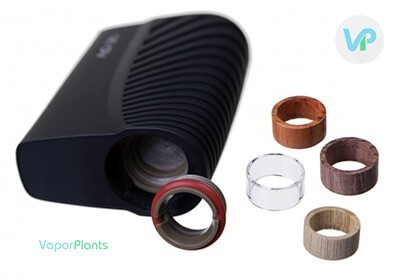 The Boundless CFV Vaporizer is a full convection vape that is powerful, robust, and heats in only around 30 seconds. It features a wide temperature range and comes with heat rings for added flavor. It is small enough to fit in a pocket but a little too large to discreetly hide it in your hand.
Pros:
3 year warranty
Heat retention rings
Broad temperature spectrum
Easy to load with loading ring
Dense, flavorful, and potent clouds
Cons:
Non-replaceable batteries
Price is a bit high
of Boundless CFV Breakdown
| | |
| --- | --- |
| | Boundless CFV |
| Price | $209 |
| Materials Type | Dry herbs |
| Heating Style | Convection |
| Oven Material | Wood, quartz, stainless steel |
| Vapor Path | Plastic |
| Removable Battery | No |
| Battery Life (Usage time) | 60 minutes |
| Charger | Micro-USB |
| Charge time | 2-3 hours |
| Bluetooth / APP | No |
| Heat-up Time | 30 seconds |
| Easy to Load? | Yes |
| Draw Resistance | Low |
| Vapor Production | Low |
| Vapor Smoothness | Moderate |
| Flavor / Taste | Excellent |
| Odor Level | Low |
| Precise Temp Adjust / Temp Range | 140 - 446 degrees Fahrenheit |
| Vape While Charging | No |
| Warranty | 3 Years |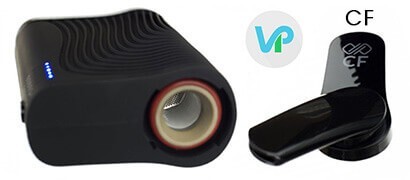 Type: CF uses conduction & convection vaping (CFV is fully convection)
Heating: CF heats up in only 20 seconds (CFV 30 seconds)
Clouds: CF produces huge, satisfying clouds, (CFV clouds are moderate)
Battery: CF has a much longer battery life
Charging: Same charging time, both take around 2-3 hours to charge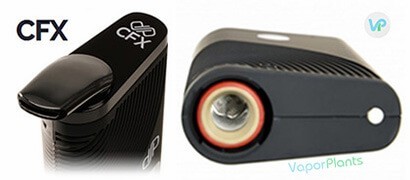 Type: CFX uses a mixture of conduction/convection vaping
Heating: CFX heats up in only 20 seconds (CFV takes over 30 seconds)
Clouds: CFX produces larger, more satisfying clouds
Battery: CFX has longer battery life
Charging: CFX only takes about 30 minutes to charge (vs CFV 2-3 hours)
In-Depth of Boundless CFV vaporizer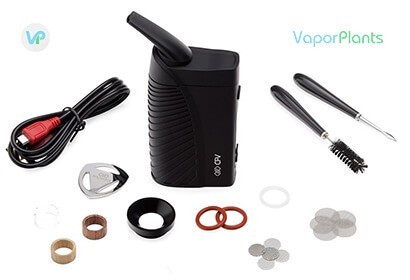 - Price - At a price of $219, it is a bit steeper than other vapes of its kind, but the full convection heating eliminates the fear of combustion making it totally worth it.
- Vapor Quality - The vapor quality is absolutely exceptional, though it does take a few inhales into your session to get those satisfying clouds. Once you get there, though, it produces dense clouds and tasty, potent vapor. The draw resistance is very minimal, making it incredibly easy to pull from.
- Guarantee - The Boundless CFV vape boasts an impressive 3-year warranty that makes it one of the longest warranties available for a portable vaporizer.
- Prep Time - It is fantastically easy to load, because of the included loading ring that secures the material in place, and helps you pack the chamber so it slides right in for quick vaping. It only needs around 30 seconds to reach the heat you have chosen.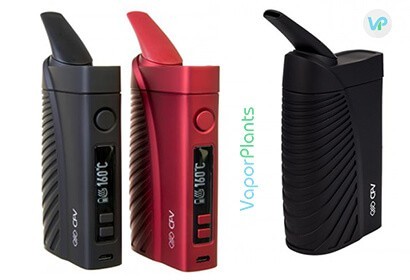 - Portability -  While it is great for slipping in a pocket to take on a walk or carry around a festival, it is rather wide, so the vape won't be perfectly hidden in your hands, so that is something to consider if you need a compact dry herb vaporizer.
- Ease of Use - With the loading ring, you can just slip the herb down into the chamber. It features only three buttons, making this a very simple vaporizer to use.
- Heating and Temperature Regulators - The heat settings range from 140 to 446 degrees Fahrenheit for a customizable vape every time. Choose the temperature using the selection buttons. When the CFV has heated up, it will display a small heat wave icon to show it's ready. It features heat retention rings in both quartz and wood that improve the flavor of your herb. 
- Power Supply - The Boundless CFV comes with two powerful 18350 batteries, but do keep in mind that they are rechargeable, but not replaceable.
If you need a vape that is as great at home as it is while on a walk down the street, this is a wonderful choice. This vape, while it can be carried in your hand, won't completely fit in your palm, but it does fit into a pocket with ease. It is unique with its heat retention rings and variable temps that allow you to truly customize your vape. It produces incredible clouds, and truly is an all-around great vape to have.
Boundless Vaporizers Compared
| | | | | |
| --- | --- | --- | --- | --- |
| | Boundless CFC | Boundless CF | Boundless CFX | Boundless CFV |
| Price | $89 | $119 | $169 | $209 |
| Materials Type | Dry herbs | Dry herbs and concentrates | Dry herbs | Dry herbs |
| Heating Style | Conduction | Convection/Conduction | Convection/Conduction | Convection |
| Oven Material | Ceramic | Ceramic | Ceramic | Wood, quartz, stainless steel |
| Vapor Path | Plastic | Plastic | Plastic | Plastic |
| Removable Battery | No | No | No | No |
| Battery Life (Usage time) | 15 sessions | 50 minutes | 60 minutes | 60 minutes |
| Charger | USB | USB | USB | Micro-USB |
| Charge time | 2 hours | 3 hours | 2-3 hours | 2-3 hours |
| Bluetooth / APP | No | No | No | No |
| Heat-up Time | 30 seconds | 20 seconds | 18 seconds | 30 seconds |
| Easy to Load? | Yes | Yes | Yes | Yes |
| Draw Resistance | Moderate | Low | Moderate | Low |
| Vapor Production | Low | Excellent | Excellent | Low |
| Vapor Smoothness | High | Excellent | Excellent | Moderate |
| Flavor / Taste | Moderate | Excellent | Excellent | Excellent |
| Odor Level | Low | Moderate | Moderate | Low |
| Precise Temp Adjust / Temp Range | Up to 400o F. | 355 - 415 degrees Fahrenheit | 100 - 430 degrees Fahrenheit | 140 - 446 degrees Fahrenheit |
| Vape While Charging | No | No | No | No |
| Warranty | 3 Years | 3 Years | 3 Years | 3 Years |
Related: make sure to check out our other vaporizer reviews, click here