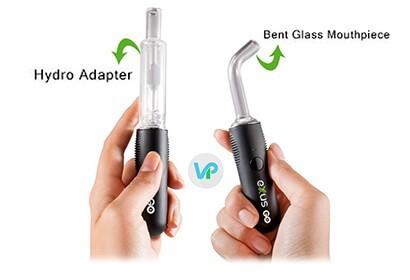 The Exxus Go is a portable vaporizer that is used for wax. It has a semi-compact appearance and fits well in the hand, but can also be used hands-free with the included vaporizer stand. It comes with a standard glass mouthpiece as well as a hydro adapter that provides filtration and diffusion for a clean hit every time.
Pros
Absolutely incredible vapor quality
Triple quartz atomizer
Hands free mode
Hydro adapter and glass mouthpiece
One year warranty on battery and unit
Cons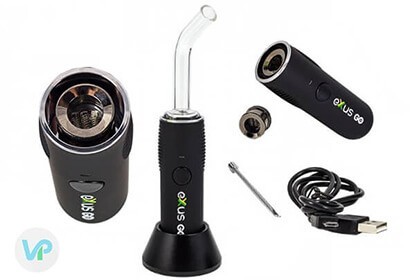 - Price - The Exxus Go sells at a very reasonable price of $99. This is a high quality e nail that comes with a variety of mouthpieces, making this an excellent value.
- Vapor Quality - The vapor quality is absolutely fantastic. They say it "hits like a freight train", and they are right! You can take as many draws as you want until the concentrate is depleted with no decrease in quality. It will also deliver draws as big as you'd like through the glass mouthpiece which gives the vapor excellent flavor. There is a triple quartz coil that provides a clean taste and even vaporization.
- Guarantee - Both the battery and the dab vape itself come with a 1-year warranty.
- Prep Time - Filling the Exxus Go is as simple as removing the mouthpiece. Fill it and then click the single button 5 times to turn it on. It will turn green very quickly and stay green to let you know it is ready to be used.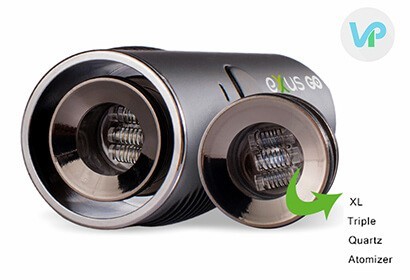 - Portability - The Exxus Go sits atop a desk very well using the included stand. This way you just have to turn it on and hit it from where it sits on the table. That said, it is still small enough to take with you on the go if you desire.
- Ease of Use - It fits extremely well in the hand. Easy to use, there is a single button and a single indicator light. It can be hand held or hands free using the included table stand.
- Heating and Temperature Regulators - To prevent the atomizer from overheating, it will shut off after 10 seconds. This vapor pen for wax features a triple quartz coil heating element that lets it heat up smoothly and efficiently while delivering exceptional flavor.
- Power Supply - The Exxus Go vaporizer comes with an 1100 mAh lithium ion battery that is rechargeable through a micro-USB port.
The Exxus Go dab vaporizer is an exceptionally powerful device. It uses a robust 1100mAh battery and an XL Triple Quartz Atomizer to deliver unmatched, rich flavor, and dense, huge clouds with the help of its quartz glass bent mouthpiece. As soon as you turn the vaporizer on it begins to heat up and only takes 5 seconds to do so, making this a vape that you can use at any time. Its ergonomic design helps its portability, and it can be purchased with an optional Hydro Adapter for superb, smooth water diffusion of every hit that you take. An all-around incredible vaporizer that can be used either on the go or as a hands free vape on your tabletop. Two attachable glass mouthpieces, one that has a hydro perc, are included. Its slogan is "hits like a freight train", and each powerful, potent draw lives up to its reputation. Its triple quartz atomizer for delicious hits will make the Exxus Go your new favorite go-to vape.
How to Load and Use the Exxus Go:
Take off the mouthpiece to expose the chamber with the quartz atomizer
Using a dab tool, place a small amount of wax onto the coils
Turn it on, and after 5 seconds, fire the button for a moment to help melt it into the wick
Place the mouthpiece back on top of the vape securely
Enjoy the vape!