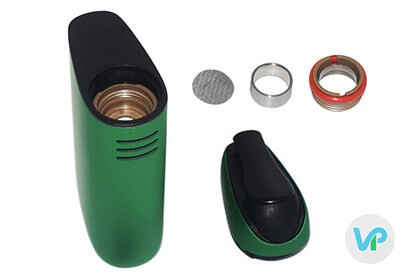 Flowermate has returned, and this time they have brought us SwiftPro, their new, totally exciting portable that is a 100% convection vaporizer! As it is common knowledge that most portable vaporizers today are purely conduction vapes, which have a nasty habit of combusting material. Not only does it feature convection heating and temperature control, it boasts incredible vapor quality and portability with quick heat up time, allowing you to vape comfortably on the go or at home.
Pros:
100% convection heating
Great tasting, dense, potent, and aromatic vapor
Interchangeable chamber wall for customized vaping
30 second prep time
Warranties on both the unit and the battery
Cons:
Price point can be beyond some people's budgets
Basics of Flowermate Swift Pro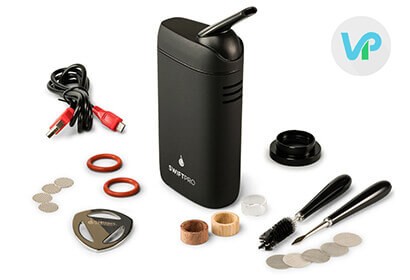 - Price - The price ranges between $219-$299 which really isn't all that much when you consider it is both a temperature controlled device as well as a fully convection-based herbal vaporizer.
- Vapor Quality - The vapor produced by the Flowermate Swift vape is excellent. It is cool and tasty, which can be credited to the isolated heating path which helps eliminate any sort of electronic taste.
- Guarantee - The Flowermate vaporizer comes complete with a three-year manufacturer warranty that insures everything but the portable vaporizer's battery, which carries a one-year warranty.
- Prep Time - Once set-up, the vaporizer takes 30 seconds to heat up to 400oF, which is the recommended ideal temperature for vaping.
- Power Supply - This unit's vape battery can be charged via a micro-USB port.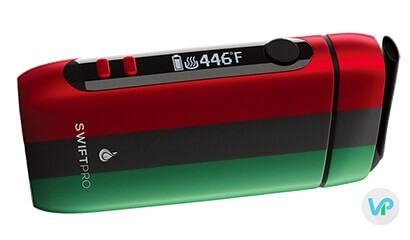 - Portability - This dry herb vaporizer is incredibly portable. Its lightweight design fits easily in your hand or pocket, with its compact design, you can use it anywhere.
- Ease of Use - Incredibly simple to use, this vaporizer for herbs features an interchangeable chamber wall, which allows you to choose between stainless steel or glass to further customize and enhance your convection vaporizer.
- Heating and Temperature Regulators - The Flowermate Swift Pro herb vaporizer features temperature control technology, allowing you to select your exact temperature with a single digit thermometer control. Temperatures range between 140oF-446oF. It also boasts full convection heating which is better at evenly heating material than conduction, thereby preserving the flavors and aromas and eliminating the worry of combustion.
All in all, this is a great portable vape for beginners and seasoned users alike. With its ease of use, anyone can enjoy the benefits of convection heating, a feature not often seen in portable vaporizers. It is well worth the price, as it is one of a kind vaporizer with both its convection heating and its interchangeable chamber walls. An isolated heating path also makes this unit recommended for those who consider themselves flavor chasers, as it really doesn't get more flavorful than this!