The FocusVape Pro is a conduction-based dry herb vaporizer that delivers great vapor production that is tasty and dense. It features adjustable air flow, temperature control, a 510-threaded glass mouthpiece, and a ceramic chamber that heats in 20 seconds, which work in harmony to deliver a great vaping experience every time. Read our full review on the FocusVape Pro below.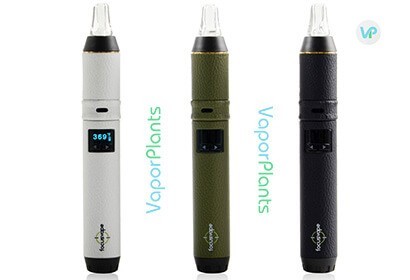 Pros:
Removable, replaceable battery
.4 gram chamber
20 second heat up time
510-threaded glass mouthpiece
Adjustable airflow
Ceramic heating element
Simple to fill and clean
Powerful, long-lasting battery
Temperature control
Great vapor quality
Cons:
Short, 1-year warranty
Higher price when compared to others
FocusVape Pro Reviewed
Rating:

8

/

10

by VaporPlants
To purchase a similar model, click below:


Use coupon code 'VPR' to save 10% OFF
Breakdown of FocusVape Pro
| | |
| --- | --- |
| Price | $120 |
| Materials Type | Dry Herb |
| Heating Style | Conduction |
| Oven Material | Ceramic |
| Vapor Path | Metal, ceramic, borosilicate glass |
| Removable Battery | Yes |
| Battery life (Usage time) | 60 Minutes |
| Charger | USB |
| Charge time | 4 Hours |
| Bluetooth / APP | No |
| Heat-up Time | 20 Seconds |
| Easy to load? | Yes |
| Draw Resistance | Adjustable Resistance |
| Vapor Production | Medium |
| Vapor Smoothness | Medium (warm) |
| Flavor / Taste | High |
| Odor Level | Average |
| Precise Temp Adjust / Temp Range | 176F-464F |
| Vape While Charging | Yes, but not recommend |
| Warranty | 1 Year |

In-Depth of the FocusVape Pro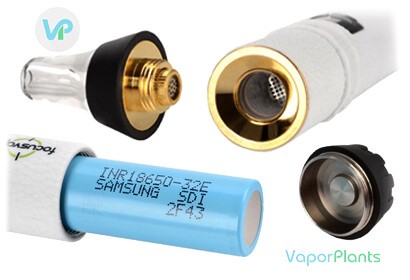 - Price - The FocusVape Pro comes in at a price of $120, which is reasonable for a dry herb vape but still on the higher end of the price range.
- Vapor Quality - The FocusVape Pro features 510 threading on a glass mouthpiece which helps to keep impurities out of your vapor for a tastier experience. This will also reduce the heat before it reaches your mouth for a smoother, cooler vape. It features a ceramic heating element that brings even heating to your herbs, and an adjustable airflow ring with three air holes to let you customize your hits. You can get lots of vapor and a clean flavor each time with this feature.
- Guarantee - The FocusVape Pro has a 1-year warranty, which is shorter than many others.
- Prep Time - The FocusVape Pro is simple to fill thanks to its beveled opening chamber, making packing this handheld herb vaporizer a breeze. It also features a 20 second heat up time for swift vaping at home or on the go.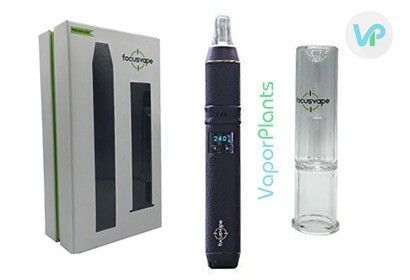 - Portability - The FocusVape Pro is very portable thanks to its compact size and easy-to-hold design.
- Ease of Use - The ceramic chamber has a 0.4g capacity for plenty of room for your dry herb. The beveled opening of the chamber makes it even easier to fill and if there is any excess material, it can easily be scraped out by a loading tool.
- Heating and Temperature Regulators - This conduction style vaporizer features a ceramic heating element. The Focus Vape Pro has a smart memory feature that allows you to quickly heat to the last temperature setting. Temperatures run from 176 to 464 degrees Fahrenheit.
- Power Supply - This herbal vape features an 18650 battery that lends you about 60 minutes of steady run time. There is also the option to purchase a spare battery, making this a vape that has removable, replaceable battery capabilities.
The FocusVape Pro is definitely a vaporizer worth looking into if you need something that is both powerful and portable. Since its battery can be removed, you can carry a spare one with you for continuous vaping on the go. Its 20 second heat up time, adjustable airflow, and temperature control capabilities make this a customizable handheld vaporizer that you just have to have.