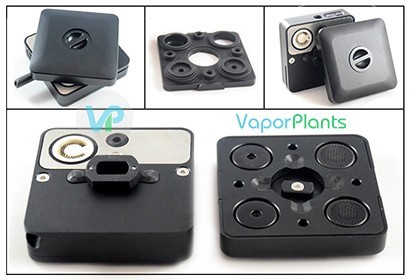 The Haze Square Vaporizer is currently a prototype that contains four different chambers. Each chamber rotates over a single heating element and can accommodate waxes, oils, or dry herbs without the need to constantly refill. Truly one of a kind, its entry onto the market is something that is highly anticipated. Read the full review to see why.
Pros:
4 unique material compartments that rotate over a single atomizer
Convection vape
Ceramic heating element
Portable
Instant heating
3-second vapor production
Haze Square Reviewed
Rating:

8

/

10

by VaporPlants
To purchase this model model, click below:


Use coupon code 'VPR' to save 10% OFF
| | | |
| --- | --- | --- |
| | Haze Square | Haze Square Pro |
| Price | $169 (MSRP) | $189 (MSRP) |
| Materials Type | Concentrates and Dry Herbs | Concentrates and Dry Herbs |
| Heating Style | Convection | Convection |
| Oven Material | Titanium in ceramic | Pure, patented ceramic |
| Vapor Path | Copper | Copper |
| Removable Battery | No | No |
| Battery Life (Usage time) | One hour | One hour |
| Charger | USB-C | USB-C |
| Charge time | 40 minutes | 40 minutes |
| Bluetooth / APP | No | Yes |
| Heat-up Time | 10 seconds | 10 seconds |
| Easy to Load? | Yes | Yes |
| Draw Resistance | Moderate | Moderate |
| Vapor Production | Moderate | Moderate |
| Vapor Smoothness | High | Hight |
| Flavor / Taste | Low | Low |
| Odor Level | Low | Low |
| Precise Temp Adjust / Temp Range | 5 temperature settings | Adjustable Preset Temperatures (335F - 480F) |
| Vape While Charging | No | No |
| Warranty | 10 Years | 10 Years |
In-Depth of Haze Square Vaporizer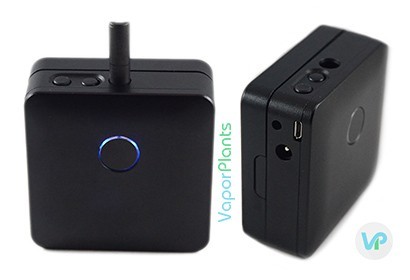 - Price - The price of the Haze Square is set to $169 and $189 for Pro version.
- Vapor Quality - The Square vaporizer features a ceramic heating element. Ceramic is known to evenly heat materials and produce exceptional flavor. Since it is an entirely convection-based instead of conduction, the vapor will heat more evenly and produce tastier, fuller clouds. The Haze Square features a completely isolated air path which allows for smooth hits every time, while also improving the flavor.
- Guarantee - Like other Haze's products, this model comes with an outstanding 10-year limited warranty.
- Prep Time - Preparing it for use is bliss. It features instant heating to the chamber & is able to produce vapor in less than 3 seconds when it is being used on the maximum temperature setting--no wait time whatsoever. And, if you have already pre-packed the materials into the 4 chambers, there is no packing time involved, either. Just grab & go.
- Portability - The Haze Square fits well in the hand and has a comfortable weight, making it easy to tote around. The mouthpiece retracts in order to eliminate fear of the Haze Square Vaporizer breaking while on the go, making this handheld vaporizer a totally portable vaporizer, as well.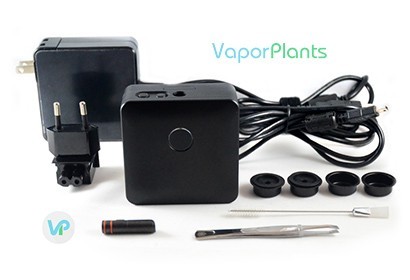 - Ease of Use - The Haze Square Vaporizer can hold up to 4 different materials at one time, and features a rotating plate that cycles over a single heating element. Though you can only use one of the canisters at a time, you can go from waxes to herbs in a single second just by rotating the plate. This allows you to easily use different kinds of herbs, waxes, and oils all in a single session without the need for any refilling, delivering exceptional ease of use. To clean, you just remove the top section and soak it in isopropyl alcohol, making even the maintenance aspect a breeze.
- Heating and Temperature Regulators - The Haze Square Vaporizer is a pure convection vaporizer with no conduction that comes with adjustable temperatures, covering from 340 to 450 degrees Fahrenheit. The buttons on the top of the unit allows you to set the temperature .
- Power Supply - Haze Square uses a powerful 2600mAH battery that is able to deliver instant heating to the chamber. It charges using a micro-USB port and features pass-through technology.
All in all, the Haze Square Vaporizer has the potential to be a powerful convection-based vape that can accommodate any variation of cannabis. It has a revolutionary design and a ceramic heating element that provides smooth hits every time through its isolated heat path. Truly, when this vape hits the market, it is going to be one for the record books.