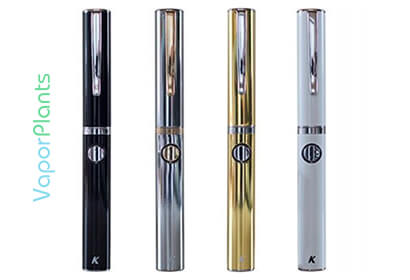 With a reputation for being one of the best wax vaporizers on the market today, the KandyPens Executive is perfect for those who want big, satisfying clouds, with the same quality on the go as they might enjoy at home. The KandyPens Executive has an average price for wax vapes but features unique SloBurn technology that makes it stand out from all of the rest.
Pros:
Ceramic dual titanium rod atomizer
Easy to load and to use
Portable and relatively compact
SloBurn technology
Cons:
No warranty on anything but the battery
In-Depth Review of the KandyPens Executive
| | |
| --- | --- |
| | KandyPens Executive |
| Price | $59 |
| Materials Type | Wax |
| Heating Style | Conduction |
| Oven Material | Ceramic |
| Vapor Path | Glass Vapor Path |
| Removable Battery | Yes |
| Battery Life (Usage time) | 70 full power cycles (100-200 hits) |
| Charger | USB charger |
| Charge time | 2-3 Hours |
| Bluetooth / APP | No |
| Heat-up Time | 2-3 Seconds |
| Easy to Load? | Yes |
| Draw Resistance | Low |
| Vapor Production | Outstanding |
| Vapor Smoothness | Outstanding |
| Flavor / Taste | Outstanding |
| Odor Level | Low |
| Precise Temp Adjust / Temp Range | SloBurn heating technology (350F, 390F, 430F Degrees) |
| Vape While Charging | No |
| Warranty | 1 year warranty on the battery |
In-Depth Review of the KandyPens Executive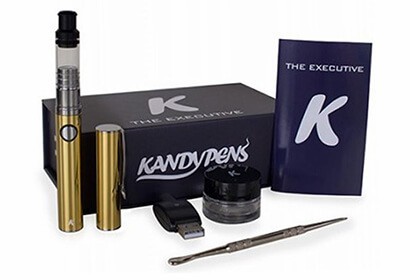 - Price - The price of the KandyPens Executive is $60, which is about average for wax vaporizers.
- Vapor Quality - This model produces large, flavorful clouds thanks to the ceramic dual rod atomizer that provides clean, tasty hits.
- Guarantee - The KandyPens Executive comes with a lifelong warranty that covers only the battery.
- Prep Time - The KandyPens Executive features a large chamber for easy loading which is simple with the included dab tool.
- Portability - The slim build of the KandyPens Executive makes it comfortable to hold and conceal. It resembles an electronic cigarette pen which is great for stealth purposes and can be pocketed with ease, making this a highly portable vaporizer for wax.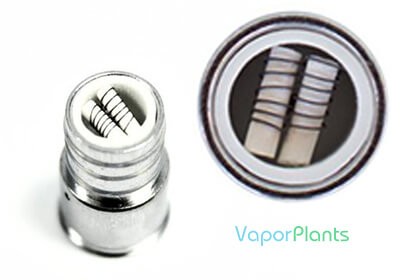 - Ease of Use - The KandyPens Executive handheld vaporizer is simple to use. The atomizer comes off with a quick twist and loading is a breeze.
- Heating and Temperature Regulators - The KandyPens Executive features only one temperature setting but it has been optimized for use with wax. This is due to its trademarked SloBurn technology.
- Power Supply - The battery is moderately powerful but it can power both short and long vape sessions with ease.
The KandyPens Executive is a remarkable vaporizer that produces more vapor than most others, due to its SloBurn technology that heats up the wax perfectly. It comes with a ceramic dual titanium rod atomizer that is responsible for providing crisp, clean flavor profiles with every hit. Relatively compact in size and shape, I recommend this vape for those who enjoy taking big dabs wherever they go.
How to Load the KandyPens Executive
Remove the atomizer by giving it a quick twist.
Using the included dab tool, load your wax into the deep chamber atomizer.
Place the atomizer back on the battery.
Turn on the KandyPens Executive by pressing the star button five times in a row.
When the light indicator around the start button illuminates, you are ready for vaping.