Looking for a new wax pen to upgrade to, or perhaps this is your very first dab vaporizer pen purchase! Either way, figuring out which vape will better serve your needs can be a bit tricky with so many options to choose from, but here at VaporPlants, we have come up with a guide to what we consider three devices that compete for the title of the best vaporizer for wax.
Content: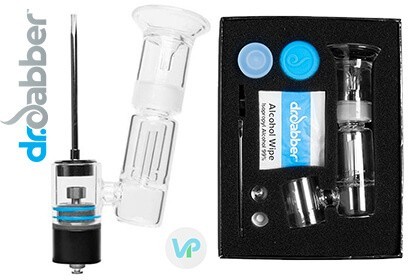 The Boost eRig fits on any box mod compatible with 510 threading. This Dr Dabber vape uses a glass water filtration system that helps stop clogging and residue build-up. This eRig comes with an incredible assortment of attachments, including:
- Mod Attachment - The main feature is its versatile 510 threading that can go onto any mod battery you already own. Sadly, though, it will not work with the Dr Dabber Ghost or Light battery, even though it fits; the battery is not compatible.
- Glass Attachment - The glass attachment involves an updated design with a water filtration system allowing for the elimination of clogging problems or excessive build up. This glass works well and stays clean with the carb cap and a dab vape unit tool to help.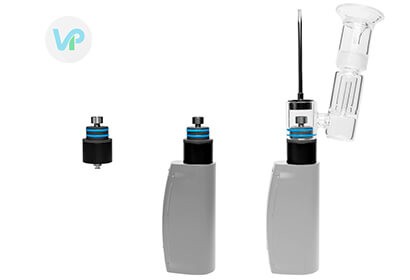 - Ceramic Nail Replacement - Designed for the Dr Dabber Boost, you can use this ceramic nail with wax for a smoother and more full-bodied, flavorful dab. Ceramic does take longer to heat than its alternatives, but it will also help conserve wax for a longer session each time.
- Replacement Quartz Nail - The Quartz nail is also designed specifically for the Dr Dabber Boost. It guarantees the purest, cleanest, tastiest dabs possible, burning clean, and won't compromise the flavor.
- Replacement Titanium Nail - For those looking for a more authentic, traditional dab, the titanium nail is for you. It heats up much more quickly and the vapor production is incredible when compared to the other nails.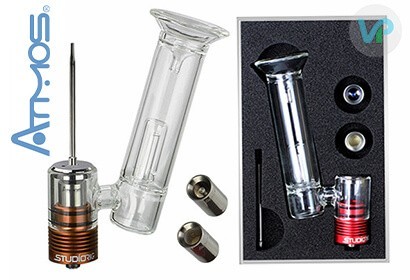 25mm Chamber Base, which is 510 Thread
Glass Attachment water filtration system
Titanium Concentrate e-nail
Ceramic Dry Herb e-nail
Magnetic carb cap
Atmos RX is finally releasing its own 510 eRig attachment, known as the Atmos Studio eRig. The Atmos vaporizer pen comes with two attachments, one of them for use with wax and the other for dry herbs, making it the only e-nail that allows for such dual compatibility. Available with or without a box mod, the 510 thread attachment will fit most mods expertly. The attachment is composed of 4 pieces: the e-nail, the base, the carb cap, and the glass. The vapor quality is unparalleled, especially with the dry herb considering most e-nails won't even let you get close to using anything but concentrates in them. Like most AtmosRX products, this is an excellent piece for beginners unfamiliar with e-nails.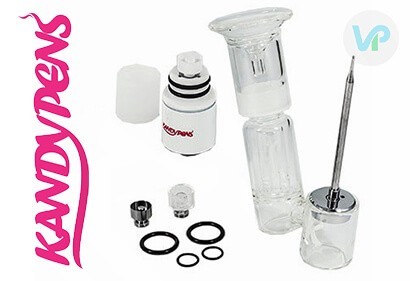 KandyPens ICON can be purchased as a standalone 510 thread attachment to be used on your own 50w or under box mod, or conversely, buy the KandyPens vape as a whole eRig. Each order of the KandyPens ICON comes with:
Icon e-nail 510 base
Titanium e-nail
Quartz e-nail
Ceramic e-nail
Glass Attachment
Carb Cap
The fact that it comes with three nails allows you to choose your favorite one, which is great as everyone has a preference. To use, you simply preheat it for a mere 5-10 seconds and get a powerful nail whose heat you can feel from a few inches away. The two-piece glass attachment prevents water from touching your lips and allows for easy filling so that cooling your vapor is no hassle at all.
No matter what you need from your vape, it truly will all come down to personal preference and which vaporizer for wax aligns with what you need it to do. Consider all of the features of the portable vaporizers featured here and check out a few of our vaporizer reviews while you shop!